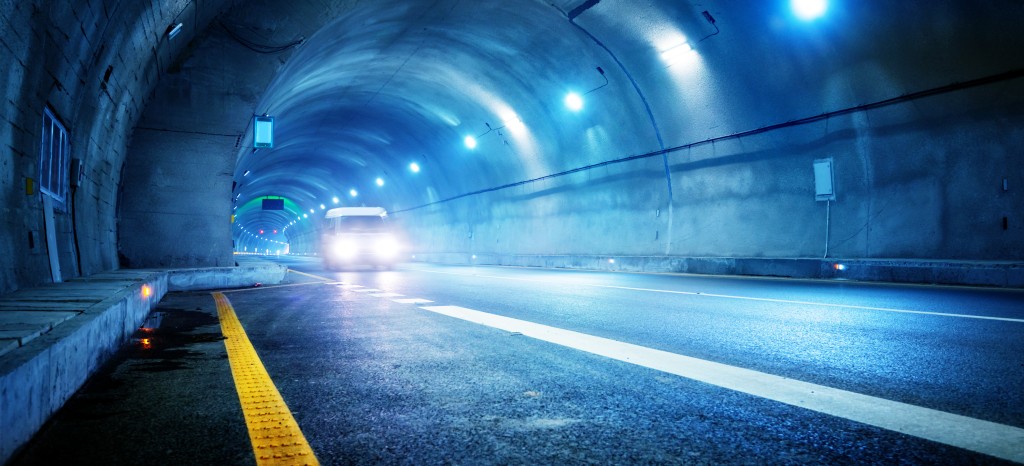 More efficient safety and street lighting with our professional lighting courses
Street and safety lighting is often taken for granted. However, those responsible for providing and maintaining it realize its importance to the public good as well as the challenges it can pose. In commercial buildings, safety or emergency lighting is not only objectively necessary, but is required by law. Meeting legal requirements is thus one side of the coin; reaching efficiency goals is the other.
Our lighting courses enable you to address both. We provide comprehensive information regarding regulatory requirements, norms and guidelines governing street and emergency lighting. At the same time, you learn how a combination of efficient technology, regular maintenance and optimized operations guarantees efficiency.
We have built our reputation on safety and expertise, and that extends to the field of street and emergency lighting as well. Our portfolio of lighting seminars offers planners and maintenance personnel a balanced selection of training sessions led by experienced instructors. We are eager to pass on our specialized knowledge and contribute to efficient, sustainable street and safety lighting and your expert certification.
Would you like to learn more about our lighting trainings? Contact us!
Lighting training for professional planning and maintenance
Completing one of our courses on lighting, whether for streets or commercial buildings, emergency or LED lighting, not only arms you with expert qualifications that prove your knowledge base, but allows you to do your job – planning or maintaining lighting installations – with confidence and accuracy. You come away equipped with essential information on the regulatory framework governing lighting in public and commercial spaces as well as the practical tools to ensure lighting efficiency, both in terms of costs and energy consumption.
From LED to street to safety lighting, we have the course for you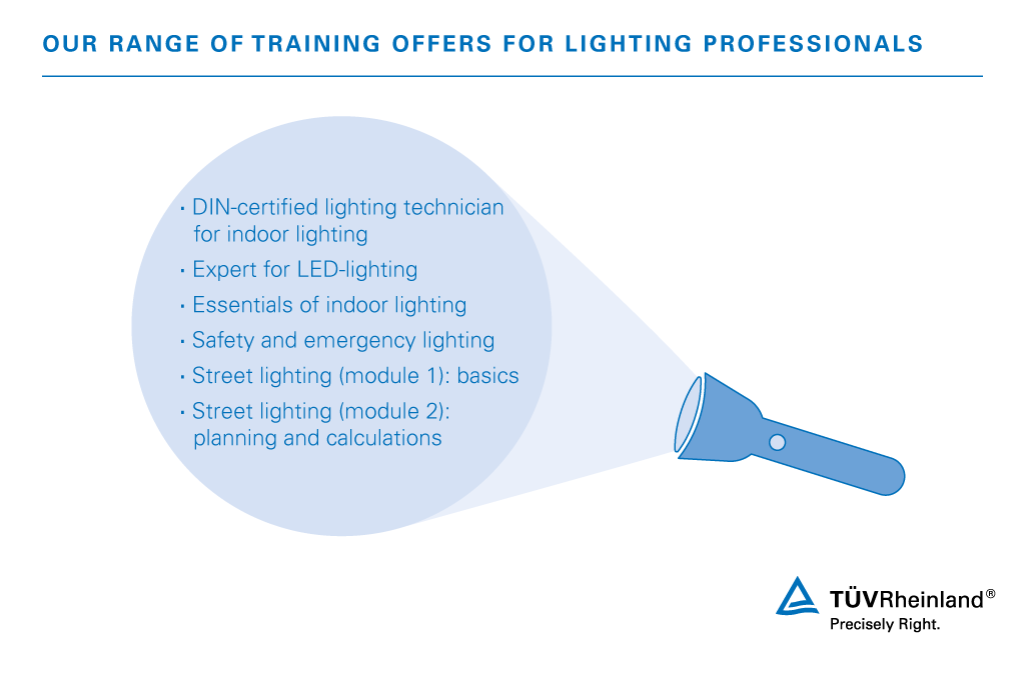 We offer a range of seminars on lighting, both as open courses or as in-house sessions that take into account the specific needs of our customers:
DIN-certified lighting technician for indoor lighting: course covers new technologies and norms and the assessment, installation, operation and maintenance of indoor lighting facilities
Expert for LED-lighting: course includes up-to-date theoretical and practical instruction on LED lighting and electrotechnology
Essentials of indoor lighting: instruction on the use of natural and artificial light in the workplace as well as worker protection regulations and technology rules
Safety and emergency lighting: information on legal requirements for certain public and commercial areas and buildings, owner/operator responsibilities for the functionality of these facilities
Street lighting, module 1, basics: focus on norms and regulations and current technology and how to optimize efficiency
Street lighting, module 2, planning and calculations: focus on evaluating and calculating lighting options under varying circumstances and lighting types
Dependable, reputable instruction for lighting professionals
Our expertise and dedication to safety has earned us the respect and trust of companies and industries worldwide. We live up to this trust in our academy courses as well as our other services. When you opt to learn with us you experience first-hand the quality and commitment to excellence behind our reputation.
Request a quotation today. Contact our experts!
This might also interest you
Last Visited Service Pages