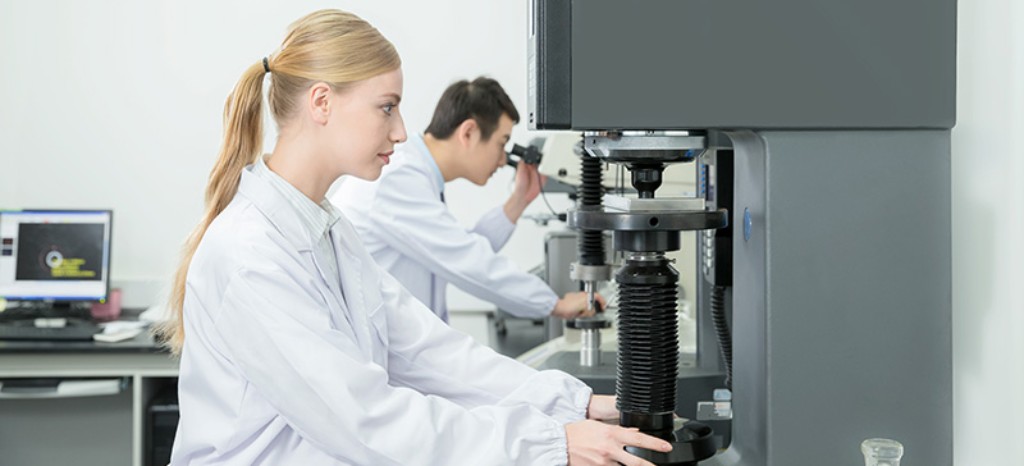 Ensure the Quality of Your Metal
Metal-based products are only as good as the metal they are built with. And, if that metal isn't hard enough to stand up to pressure, your products suffer.
TÜV Rheinland has experienced personnel who perform top-quality hardness measurement testing and sorting for conditioning. We implement this testing along with our other nondestructive evaluations – providing a one-stop shop service. This gives your products third-party certification while saving you shipping costs and time.
Benefits at a Glance
With TÜV Rheinland's hardness testing services, you benefit with a quick and inexpensive test that determines if metal meets required hardness readings, meaning that you:
Are assured of the quality of your products
Gain a lead against the competition with a neutral audit seal
Reduce the risk of company liability with documented safety standards
Benefit from fast audit times and our long-standing experience
Show how high your high quality standards are
Ensure compliance with local government and legal requirements
Our Hardness Testing Services
We provide quick and inexpensive testing to determine if:
Metals meet required hardness readings for applications
A metal component has been improperly heat treated
Pieces do not conform
If pieces do not conform, we sort them for proper conditioning – either with heat treatment or annealing.
Three Types of Accurate Tests
Hardness testing is the resistance of metal to plastic deformation, usually by indentation. It also refers to stiffness, temper, or resistance to scratching, abrasion, or cutting. It is the property of a metal that gives it the ability to resist permanent deformation (bent, broken, or having its shape changed) when a load is applied. The greater the hardness of the metal, the greater its resistance to deformation.
Three types of accurate tests are used by the metals industry:
Brinell hardness test
Rockwell hardness test
Vickers hardness test
The Brinell hardness test is performed utilizing a known applied load with an indention ball and applying the load for a specified amount of time. The indention is then measured across the largest diameter of the indention. This reading correlates to a Brinell hardness number. Rockwell and Vickers are similar readings that measure the amount of indention detected at a known applied load. These readings can determine the properties of metal samples and help determine if the metal in question meets specifications required for the type of service it is being used for.
Last Visited Service Pages