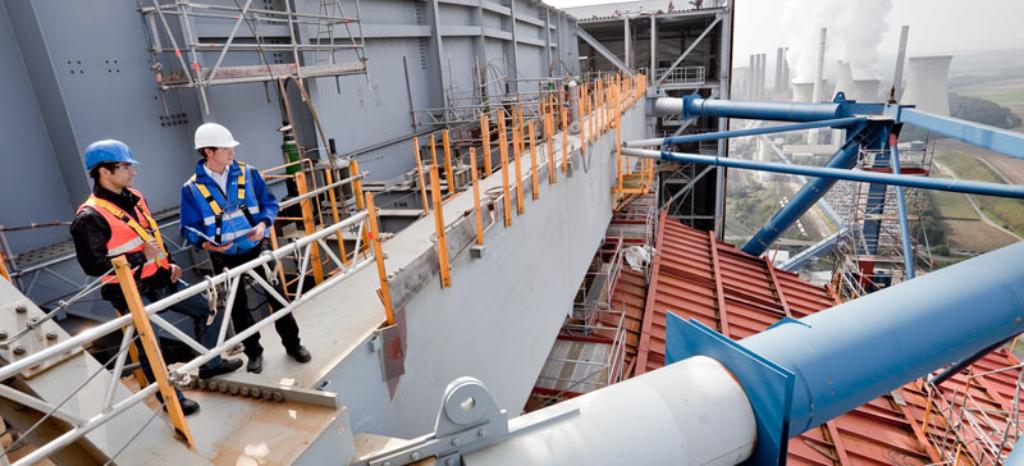 Document your construction site safety with our HSE management system
Construction sites pose plenty of risks, both for humans and the environment. Our health, safety and environment (HSE) management ensures that legal regulations and safety standards are observed.
As part of our comprehensive HSE management, we will assign one of our HSE managers or teams to assist you throughout the whole project. They will offer expert and targeted advice during the planning phase and construction period, and even once the project is completed. The implemented HSE system will be evaluated constantly during this time, and you will receive comprehensive documentation of the results of the measures involved.
In us you will find a reliable partner with global and extensive experience in the field of occupational health and safety. Our specially trained employees will help you implement your construction project in a safe, legally compliant and successful way.
Would you like to optimize your construction site safety with our HSE management? Contact our experts now to learn more!
Optimal organization and legal certainty through HSE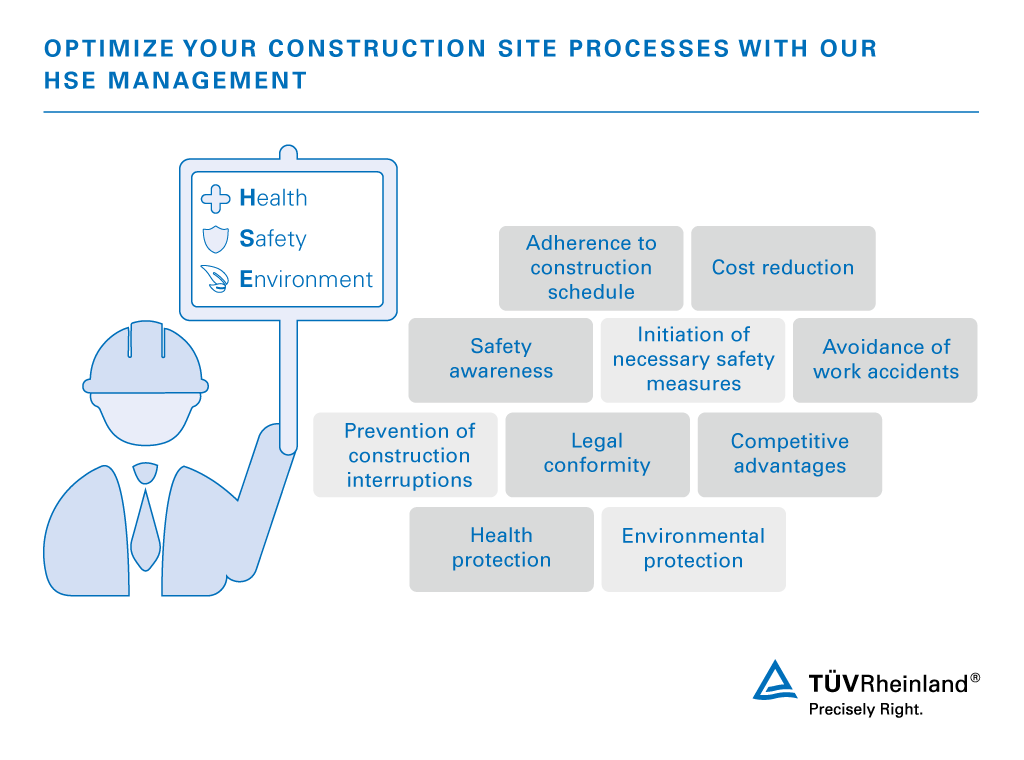 Our HSE management helps you optimize the processes in your construction project and make gains in terms of effectiveness, quality, safety and time. You can make sure that you stick to your construction schedule while also reducing costs. Potential safety flaws and hazardous situations are identified in time and remedied with suitable safety measures. This allows you to avoid work accidents and interruptions to construction.
Our HSE management helps you achieve legal conformity with the relevant national and international laws and standards. In addition, it shows your customers, employees and business partners that you take matters of health, environmental protection and safety seriously, and it also improves your image. All these things will give you a valuable competitive edge.
HSE management our services for your construction site safety
As part of our HSE management, we will assign one of our HSE managers or even teams of experts to advise you throughout the whole project and focus on your aims. They will assist you during the planning and construction phases, but also after your project has been completed:
Set-up and management of the HSE team at the construction site; objective comparison between current situation and specified business targets; advice for project and construction management
Creation of the necessary documents and plans (including HSE plan, HSE manual, implementation of a reporting system, inspection and discussion schedule, training and instruction documents for general construction site briefing)
Implementation of the HSE system and assessment of effectiveness
Crisis management (embedding in management structures, creation of emergency plans)
Third-company management (performance of pre-qualification, audits, HSE assessment of contractors)
Hazardous substances management (hazardous substances register, storage of hazardous substances)
Environmental management (waste and water management)
Permit management (approval procedure)
Implementation of fire prevention concepts and support during crane and scaffold construction coordination
Development of measures for safe use of facilities (e.g. checking which warehouse, transport and assembly facilities are suitable for the specific project in question, and subsequently selecting those most suitable)
Comprehensive documentation of the results of our measures
Benefit from our HSE management expertise
Our specially trained experts have extensive international experience of construction projects. They have the necessary expertise, physical abilities and great social skills. When assisting your construction projects, they are aware of the smallest safety details without losing sight of the whole. Thanks to support from the back office on topics such as changes to the law, construction processes or safety requirements, our experts are always up to date.
You want to improve construction site safety and would like to learn more about our HSE management? Make an appointment with our experts today!
Our Sustainability Initiatives
Nothing less than the future is at stake. Companies, institutions, public authorities and each and every one of us can play a positive role in shaping the path to tomorrow. We provide you with comprehensive support to ensure that you operate safely, sustainably and efficiently for many years to come.
This might also interest you
Last Visited Service Pages