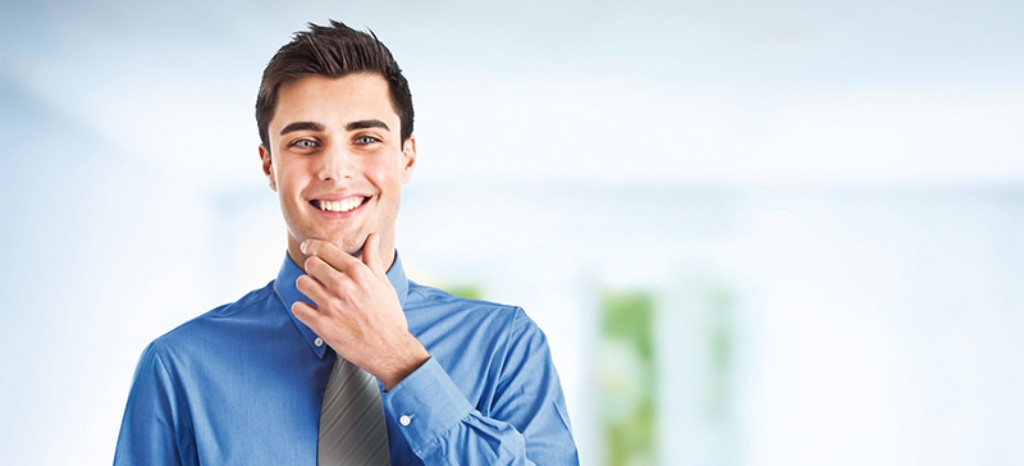 Achieve consistent quality and boost consumer confidence with a TL 9000 certification for telecommunications
In today's competitive global marketplace, telecommunications manufacturers face ever-increasing quality requirements for their supply chains. The TL 9000 certification scheme addresses these challenges with an extension to the widely-used ISO 9001 standard, which has been uniquely adapted to the telecoms industry.
Certifying your products according to TL 9000 norms gives you a clear competitive advantage in an industry characterized by short product lifecycles and high quality expectations. Developed by the QuEST Forum, the standard defines quality management system requirements for the design, development, production, delivery, installation and maintenance of telecommunications products and services.
As an accredited TL registrar, we have developed a program to support you at every step of the way towards your TL 9000 certification. As a liaison member of the QuEST Forum, an active member on several working groups and a partner with many of the largest global telecommunications firms, we have demonstrated consistent industry leadership in this field. Contact our experts today to find out how to increase your performance, reduce costs, mitigate risks, and improve relations with your customers and suppliers.
Want to learn more about a TL 9000 certification in your company? Contact our specialists!
Ensure compliance and maximize efficiency with a TL 9000 certification for the telecoms industry
Gain a distinct competitive advantage with a TL 9000 certification for your telecoms business. Our experts will guide you towards improving customer focus and boosting consumer confidence as you ultimately gain a lead over the competition with our neutral and widely respected test mark.
Besides providing a globally accepted benchmark for your products, TL 9000 certifications have been shown to increase efficiency and quality while minimizing risks and liabilities.
Ensure compliance with local statutory and regulatory requirements, and demonstrate your commitment to the highest standards of quality.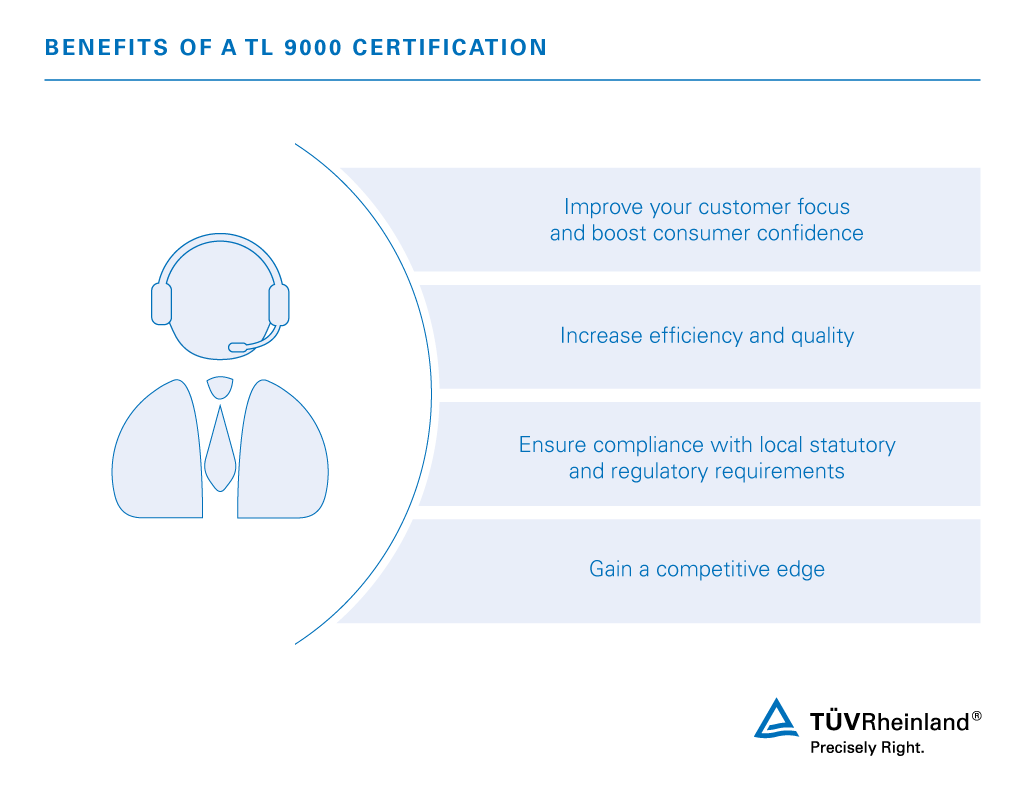 Six steps to your TL 9000 certificate
QuEST Forum developed the TL 9000 quality management system (QMS) in 1998 with the goal of satisfying the unique quality requirements of the worldwide telecommunications industry. TL 9000 reduces the number of standards for the industry by establishing a common set of QMS requirements. This results in effective cost and performance-based measurements to drive continual improvement and enhance customer relationships in your company.
It only takes six steps to certify your company according to TL 9000:
Preliminary audit (optional)
Documentation review
Certification audit
Issuing the certificate
Surveillance audits
Recertification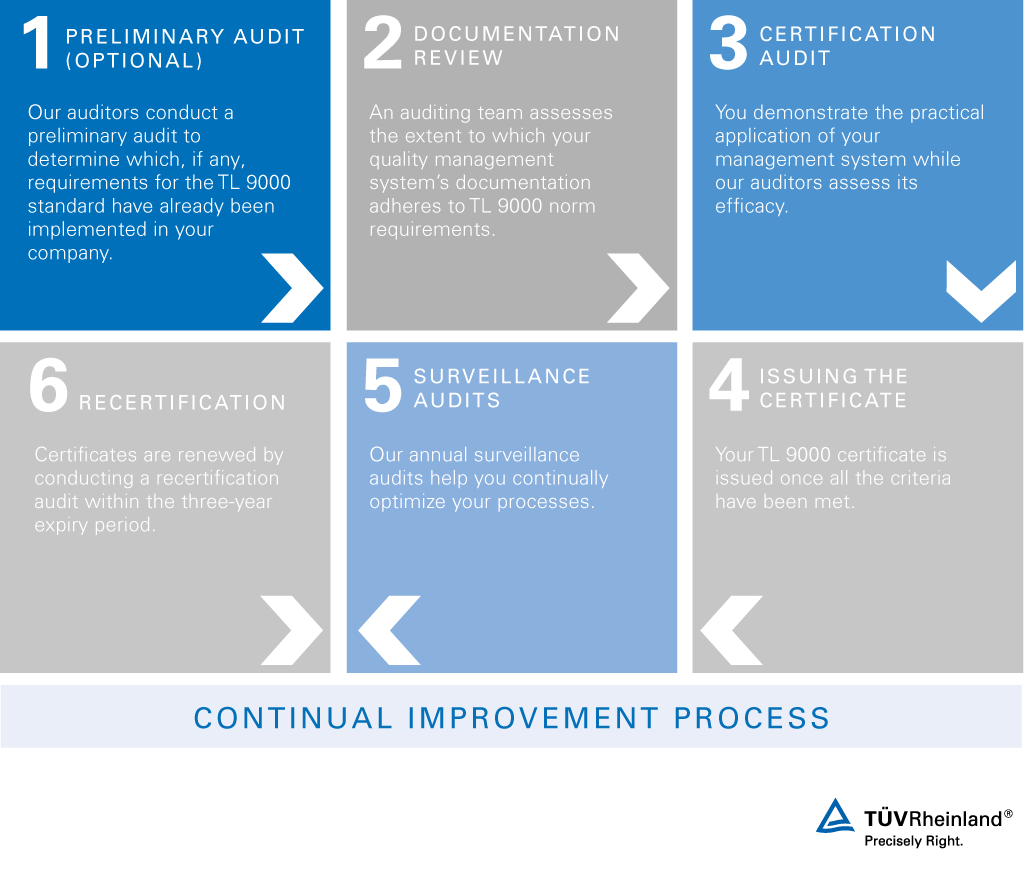 TL 9000 is uniquely suited to the needs of the telecoms industry
The TL 9000 standard is the telecommunications industry's unique extension to the widely-recognized ISO 9001 norm. As such, it satisfies all the demands of ISO 9001 while also incorporating telecom-specific requirements for hardware, software and service registrations as well as specific metrics relating to product reliability, lifecycle management, and communications between network operators and suppliers. As a result, TL 9000 is a two-part quality system with significant management and measurement components tailored to your business.
Your experienced partner for the telecoms industry
With our proven track record in the telecommunications business, we are here to support you with expert guidance at every step of the process. With an entry in our online Certipedia database of certificates, a TL 9000 certification is sure to boost consumer confidence and secure your place in a competitive international market.
Contact our experts to learn more!
This might also interest you
Last Visited Service Pages