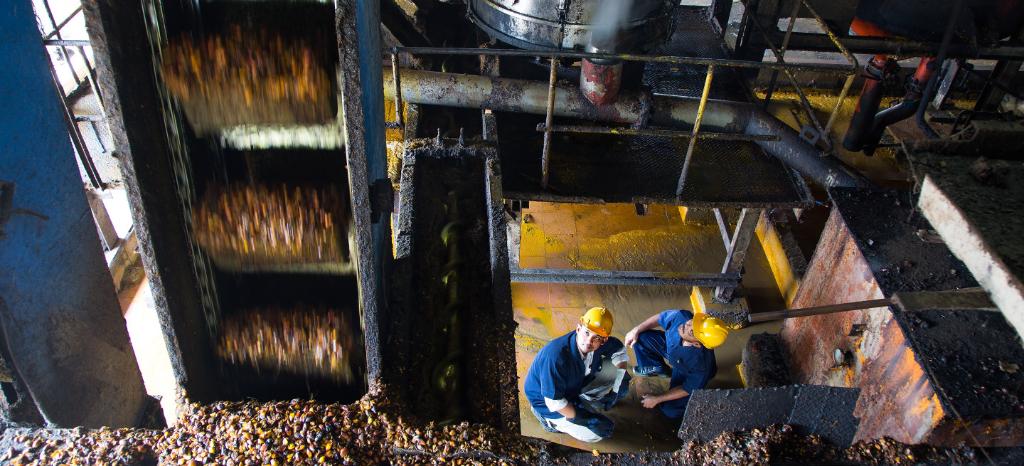 Helping to Promote Growth and Use of Sustainable Palm Oil
The Roundtable on Sustainable Palm Oil (RSPO) was established as a global, multi-stakeholder initiative "to promote the growth and use of sustainable palm oil through cooperation within the supply chain and open dialogue between its stakeholders." To meet this one principle objective, the RSPO established an international set of standards for palm oil production, known as "Certification of RSPO Principles and Criteria and Supply Chain Systems". Any company that works with oil palm plantations, palm oil mills, and in derivative palm oil manufacturing can be RSPO and supply chain certified. TÜV Rheinland is acknowledged by the RSPO as an eligible certification body for RSPO certification.
As a leading service provider in the field of audit and management system certifications for protection of the environment, TÜV Rheinland has the expertise your company needs for RSPO and supply chain certification. Our diversified team of auditors is aware of the various requirements of the agriculture industry and is versed in the various environmental, legal, social, and safety aspects covered in the RSPO standard. Their expertise will add value to your operation and the sales and marketing strategy for your product. Ask our experts. We will be glad to help with both RSPO and supply chain certification of your products and processes.
Benefits At A Glance
With TÜV Rheinland as your partner for RSPO and supply chain certification, you:
Gain better market access for national and international consumption
Improve your corporate image and reputation
Benefit from knowledge transfer in best practices on agriculture, environmental, and social aspects
Enhance the value of certified palm oil as a traded commodity / edible oil
Ensure that your organization takes environmental responsibility seriously and implements projects and processes for conservation of natural resources and biodiversity
Our Approach
RSPO certification is achieved in five steps, supply chain certification for palm oil in three phases. As your one-stop shop, TÜV Rheinland provides support throughout all phases of auditing, right up to certification and continued monitoring of your compliance with the RSPO standard.
For RSPO certification:
Phase 1: Application
Phase 2: Pre-assessment and audit by TÜV Rheinland (optional)
Phase 3: Public announcement (30 days before certification audit)
Phase 4: Certification audit by TÜV Rheinland
Phase 5: Monitoring Audit by TÜV Rheinland
For Supply Chain certification:
Phase 1: Application
Phase 2: Certification audit
Phase 3: Monitoring audit
Our Sustainability Initiatives
Nothing less than the future is at stake. Companies, institutions, public authorities and each and every one of us can play a positive role in shaping the path to tomorrow. We provide you with comprehensive support to ensure that you operate safely, sustainably and efficiently for many years to come.
RSPO Complaints and Grievances Procedures
RSPO Certified Clients
| | | | |
| --- | --- | --- | --- |
| pdf | List of RSPO Certified Clients | 2 MB | Download |
Last Visited Service Pages