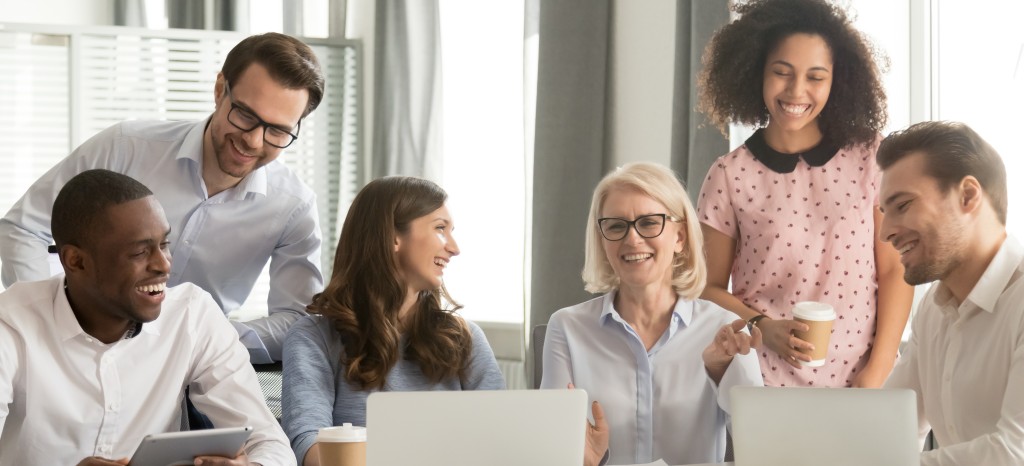 New Challenges for Employer Brands
Demographic change and the trend towards full employment are leading to an increasing shortage of qualified workers. This means that companies need to raise their profile as an employer and communicate efficiently. At the same time, human resources departments are facing new expectations from employees. As a result, human resource management is subject to additional demands.
The new "Outstanding Employer" standard from TÜV Rheinland meets these challenges. The standard allows interested companies to have their HR department evaluated and certified. It applies to all companies and organizations, whatever the industry or size.
65% of all applicants* take employer quality marks into consideration in their employment decisions. With a brand that is a byword for trust and credibility, as well as being known to 98% of the general public, TÜV Rheinland is exactly the right choice of certification partner for you. Our certification process features systemic auditing, a sophisticated seal concept and a comprehensive basic package. Why not take advantage of these benefits?
Benefits of "Outstanding Employer" Certification at a Glance
Differentiation from other employers and competitors.
Enhanced company image and employer brand.
Improved perception of company campaigns with the TÜV Rheinland seal of approval.
Incentives and external impetus for optimizing internal processes.
Increased motivation and creativity, as well as longer employee retention and lower staff turnover due to greater satisfaction.
Continuous improvement process in human resources.
Decreasing recruitment costs due to increased attractiveness.
Targeted appeal to "Generation Y".
No mood-dependent measurement of the status quo via employee surveys.
Defined frameworks for company-specific solution approaches.
Do not hesitate to contact us for further information on our "Outstanding Employer" seal of approval.
The "Outstanding Employer" Certification Process
1. Preliminary audit (optional)
You can choose to fill in a self-assessment or book an on-site GAP analysis to allow us to evaluate your certification readiness in detail. The results of the preliminary audit are supported by an independent employee survey (online).
2. On-site audit
The focus of the certification process is an "on-site audit" of the HR department and HR management.
3. Certification audit
A minimum standard must be achieved for the individual requirements and criteria in the audit.
4. Certificate issuance
After successful certification using the basic module, TÜV Rheinland provides a test report, a certificate and the "Outstanding Employer" seal of approval. Successful certification in an additional module is noted on the certificate and seal of approval.
5. After-sales support (optional)
To assist you in properly marketing your "Outstanding Employer" seal of approval, TÜV Rheinland provides an exclusive social media package and individual social media consulting through one of our partners.
6. Monitoring audit
Our annual monitoring audits help you to continuously optimize your processes.
We have a holistic concept that enables us to support interested companies through the process of building an employer brand and on the way to "Outstanding Employer" certification.
The "Outstanding Employer" Basic Module
The standard is underpinned by a basic module that tests the fundamental demands on human resources management in a process-oriented manner. Five additional modules on individual, innovative HR subjects complete the standard and allow interested employers to further enhance their profile.
The following areas are tested as part of the basic module:
Ethics/corporate culture
Organization and processes
Fundamentals of HR management
Recruiting
HR marketing
Operational HR management
HR development
HR accounting
Exit and transition management
Equality
The "Outstanding Employer" Additional Modules
The additional modules follow the same testing areas as the basic module, but are based on further subject-specific focal points and additional requirements in the individual testing areas.
The 5 additional modules address the following topics:
Parent-friendly employers
Digital safety at work
Health management & prevention
Active generation management
Fit for foreign workers
The "Outstanding Employer" audit is therefore a very interesting tool for participating companies. Not only is the employer brand supported by a credible seal of approval, but the audit also identifies potential and incentives for internal improvements.
Key Questions About the "Outstanding Employer" Seal of Approval
How will certification by TÜV Rheinland support our employer branding process?
TÜV Rheinland has a brand awareness of 98%, and is a byword for trust and credibility. This makes it likely to have knock-on effects on employer brands. In addition, company mission statements and corporate strategy are fundamental cornerstones of the audit, which promotes implementation of the employer brand in HR processes.
Will an employer seal of approval really help us to recruit new employees?
Yes. Scientific studies show that 65% of all applicants take a seal of approval into consideration when choosing an employer (14% are significantly influenced by this). Furthermore, 60% of applicants do not know any of the established seals on the market, which underlines that certification via a recognized brand such as TÜV Rheinland can offer additional potential.
Is the testing methodology for the TÜV Rheinland employer seal of approval different from others?
Yes. Unlike most other providers, certification is provided as part of a holistic approach based on a systemic audit on company premises. Use of the seal in the event of a successful audit can be planned as there is no ranking approach (top X).
Will we be told how to implement HR processes as part of an audit?
No. The audit questions are open and define "frameworks" within which company-specific solutions can be defined and implemented.
Does the audit process include an employee survey?
No. However, the audit does check whether the company uses suitable methods of collecting feedback from employees.
How are the costs of employer certification calculated?
The costs of employer certification are calculated based on the man days required for the audit, and the costs of producing the certificate. There are no additional costs for using the seal of approval, obligatory workshops or similar (the number of man days is dependent on the scope of the audit, i.e. the size of the company and the setup of the HR department).
Are the additional modules mandatory, or can they be individually selected?
No, only certification using the basic module is required in order to use the "Outstanding Employer" seal of approval.
This might also interest you
Last Visited Service Pages