Verify oversized products resistance to extreme environmental conditions in our large climate chamber
In order to demonstrate that products designed to perform in challenging or even extreme climatic conditions meet quality standards and consumer expectations, manufacturers and importers alike must be able to show credible results in various simulated environments.
At TÜV Rheinland, we have now extended our environmental testing structures to include a large climate chamber for the testing of oversized products.
Voluntary and mandatory climate chamber testing is determined according to standards applicable to individual products and customer demands. While wheelchairs or mobility scooters require climate chamber testing, voluntarily including these tests as part of a range of certification testing demonstrates your serious commitment to quality, performance and safety and provides consumers with an added sense of security when making choices at the point of purchase.
Make an appointment now to have your products tested at our state-of-the-art large climate chamber facilities!
Successfully test your large products in our new large climate chamber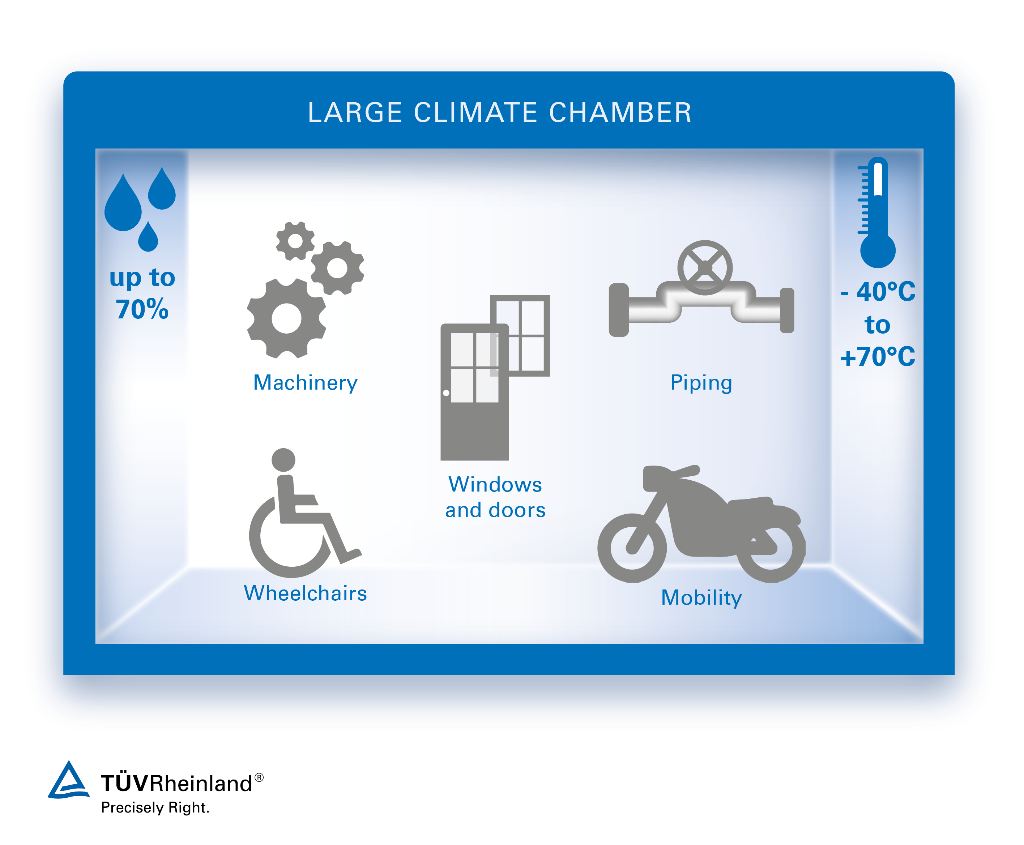 Our large climate chamber provides the appropriate environmental simulation or extreme conditions needed to test the reliability and resistance of a variety of products too big for conventional chambers.
In addition to climate chamber testing in which larger products can be assessed, we offer a comprehensive portfolio of complementary services according to global industry standards for any and all of your products. With facilities nearby, large products may also be conveniently assembled on-site in the climate chamber.
Establish your brand as a reliable leader and show your customers that you care. Call us now!
Environmental chamber testing for a wide variety of products
We have invested in our newly-built large climate chamber facility to provide you the opportunity to test a variety of products too big for conventional environmental simulation chambers.
The state-of-the-art structure features a door measuring in at 1,55 x 2,2m and a volume capacity of 5,1 x 8,1 x 2,4m. We can conduct testing in temperatures ranging from -40 to +70 degrees Celsius at a temperature constant of 2 degrees. In addition, we are able to create environments with up to 70 percent humidity.
These dimensions allow laypeople and industry professionals alike to test large object such as:
Wheelchairs and mobility scooters
Motorcycles
Glass, windows and doors
Industrial piping components
TÜV Rheinland, creating the right environments for testing products of any kind
Our worldwide network of experts, laboratories and climate chambers provide you testing services from a global leader according to international codes and standards recognized on all markets. We offer a wide range of testing capabilities and test equipment to meet the challenges of products of many shapes and sizes coming from any industry sector. Choose one or a combination of services from our extensive portfolio to ensure the quality and reliability of your products and boost customer confidence.
Take advantage of our cutting-edge large climate chamber testing facility and distinguish yourself from the competition today!
Our Sustainability Initiatives
Nothing less than the future is at stake. Companies, institutions, public authorities and each and every one of us can play a positive role in shaping the path to tomorrow. We provide you with comprehensive support to ensure that you operate safely, sustainably and efficiently for many years to come.
This might also interest you
Last Visited Service Pages