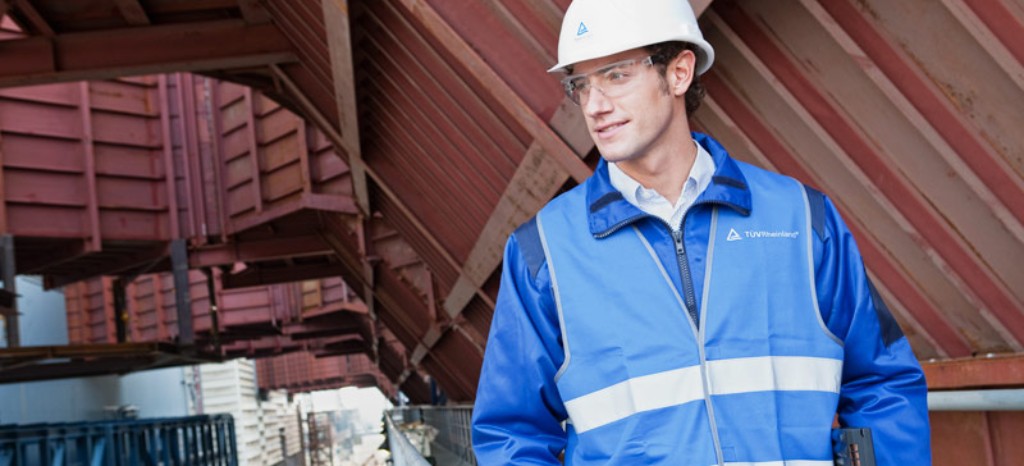 Factory Production Control in Compliance with EN 1090 in accordance with CPR
The Construction Products Regulation (CPR) has established harmonized standards in order to standardize the quality control of construction product manufacturing, guarantee free trade and ensure the unlimited use of qualified products within the European Union.
CPR requires all metal producing and processing companies wanting to sell construction products in the European Union to certify their factory production control (FPC). Manufacturers of hot-rolled steel products or aluminum components, for example, need FPC in compliance with the harmonized specification EN 1090-1.All construction products meant for the European market must be CPR compliant with the main focus primarily on written "Declaration of Performance" and modified CE marking . TÜV Rheinland is recognized as one of the first notified bodies for the EN 1090 standard and provides help in handling practical issues and regulatory demands in order for, construction products to be sold across the EU.
Benefits of EN 1090 Certification at a Glance
With manufacturer certification of EN 1090 compliance by TÜV Rheinland services for certifying factory production control according to EN 1090 enable, you tocan:
Expand your market to the European Union.
Gain peace of mind by meeting all your legal obligations.
Benefit from TÜV Rheinlandour industry leading expertise and experience.
Fulfill the prerequisites for gaining CE mark.
ContactPlease feel free to contact us at TÜV Rheinland to learn more about how our EN 1090 compliance services can benefit your company!
Prerequisites for Manufacturer Certification in Compliance with EN 1090
CertificationAs a basis for certification according to EN 1090 depends on1090ff, your company must pass several run-up conditionstests, such as:
Quality assurance in welding operations according to ISO 3834
Implementation and continuous supervision of a factory production control system
TÜV Rheinland provides services to fulfill prerequisites and is happy to assist in any way.
Our Approach for EN 1090 Manufacturer Certification
Application
When all prerequisites are fulfilled, manufacturers can apply for certification according to EN 1090.
Initial inspection
TÜV Rheinland coordinates the entire factory production control system certification process and conducts the inspection.
Issue of certificate
If all required criteria are met, factory production certification will be issued.
Regular monitoring
If on-going compliance with EN 1090 is needed, TÜV Rheinland is able to provide regular monitoring.
TÜV Rheinland as Notified Body for Construction Products
TÜV Rheinland is one of the Notified Bodies (NBs) working within the Construction Products Regulation (CPR) authorized to carry out performance and conformity certification of construction products and materials. TÜV Rheinland also qualifies to function as a designated Technical Assessment Body (TAB) able to issue both the European Technical Assessment (ETA) and the National Technical Assessment documents in accordance with CPR or national regulations.

The range of possible tasks are:
Factory production control (FPC) certification
Determination of the product-type on the basis of type testing

As Notified Body TÜV Rheinland can also apply the following standards according to CPR:
EN 10025 - Hot-rolled products of structural steels
EN 10088 - Stainless steels
EN 10210 - Hot-finished structural hollow sections of non-alloy and fine grain steels
EN 10219 - Cold-formed welded structural hollow sections of non-alloy and fine grain steels
EN 10340 - Steel castings for structural uses
EN 10343 - Steels for quenching and tempering for construction purposes
EN 13479 - Welding consumables
EN 15088 - Aluminum and aluminum alloys
Construction Product Regulation (CPR)
On 1. July 2013, the European Construction Products Regulation (CPR) replaced the Construction Products Directive (CPD). Since then, all construction products on the market must be CPR compliant with special emphasis being placed on written declaration of performance and modified CE marking. CPR provides distribution requirements for construction products covered by harmonized technical specifications.
Requirements for construction products in non-harmonized areas vary from country to country according to national competence. But, all companies producing and processing metalworking under construction supervision must be certified according to EN 1090-1.
Compliance with Relevant Guidelines
Our services for EN 1090 certification ensure compliance with the following guidelines and regulations:
European guidelines for construction products 89/106/EEC
DIN EN 1090 for aluminum and steel structures
Substitute for DIN 18800-7, DIN V 4113-3
Extension of requirements for small businesses (previous Class A now becomes EXC 1)
EN 1090 Classifications
EN 1090-1 defines regulations for the CE-conformity assessment
EN 1090-1 requires a welding certificate
EN 1090-2 replaces national regulations (DIN 18800-7)
EN 1090-2 classifies Execution Classes EXC 1 – 4
EN 1090-2 defines welding supervisors IWS / IWT / IWE with application limits
EN 1090-2 defines supplementary Non-Destructive Testing (NDT)
EN 1090-2 defines test piece welding
EN 1090-3 replaces national regulations (DIN V 4113-3)
This might also interest you
Last Visited Service Pages