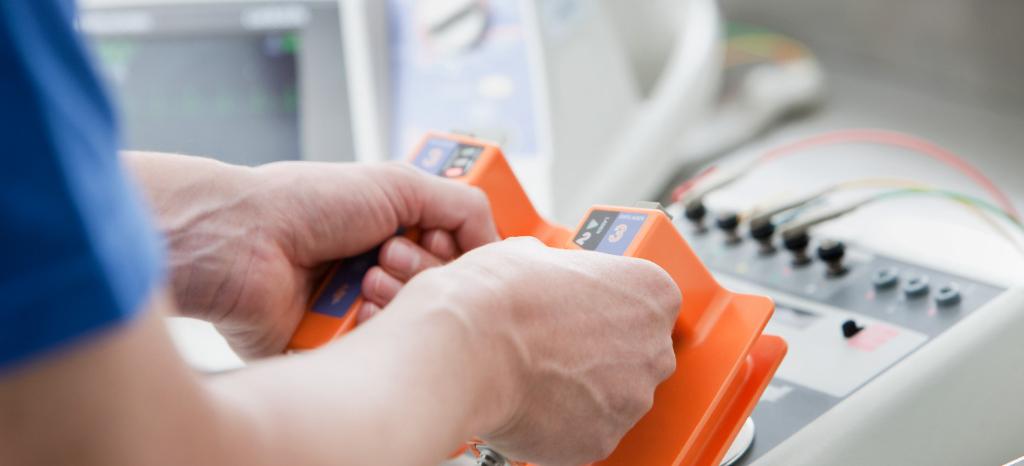 Conformity Assessment for Your Medical Devices
When it comes to medical devices, quality and safety are especially vital. As a notified body, we can carry out the conformity assessment procedures and ensure that your active and non-active medical devices comply with EU Directive 93/42/EEC. Tap into the European market!
Benefits at a Glance
Product tests and certifications by TÜV Rheinland let you:
Communicate your high standards of quality
Boost your customers' confidence in the quality and reliability of your medical devices
Our Services for Your Medical Devices
Conformity assessment procedure based on Annexes II, III, IV, V, and VI of the
Medical Device Directive
Certification as a "tested medical device"
Examination of your technical documentation for compliance with Annex VII of
the Medical Device Directive
Testing of your medical devices for compliance with harmonized standards, for example: EN 60601 or EN 12182
Example of a Conformity Assessment Procedure based on MDD, Annex II
1. Technical Documentation
We determine the number of technical documents to be reviewed as specified in he NBOG 2009-4 norm. We then review your technical documentation for compliance with the Medical Device Directive.
2. Product Design Examination (for Class III only)
Our experts examine your entire product design documentation (design dossier) for compliance with Directive 93/42/EEC. If the design review is successful, our certification body issues an EC design examination certificate.
3. Initial Certification Audit
Stage 1
Assessment of the readiness of your company for certification through an on-site audit or an evaluation of all necessary information about the company. This includes for example the review of the QM documentation. You will receive a related report about this.

Stage 2
Prior to the audit you will receive an audit plan. During the audit, company operations will be examined regarding how the requirements of the applicable directive and standards are fulfilled. In the process, we will particularly assess the conformity of the products with the requirements. All relevant production sites will be included in the audit. An expert in the relevant product category(ies) will be part of the audit team. You receive an audit report on completion.
4. Certificate
If the audit results are positive, the decision on granting certification and issuing the certificate will be performed by a person independent from the audit (certifier). This is followed by a regular surveillance audit every 12 months, and a recertification every 5 years. Additional unannounced audits will be performed in irregular intervals.

Did you know? Neither a decision on granting certification nor any change of the certificate status (e.g. maintaining, renewing, refusing, suspending, restoring or withdrawing certification as well as expanding or reducing the scope of certification) is made by a single person! We always apply the four-eyes principle: The evaluation of the audit team/product expert is followed by a separate review and decision.
5. Declaration of Conformity
Upon successful completion of the audit, you can issue the declaration of conformity for your products and market them with the CE mark, including the ID of the notified body (0197).
Legal Standards of our Services
As a manufacturer of active and non-active medical devices, you cannot market your products on the European market unless you meet the basic requirements EC Directive 93/42/EEC (MDD), Annex I.
Purpose/Classification
Every manufacturer must define the intended purpose of their medical devices and classify them based on Annex IX of Directive 93/42/EEC on medical devices. The directive distinguishes between four risk classes (class I, class IIa, class IIb, and class III).
Classification may be based on the following criteria:
Duration of use
Invasiveness
Active or non-active medical device
Use in the central circulatory or nervous system
Use of materials of animal or human origin
Defining a Conformity Assessment Procedure
Depending on the classification of your medical device, your conformity assessment procedure may have to be conducted by a conformity assessment procedure.
The following assessment modules are available:
EC type examination
EC verification
Product design examination
Technical documentation review
Quality management system audit
IT Security Vital for Medical Devices
All medical devices that have electronic features or that interact via radio (i.e. wirelessly) are exposed to the threat of hacking or failure. Past cases have been reported in which pacemakers were hacked or computer programs that control medical devices crashed during an examination or an operation, for instance. An additional risk is posed by the confidential patient data that is typically stored and transferred electronically nowadays. Data business is generally booming, which inevitably results in misuse as well. Devices that store patient data are thus at risk for cyber attacks. Personal tablets and smartphones are also exposed to this risk. Today's blood pressure monitors can connect to apps installed on mobile devices and export readings so they are clearly documented and can thus be analyzed and reviewed by patients. These apps also need to be protected from attacks by hackers.
In addition to this, guidelines on data protection and cyber security can vary from market to market. For instance, there are considerable differences between the EU and the US markets. It is thus imperative to know the laws in the respective market when producing and selling the corresponding medical devices including standalone software. TÜV Rheinland and its subsidiary OpenSky help customers to protect their software and hardware from cyber attacks. This is done through extensive software testing and consulting services aimed at quickly solving any issues.
Evaluation of Wireless Technologies
Medical devices with wireless technologies are a fast-growing market. Wireless devices are user-friendly, can be operated remotely, and increase the efficiency of the healthcare system: doctors can work faster, and synergies can be better harnessed. For devices that monitor inpatients, wireless technology has the advantage of no longer needing to be installed directly next to a bed, thus improving the comfort of the patient. Technologies such as Wi-Fi, Bluetooth, and Zigbee enable devices to be linked in the medical field, which makes data and instructions quicker and easier to transfer.
Just like "analog" medical devices, wireless medical devices are regulated by the Medical Device Directive 93/42/EEC, provided that they are sold in the EU. Medical devices with wireless features are also subject to the new Radio Equipment Directive (RED) 2014/53/EU, which sets standards for all wireless devices marketed in the EU. These standards target the security of wireless devices, e.g. in terms of electromagnetic compatibility (EMC) or voltage. TÜV Rheinland inspects and certifies wireless medical devices for the European market as well as for the non-European market.
Offer
Any questions? Would you like an individual, non-binding offer? Then write to us now. We will respond to your request as quickly as possible.
This might also interest you
Last Visited Service Pages