Safer wheelchairs and mobility scooters with an experienced partner
Manufacturers of medical devices, including wheelchairs and mobility scooters, must adhere to regulations governing their products in order to secure access to world markets. These regulations, such as the European Medical Device Directive 93/42/EEC (MDD), are in place to protect the health and safety of consumers.
For over 30 years, we have provided wheelchair and mobility scooter manufacturers with testing and inspection services, including assessments of pre-sale literature, user manuals, service documentation and permanent labelling. All testing is based on harmonized product standards, and results are submitted in a clear, fully detailed report under accreditation.
As a member of the Dutch national mirror committee for wheelchairs, we are well-informed regarding potential changes to current standards as well as the development, over time, of testing methods. We are thus uniquely positioned to provide advice and carry out inspections that enable you to launch your products in markets around the globe.
Contact us and learn more about our wheelchair and mobility device services.
Expert testing enables you to stay competitive and compliant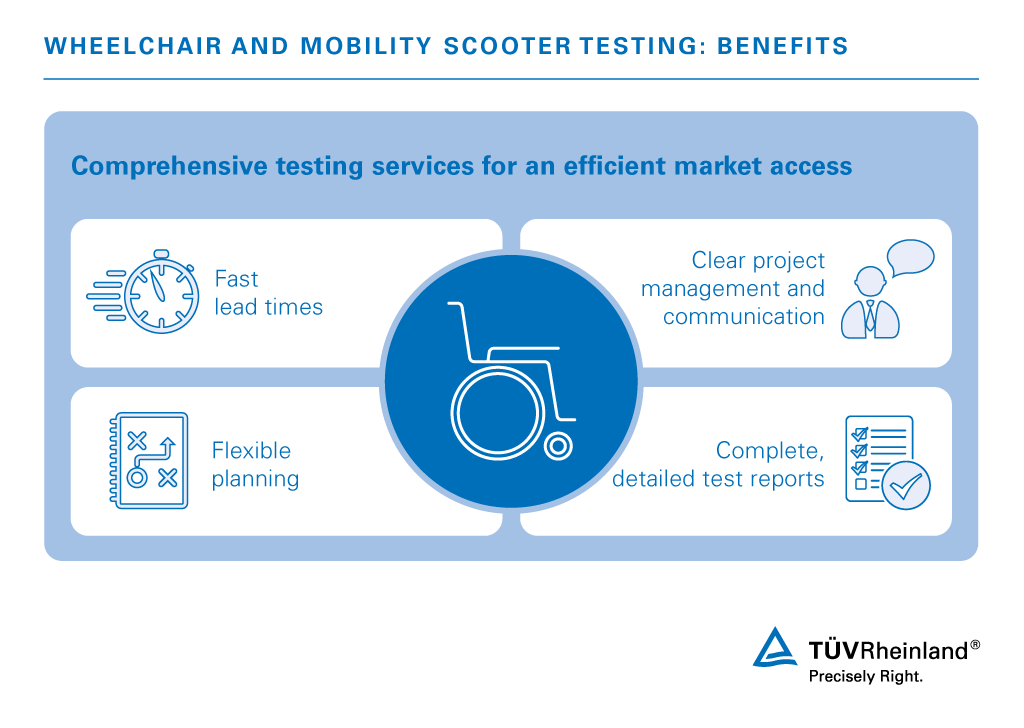 Bringing your products to market quickly and efficiently keeps you a step ahead of competitors. With our comprehensive in-house testing services, we have the resources to guarantee fast delivery times and global customer service, all at competitive prices. Our contact persons are at your side for direct communication and efficient project management. This allows you flexible planning.
Comprehensive testing for wheelchairs and mobility scooters
Our testing services are designed to support the CE marking process, encompassing mechanical and durability tests, electrical safety and electromagnetic compatibility (EMC) tests, and additional testing.
Mechanical and durability tests:
After deciding which of these tests are necessary to meet market requirements, our experts carry out one or more of the following tests in our laboratories:


Static and dynamic testing
Stability testing for safety in use
Speed and braking distance
Acceleration and deceleration
Strength and durability
Driving performance

Electrical safety and EMC tests:
Conducted to evaluate energy consumption and efficiency, controller performance, the entire power system and electromagnetic disturbance
Additional tests:
Non-standard tests, such as crash safety testing for wheelchair transport in motor vehicles
The testing concludes with an expert review of all product documentation and a final report.
Applicable standards for wheelchair and electric mobility scooter testing
Our portfolio of services for certifying wheelchairs and mobility scooters includes various systematic tests in compliance with a whole range of standards:
EN 12183 norm testing for manual wheelchairs
EN 12184 norm testing for electrically powered wheelchairs and mobility scooters
EN 12182 norm testing for technical aids for disabled persons
Mechanical tests for compliance with the ISO 7176 series of standards that describe the various testing methods for wheelchairs and mobility scooters
Electrical safety tests in accordance with the ISO 7176-14
Electromagnetic compatibility (EMC) tests in accordance with ISO 7176-21
Crash test in accordance with the ISO 7176-19 standard
EN 1021 or ISO 8191 fire resistance testing
In addition to these specific standards for wheelchairs and mobility scooters, we are also able to perform quality management certification in accordance with ISO 13485 and/or ISO 9001.
Wheelchairs and mobility scooters are Class I medical products according to the European MDD, meaning that manufacturers can declare for their own responsibility that their products comply with the essential requirements established in Directive 93/42/EEC. Once manufacturers have compiled a technical dossier (including a risk analysis and their own Declaration of Conformity regarding directive requirements), they can apply for the CE mark and launch their products on the market. Below is an overview of applicable European standards:
EN 12182 specifies general requirements and test methods for assistive products and technical aids for the disabled that are considered to be medical devices according to the definition established in the MDD.
EN 12183 specifies general requirements and test methods for manual wheelchairs intended to carry one person weighing up to a maximum of 100kg.
EN 12184 specifies general requirements and test methods for electrical or battery powered wheelchairs and mobility scooters as well as battery chargers.
ISO 7176 series describes the various testing methods for wheelchairs and mobility scooters in order to be able to adequately determine dimensions, mass and essential maneuvering space, maximum speed, as well as acceleration and deceleration. The standards also describe the requirements and test methods for electromagnetic compatibility of electrically-powered wheelchairs and scooters and battery chargers.
Leaders in wheelchair and mobility device testing
As an experienced and respected third party provider we work globally and customer-oriented. But our services go beyond ensuring compliance. Our laboratories are equipped with state-of-the-art facilities, including one of the largest wheelchair testing ramps in the world. And in addition to our ability to perform validity tests in accordance with international standards, we also offer our clients the opportunity to use our testing set-up to perform customer-specific research and development (R&D) tests under the supervision of one of our experts.
Contact us and speak to a service engineer about our testing services.
Our wheelchair testing laboratory in Arnhem (Netherlands)
This might also interest you
Last Visited Service Pages