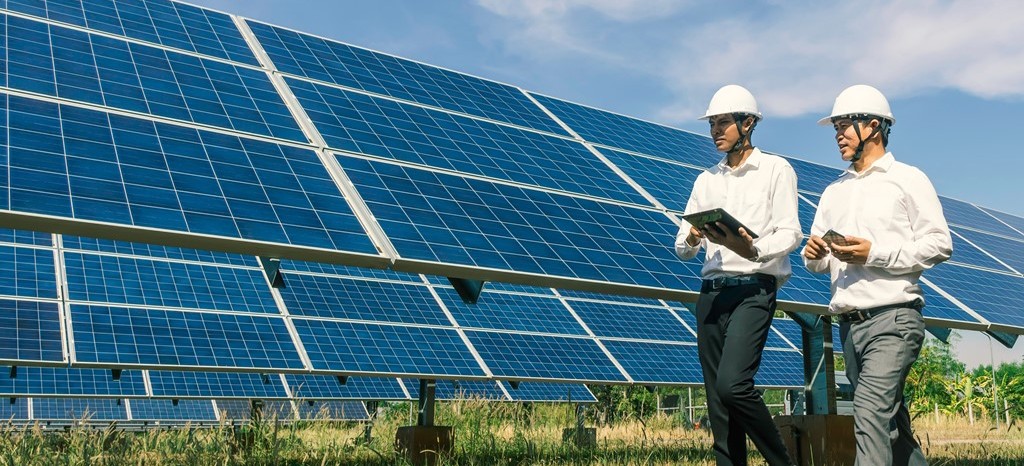 Secure solar investments with plant acceptance and warranty assessment
Owners of large scale PV power plants and their investors must be certain that each solar project meets contractual specifications, follows good industry practice and adheres to all relevant regulatory standards. Reliable plants operating at high performance levels provide customers dependable, quality service and ensure strong returns on financial investments.
We conduct comprehensive final acceptance testing and warranty inspections for the solar industry. Our services range from equipment and installation quality assessment to power plant commissioning and monitoring. We also calculate and verify operational functionality to determine overall plant performance.
A leading provider of testing, inspection, verification and certification services, we implement best practices throughout our global presence. Our deep understanding of regulatory standards relevant to the solar industry and our ability to tailor services according to your specific needs are the cornerstones of our expertise. We are ready to serve you at any time, anywhere in the world to ensure the success of your solar project.
Speak to an expert to learn more about our acceptance and warranty inspection services.
Ensure effective plant operation and identify critical component failure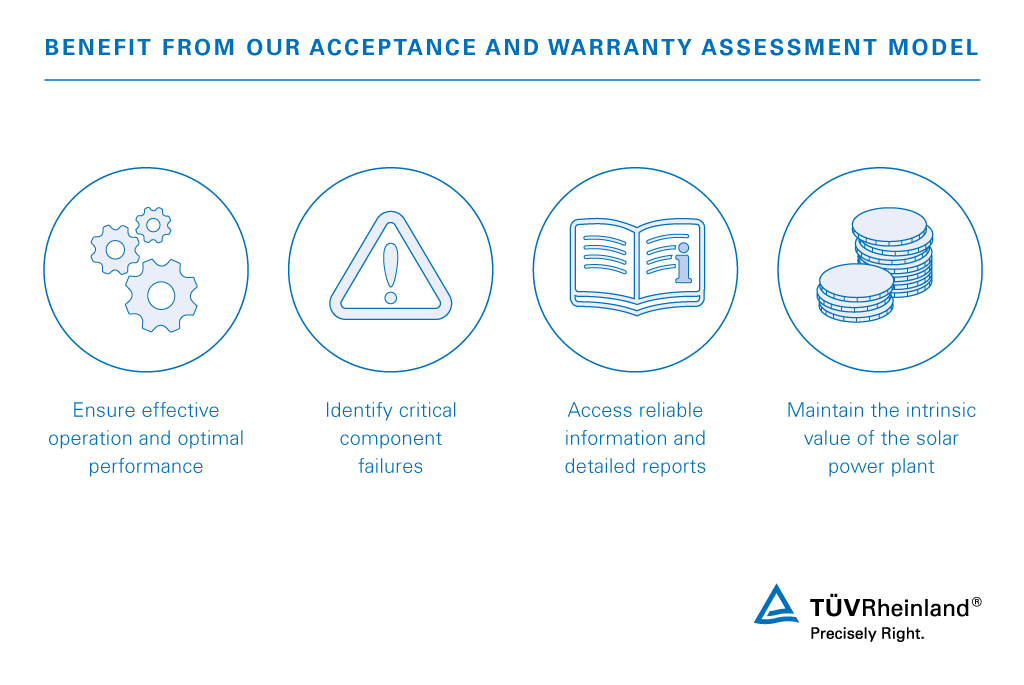 Prudent financial management includes ensuring effective operation at the time of acceptance and throughout the lifetime of any industrial facility. Our experts provide you acceptance and warranty inspection services tailored to the particular needs and regulatory standards relevant to your solar power plant.
We help you achieve final acceptance of your power plant so you can improve performance and benefit most from protective warranties and insurance policies.
We identify operational and performance weaknesses, PV component failures and solar power plant defects to provide you with the technical basis needed when making policy claims. As a result, our acceptance and warranty inspection services can be used to increase profits and maximize asset value for the duration of your solar power plant.
Acceptance and warranty inspection services for the solar industry
We provide comprehensive services for PV equipment and solar power plants with a special focus on:
Provisional Acceptance
During provisional acceptance, our experts verify that the asset has been built according to contractual obligations and design specifications as well as respective quality requirements. Performance and safety tests are conducted to assure stakeholders that the plant can sustainably operate over a long period. Other issues are acceptable only when they have no effect on plant performance or safety. Our experts work together with you to establish a list of points to be remedied during the first phase of your power plant warranty period.
Final Acceptance
During final acceptance, obligations covered in the contract are finalized and the plant is handed-over to the owner. Our experts verify that all points on the list have been successfully addressed and make certain that the plant is well maintained and performing as expected.
Warranty Inspection and Assessment
Guarantees on equipment are usually longer than those covering the plant. High value components such as PV modules, inverters, mounting structures and trackers should be regularly checked to determine whether they are performing as expected. Our experts examine all warranties and provide you comprehensive reporting needed to back any compensation claim.
Your respected partner with a reputation for excellence
Recognized acceptance and warranty inspections conducted by an independent and respected provider of industrial services can re-assure potential investors and boost the confidence of lenders, buyers and other associates. Our experts are able to provide you comprehensive services throughout any and all stages of your solar project. Built on extensive experience in the PV market and many related fields, our renowned name and excellent global standing are reflective of our ability to support any project, anytime and anywhere.
Put our expertise to work for you for added value and increased benefit. Call today!
Learn more about our solar and photovoltaic (PV) services
Our Sustainability Initiatives
Nothing less than the future is at stake. Companies, institutions, public authorities and each and every one of us can play a positive role in shaping the path to tomorrow. We provide you with comprehensive support to ensure that you operate safely, sustainably and efficiently for many years to come.
This might also interest you
Last Visited Service Pages