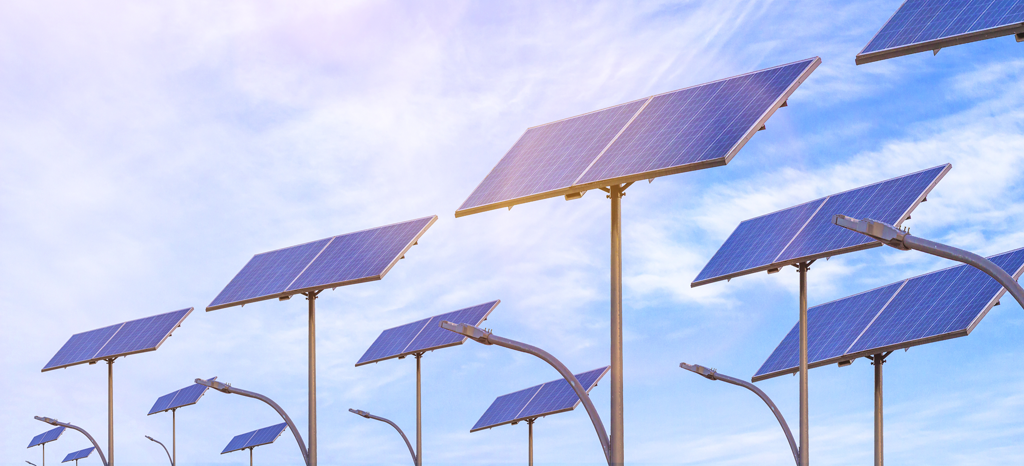 Compliance and quality with solar street and home light system testing
Solar street light systems represent a smart investment in environmental sustainability and public safety. They also consist of numerous components, each of which contributes to the proper functioning and durability of the system as a whole. Customers demand a guarantee that their investment will pay off, while regulatory authorities require that solar systems conform to certain quality standards.
Our testing and certification services for solar street lighting systems provide both a proof of quality and compliance. We are able to test every system component – from solar module to luminaires.
Our long standing partnership with the solar industry has helped establish our reputation as an impartial third-party expert in maintaining high quality standards for solar energy products. Especially for India, where the certification of solar street lights is mandatory, we are accredited by BIS (Bureau of Indian Standards) for Solar PV modules used for the Street Light System.
Contact a solar expert to learn more.
Evaluation for complete solar street light system for a competitive edge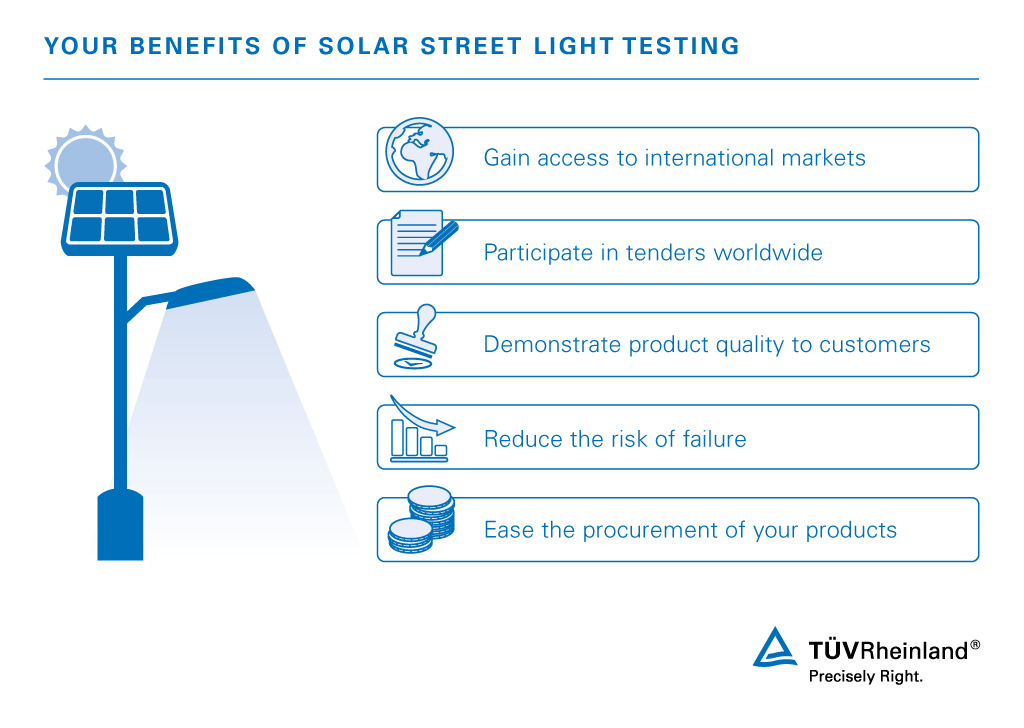 The services we offer for solar street lights provide you with proof of quality lacking in many products in this sector. Our test reports issued after is evaluation of complete system enables you to gain access to domestic requirements as per the MNRE and tender based specifications for its applications in field. You can participate in tenders worldwide and reassure customers that they are investing in a quality product.
Our support in its clarifications before-hand helps you to reduce the risk of field failures and to ease the procurement at component level.
Testing every component of your solar lighting system
Solar LED street lighting systems consist of the following components:
Solar module
Battery
LED (white LED) Luminaires
Electronics (performance and protection)
Accessories (pole, mechanical structure etc.)
Our experts will test solar modules, luminaires and electronics in our PV test laboratories. They accept the certified battery. For accessories, the client submits the declaration.
Solar street light certification by global experts
For more than 35 years, we have been working to ensure quality in the solar energy sector. This experience has contributed to our reputation as a leader in benchmarking and testing systems in the solar industry and beyond. Our expertise is combined with fast turnaround times and high capacity, making us a strong, reliable partner for your testing and certification needs.
Contact us and request a quote today!
Our Sustainability Initiatives
Nothing less than the future is at stake. Companies, institutions, public authorities and each and every one of us can play a positive role in shaping the path to tomorrow. We provide you with comprehensive support to ensure that you operate safely, sustainably and efficiently for many years to come.
This might also interest you
Last Visited Service Pages