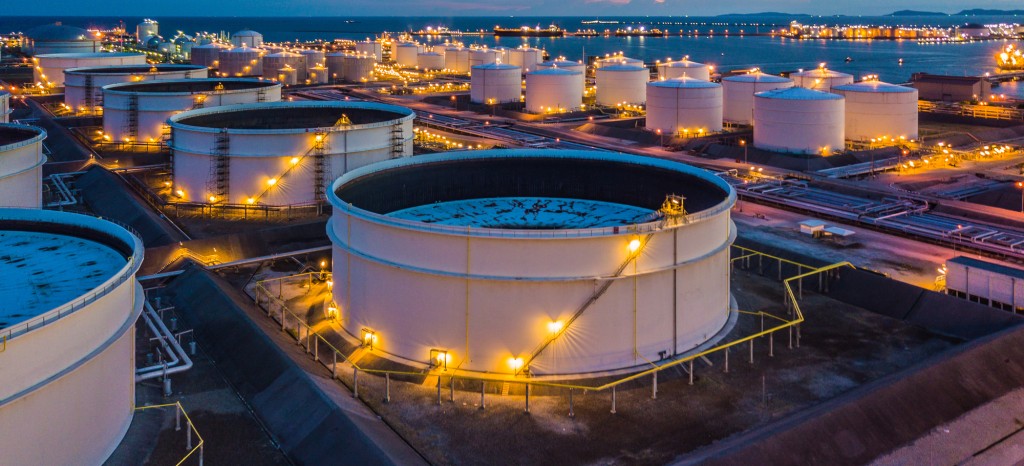 Identification, localization and testing of newly welded joints with our leak testing services
The situation is further complicated by the fact that certain welded joints are hard to inspect with other non-destructive testing methods, because the geometry or the location makes it impossible to inspect them properly, or access them from both sides. A special example is the double bottom plate of storage tanks, where the lower bottom plate cannot be accessed from any side, as it is laying on a concrete basement, and from above it is covered by the upper bottom plate.
In the case of storage tanks, pressure tests with high pressure usually cannot be performed,because they are not pressure equipment and can only resist atmospheric pressure. In these cases we offer different leak testing methods based on pressure difference on the two sides of inspected materials or welded joints.
Our leak testing services are provided in accordance with all relevant standards. Whether metallic products or stainless steel, we offer comprehensive testing solutions. Ensure reliable performance of your assets and products to better serve the needs of our client, your customers and protect existing or newly built investments.
Let us help you make sure that the welded joints and base materials of an equipment will really keep inside dangerous materials and pressure!
Protect assets and health and environment with expert leak testing
Leak testing is a cost-efficient way to prevent damage of the environment and health of people. Our up-to-date leak testing services are able to quickly provide solution for your technical problems. We serve you with years of experience in leak testing and our accredited testing laboratory makes sure your storage tanks used in your business are suitable to your needs and meet your company expectations.
Our leak testing services provide safety for people and environment
Vacuum box technique
A common leak testing method is the vacuum box testing. It is one of the safest non-destructive test methods and used when trying to locate weld seam leaks. A compressor and a vacuum box create low or high pressure vacuum while a detergent solution is applied to the test area. The detergent bubbles making leaks visible within the created pressure envelope. The advantage of the technique is that the location of any leaks can be detected. The common application areas of vacuum box testing include piping systems, pressure vessels, and storage tanks.
Leak tests in artificial atmospheres
A standardized leak test is conducted in an artificial atmosphere. The test evaluates whether welded joints contain break of continuity or whether corrosion caused any hole in a storage tank or equipment.
We test storage tanks according to recognized standards and client specifications by the following test methods:
For double bottom leak testing of storage tanks we perform 24-hour-long vacuum keeping test by creating vacuum using a vacuum pump between the two bottom plates and monitoring calibrated steam-gauges to see whether the generated vacuum is lost or not. If the generated vacuum remains the same for 24 hours, both the lower and upper bottom plates are acceptable by this testing method.
There are different geometrical forms of vacuum boxes. With these vacuum boxes connected to a vacuum pump we can perform bubble leak testing on different surfaces or welded joints. We apply a leak testing material on the inspected surface/welded joint that generates foam if air can be sucked through a hole or break of continuity covered by this testing material. The vacuum box with the connected vacuum pump will find defects of larger or intermediate size.
For more sensitive testing we mostly use helium leak testing method. We fill up the inspected equipment (for example the double bottom of a storage tank) with helium gas, and using a helium detector equipment with a sniffer probe we are looking for places where helium can get through the welded joint or the base material of the upper bottom floor.
Reliable leak testing results with your experienced partner
We provide comprehensive leak testing services from a single source. Our global network of experienced experts and accredited laboratories ensure fast, reliable and cost-efficient testing to save you both time and money. Our leak test produces quick and precise results to enable you to take speedy and effective action against hazardous and costly corrosion damage or not proper welding works. We test to make sure your materials stay inside your storage tank or equipment.
Have your storage tank or equipment inspected by our expert testing services!
Last Visited Service Pages