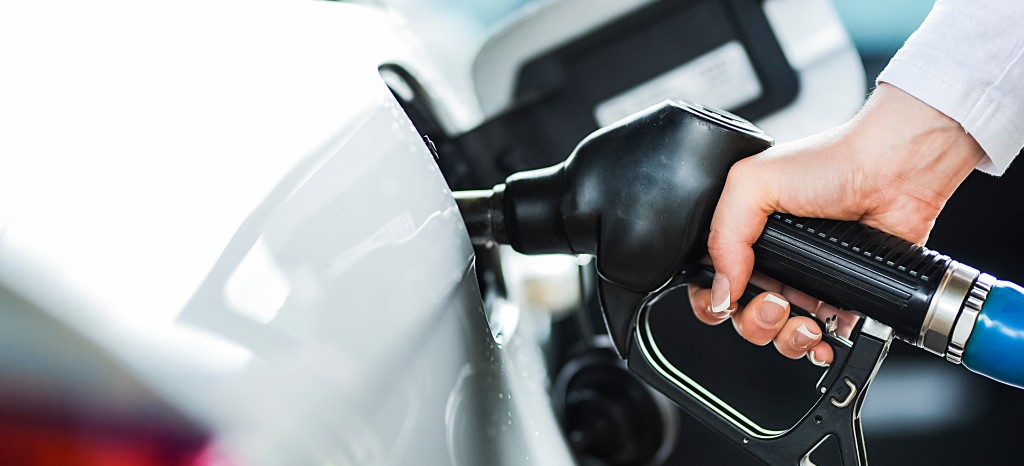 Competent fuel tank testing for manufacturers, OEMs and suppliers
Whether car, truck, motorcycle or quad, the fuel tank of every vehicle is subject to the highest safety regulations. Strict statutory standards apply to both the fuel tank and the materials from which it is made, requiring all components to pass extensive testing and inspection scenarios prior to series tank production.
We are recognized by the KBA (German Federal Motor Transport Authority - "Kraftfahrt-Bundesamt") and authorized to provide technical services for testing fuel tanks meant for passenger cars, trucks, two-wheelers, earth-moving equipment, and agricultural machinery. Our comprehensive services also offer our customers material-specific tests to determine the suitability of all materials to be used in their fuel tanks.
Our experts implement all legally prescribed test procedures. This includes, among other things, testing permeation rate and swelling velocity, assessing tensile strength and elongation at break, cold impact testing, and analysis of mechanical strength.
Learn more about our fuel tank testing and relevant services!
Compliant and safe with recognized fuel tank testing
Manufacturers, OEMs and suppliers depend on reliable fuel tank and material testing to ensure the production of compliant and safe tanks. Our recognized technical services provide traceable test results and assure the legal conformity of your products. Our experts develop an individual test program tailored to your specific needs. We help you to minimize homologation issues and reduce costs while maximizing transparency and increasing efficiency. We provide complete fuel tank and material testing from a single source and are able to serve you at any time, anywhere in the world.
Comprehensive inspection and testing according to fuel tank regulations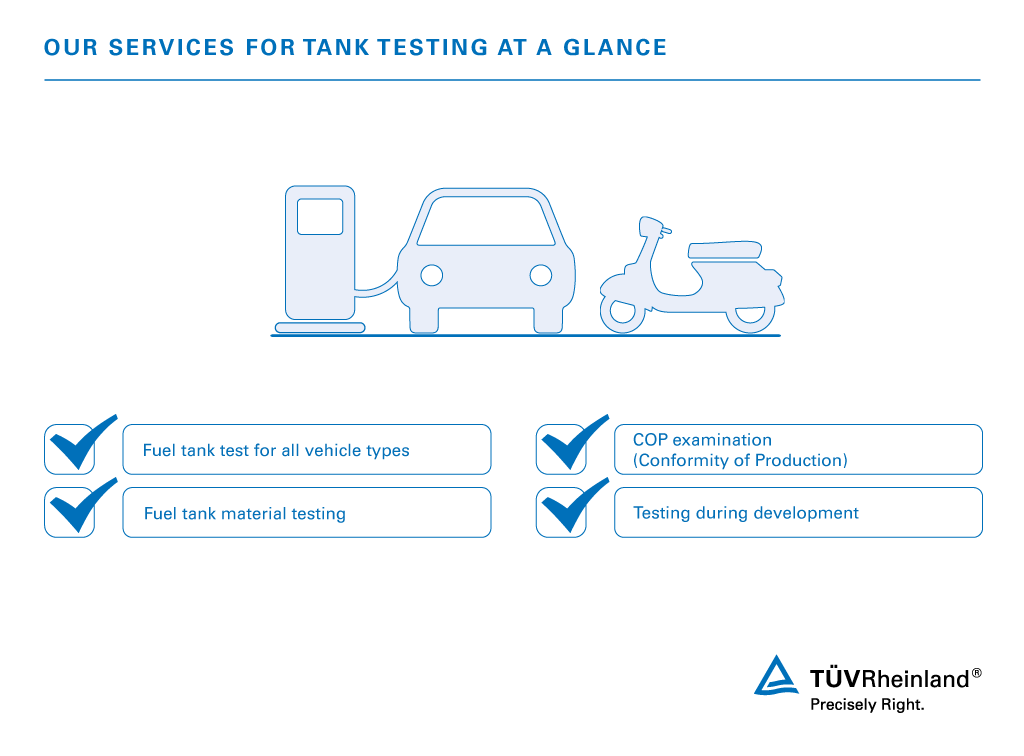 We provide state-of-the-art tank inspection and material testing according to international fuel tank regulation mandates. Our global team of experts is available to assist you with a service strategy designed specifically to your individual needs.
After each tank test for cars and motorcycles or each material test you will receive a detailed test protocol. If the result is positive, we confirm the suitability of the product for the corresponding field of application. This serves as necessary proof for the homologation.
Materials that have been successfully tested appear in our list of plastics for fuel tanks.
We conduct:
Fuel tank test for all vehicle types
Fuel tank material testing
COP examination (Conformity of Production)
Testing during development
Our expertise creates trust
Our experts are already at your side supporting you with advice and action during the product development process. At your request, we provide you with a test program tailored specifically to your requirements. We have more than 40 years of experience and a direct line to accredited institutes for fire resistance testing as well as universities to enable particularly fast and efficient processes. These reputable and reliable collaborations save you time and minimize costs.
Thanks to our reputation, we are a sought-after partner for regulatory authorities when it comes to formulating new legal regulations. As a customer, you profit directly from this as you can be sure that your products always comply with the internationally valid standards.
Your fast track to tank testing – click here now!
Downloads
| | | | |
| --- | --- | --- | --- |
| pdf | Infosheet – More safety on the road. Tank testing for cars and motorcycles. | 274 KB | Download |
This might also interest you
Last Visited Service Pages