Benefit from our Experience and be Successful in the European Market
Manufacturers and distributors of medical devices usually are on top of things when it comes to the certification and market approval of their products. Since 1993, this has been regulated by the requirements of the MDD. In 2017, the EU Commission adopted the European Medical Devices Regulation 2017/745 with an initial three-year transition period, which was then extended to four years, making the date of application May 26, 2021.
All medical devices that are newly placed on the market in the EU after the date of application must comply with the requirements of the MDR. Products that are already certified can be placed on the market until the end of the validity of their certificates, but no later than May 26, 2024, provided certain transitional provisions are met.
Our experts at TÜV Rheinland have thoroughly studied the changes in the MDR and are located in your region, around the world. As a Notified Body designated to perform conformity assessments under the MDR, we audit your quality management system and review your technical documentation.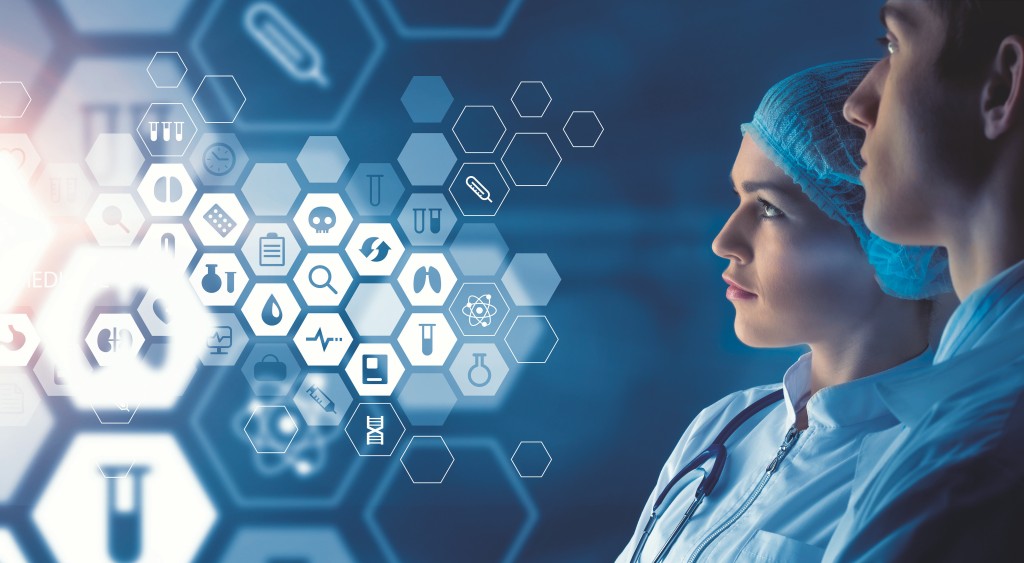 News: MDR transition period extended
On February 16, 2023, the European Parliament approved a proposal that will significantly ease the challenges of medical device manufacturers. With the latest extension of the Medical Devices Regulation EU 2017/745, they have the possibility to apply for an extension of the transition period for their products.
The new regulation is expected to enter into force shortly through publication in the European Journal. Manufacturers will then have the prospect of the following transition periods:
• May 26, 2026 medical devices (custom-made, class III)
• Dec 31, 2027 medical devices (higher-risk, non-exempted class IIb implants and class III devices)
• Dec 31, 2028 medical devices (low-risk)
Please consider that manufacturers must demonstrate that they have already taken steps to convert to the new regulations in order to claim the extension. We offer support for all manufacturers who are looking for a professional and reliable Notified Body to address the challenges by MDR and IVDR. Contact us!
Deadlines and Transitional Provisions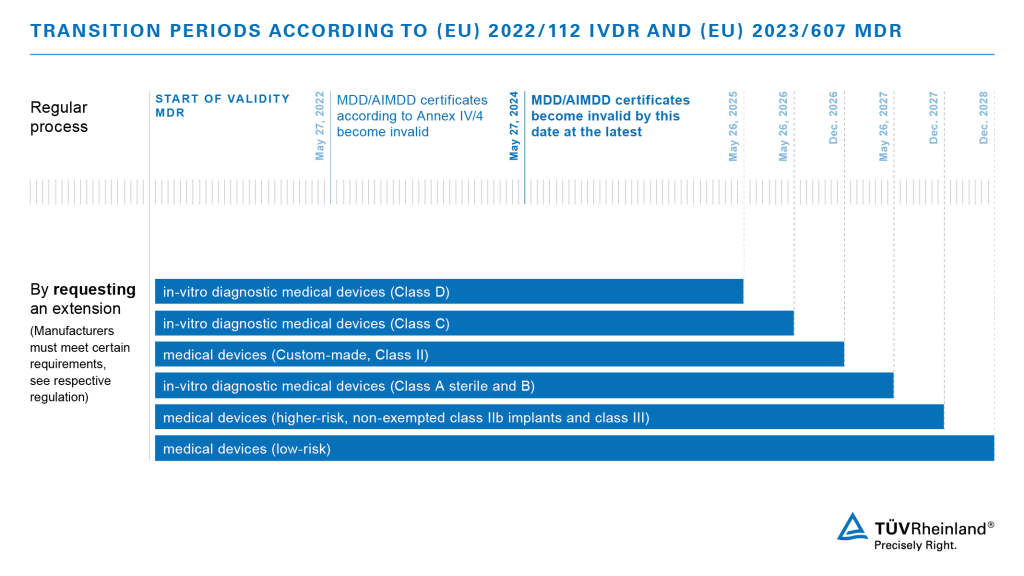 This transition period applies only if
the medical devices continue to meet the requirements of the medical device directives and if surveillance by the current Notified Body is still ensured,
additional requirements of the MDR are met as well, including requirements for the registration of market players and products, for post-market surveillance of the products and for the reporting of adverse events, and
no significant changes have been made to the design or to the intended use of the products.
All MDR Services
We are a Notified Body with extensive experience and competence in the participation in conformity assessment procedures. TÜV Rheinland LGA Products GmbH is your trusted partner for the transition from the 93/42/EEC (MDD) and 90/385/EEC (AIMDD) directives to the new MDR requirements, as well as, for the re-certification of your medical devices under MDR.
New Regulations for Medical Devices: