Benefit from our Experience and be Successful in the European Market
"Even years after the new European Regulation for Medical Devices (EU) 2017/745 (MDR) such as the respective regulation for In Vitro Diagnostics (EU) 2017/746 (IVDR) came into force, manufacturers and distributors are still struggeling to comply with the new requirements resulting from the switch from the respective guidelines to the new regulatory framenwork. In principle, all new medical devices and IVDs placed on the European market after the effective date of May 26, 2021 must comply with the requirements of the MDR repectively the IVDR.
However, for various reasons, the transition periods have been extended several times to ensure the supply of the European market with urgently needed devices and IVDs. Nevertheless manufacturers should no longer hesitate to deal with the requirements of new regulations in order to be able to continue certification of their products and to allow enough time to make any necessary product adjustments.
Our experts at TÜV Rheinland have thoroughly studied the changes within the MDR and the IVDR and are located around the world and in your region. As a Notified Body designated to perform conformity assessments under both the MDR and the IVDR, we are all set to audit your quality management system and review your technical documentations."
Deadlines and Transitional Provisions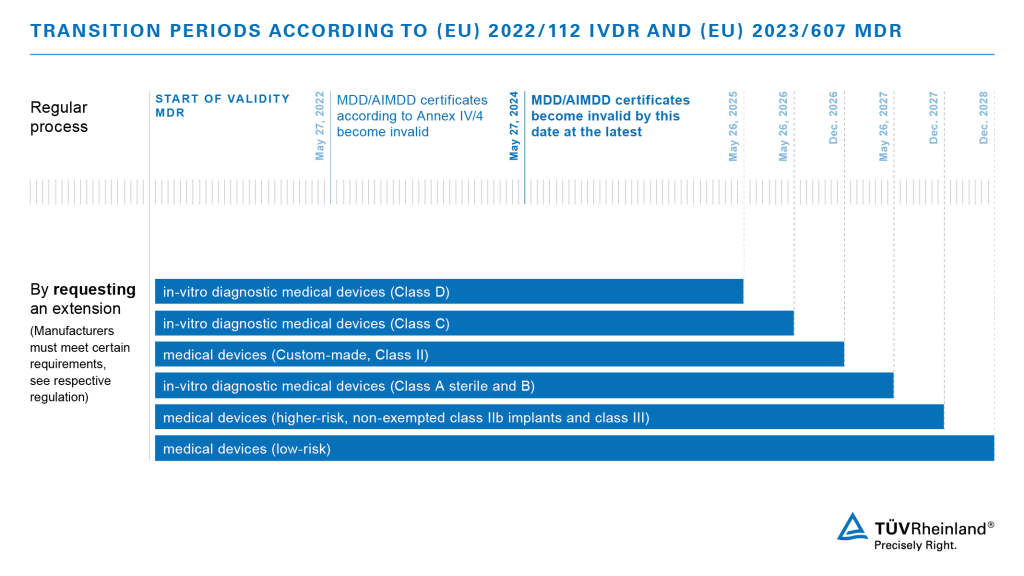 This transition period applies only if
the medical devices continue to meet the requirements of the medical device directives and if surveillance by the current Notified Body is still ensured,
additional requirements of the MDR are met as well, including requirements for the registration of market players and products, for post-market surveillance of the products and for the reporting of adverse events, and
no significant changes have been made to the design or to the intended use of the products.
All MDR Services
We are a Notified Body with extensive experience and competence in the participation in conformity assessment procedures. TÜV Rheinland LGA Products GmbH is your trusted partner for the transition from the 93/42/EEC (MDD) and 90/385/EEC (AIMDD) directives to the new MDR requirements, as well as, for the re-certification of your medical devices under MDR.
New Regulations for Medical Devices: