DETOX for Cleaner and Safer Textiles, Shoes, and Leather Goods Supply Chains
As a major contributor to water pollution worldwide, globally dispersed textile, shoe, and leather goods production requires a concentrated, unified effort to promote the sustainable use of chemicals across the supply chain and to combat the entry of hazardous substances into the environment. The DETOX campaign is an opportunity for stakeholders to collaborate on hazardous chemical elimination and substitution with more environmentally friendly alternatives. The campaign is a response to the growing pollution and health risks posed by this industry sector. This in turn triggered the creation of clear, unified, and harmonized industry standards for the protection of humans and the environment applicable throughout the global supply chain.
We offer a full range of assurance services to enable the path towards DETOX goals, starting with capacity building via training, gap analysis with audits, and verification of progress with waste-water testing across the supply chain.
Our global presence and technical expertise, along with our corporate ethos of ensuring safe interactions between people, technology, and the environment make us the natural partner for companies dedicated to DETOX.
TÜV Rheinland extends its services as ZDHC accredited training provider and ZDHC approved laboratory for waste water & sludge analysis

TÜV Rheinland's major hubs for waste water testing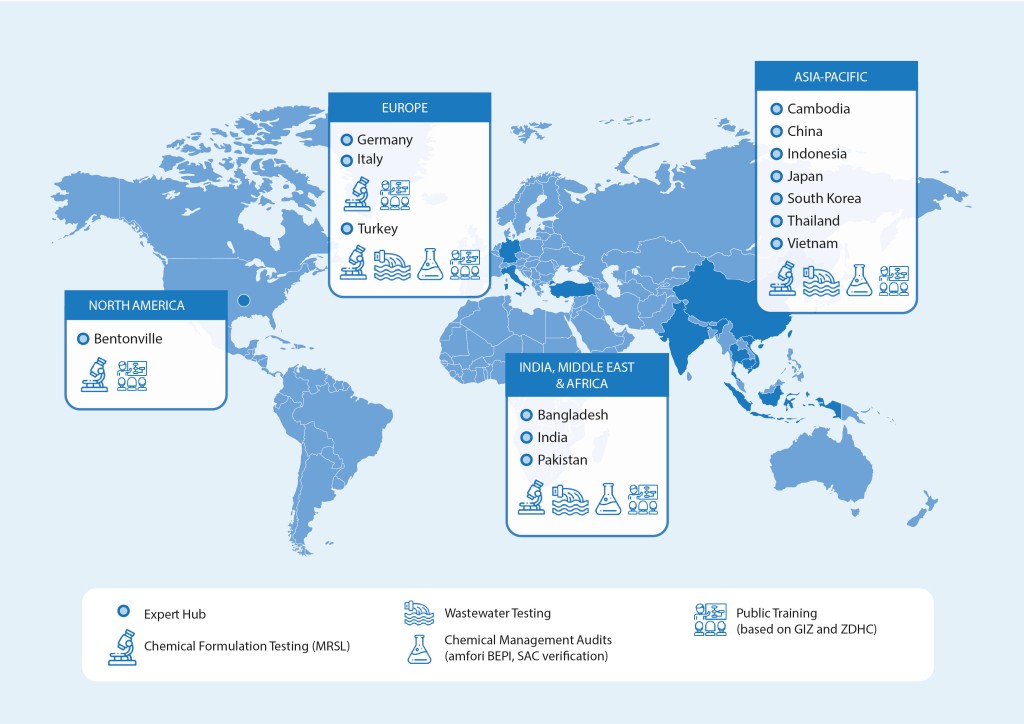 DETOX for Fashion Supply Chains
Our customers. Your success stories.
Learn more about our DETOX services for fashion supply chains
| | | | |
| --- | --- | --- | --- |
| pdf | Brochure - Building Sustainable Apparel & Footwear Supply Chains | 5 MB | Download |
| pdf | MRSL Conformance for Chemical Manufacturers | 575 KB | Download |
| pdf | Crossword – DETOXing Fashion Supply Chains | 27 KB | Download |
| pdf | Crossword Answers - DETOXing Fashion Supply Chains | 30 KB | Download |
| pdf | DETOX Services | 1 MB | Download |
| pdf | FAQ | 209 KB | Download |
| pdf | Flyer Chemical Management Audit & Verification Services | 786 KB | Download |
Learn more about the challenges posed by formaldehyde in consumer products