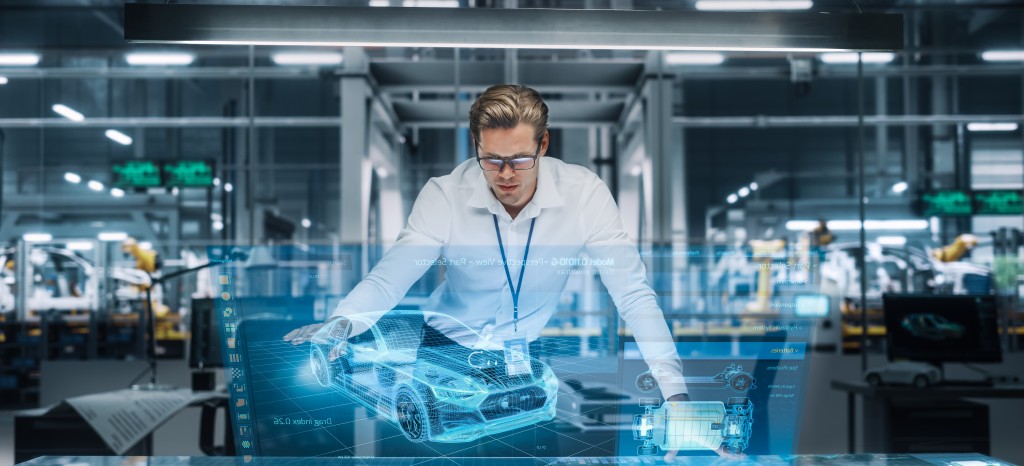 Established quality management in the automotive industry with IATF 16949 certification
Success in the international automotive industry relies on high standards, technical innovation and premium quality throughout the entire supply chain. A management system certified according to IATF 16949 can help you access customers in new markets. Regarded as the world's leading quality standard in the automotive industry, IATF 16949 combines a number of car manufacturer and original equipment manufacturer (OEM) requirements into one certification.
Standards prevailing prior to 1999 such as QS 9000 or VDA 6.x were largely replaced by ISO/TS 16949 and subsequently by IATF 16949. Our certification according to IATF 16949 supports you in continuously improving your system and process quality and focusing on customer-specific requirements.
Our experts will be happy to answer your questions and provide you with further information on IATF 16949 certification.
The IATF Audit is changing.
CARA, the Common Audit Report Application, was developed and is provided by IATF/ VDA. All IATF-recognized certification bodies and their sponsored auditors are required to use only the CARA for audit reporting starting January 2021.
Below we answer the most important questions about that change and what it means for the audits. More information can be found on the official website.
Basic information about CARA
Below we answer the most important questions about that change and what it means for the audits. More information can be found on the official website.
Information for NC CARA Tool – Customer related questions
The NC CARA Tool is an application created by IATF for customers to work on their nonconformites. The following FAQs will deal with the use of the NC CARA Tool for customers.
For further information regarding the NC CARA Tool, please watch the following video. You will get detailed information about downloading, use and the advantages of the tool.
Focus on prevention and planning with IATF 16949 certification
With an IATF 16949 certification, you can establish an internationally recognized set of rules and avoid the cost of multiple certifications. The consistent tracking of errors helps you enhance security to increase trust among your customers and business partners. Certification enables you to optimize product and process quality, and credibly document worldwide performance to increase your international market opportunities. IATF 16949 certification lays the foundation for combination certification with other standards such as ISO 14001.
Focused on prevention and planning, IATF 16949 certification reduces unexpected costs and frees up resources to be used for other quality tasks.
ISO/TS 16949 became IATF 16949
The first edition of IATF 16949 replaced and repealed ISO/TS 16949:2009. The new IATF 16949:2016 standard was published in October 2016. Alignment to the latest version of the quality management standard included ISO 9001:2015 requirements.
The IATF 16949 standard aims to effectively improve system and process quality of companies in the automotive industry. The continuous improvement process is intended to increase customer satisfaction, identify and eliminate errors and risks in the production process and the supply chain, and check the effectiveness of implemented corrective and preventive measures.
The International Automotive Task Force (IATF) also published the "Certification Requirements" in its November 2016 5th edition. Read more about this in our "Revision of the certification rules" information sheet.
Before coming into force, adjustments applying to extended production sites and other issues were made to the current certification. Since April 2016 it is again possible to certify multiple related sites by means of one certification. You can read more about this in our FAQs.
IATF 16949 certification process
We are your experienced partner for IATF 16949 certification. Our experts carefully analyze and evaluate your processes and systems in five steps:
Pre-audit (optional)
Optimal preparation for subsequent certification audit
Certification audit
Readiness assessment (Stage 1) by the audit team and demonstration of practical application (Stage 2)
Certificate issuance
Entry in our online Certipedia certificate database
Annual surveillance audits
Re-certification after three years
Your neutral partner for increased international market opportunities
Our experienced and independent experts accompany you through the certification process and help you set up an efficient quality management system. Benefit from our know-how and internationally recognized certificates and take advantage of a combined certification. Contact us for further information!
More information to download
IATF rules during the COVID-19 pandemic
IATF has arranged to respond to the changed conditions as a result of the coronavirus pandemic.
In light of the pandemic, a different set of rules than normal currently apply to companies with an IATF 16949 certificate to ensure that they can maintain their certification irrespective of any potential COVID-19 restrictions. IATF 16949 standard is increasingly prescribing extended deadlines and risk assessments based on monitoring.
This might also interest you
Last Visited Service Pages