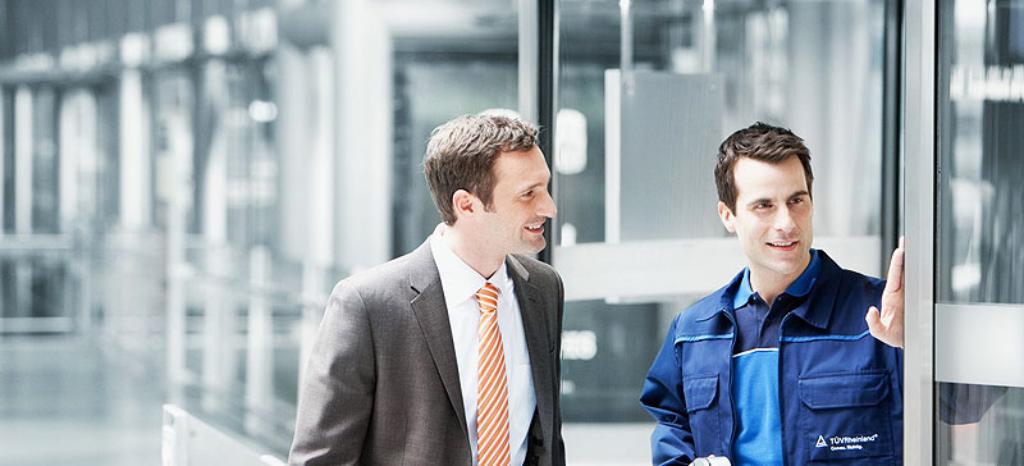 One-Stop-Shop Service from the Experts in Windows and Doors
These days, windows and doors aren't just windows and doors anymore. They are safety barriers, they can help prevent climate change, protect us against environmental incidents and come with state-of-the-art technology built in for our comfort, security, safety and insulation. However, with greater demands also come greater responsibilities to ensure that windows and doors can indeed fulfil the new functions they promise. TÜV Rheinland as the notified body can support you in fulfilling these standards and keeping the product's promises.
We are accredited and notified to verify your windows and doors products (incl. any intended application of these products in building and construction) against their compliance with the CPD/CPR (European Construction Products Directive / European Construction Products Regulation) standards as stated in the 1999/93/EC Windows & Doors mandate for CE marking. The certifications we offer covers testing and certification of all types of external doors and windows to ensure burglar and bullet-proof safety, security, and environmental / climate / insulation efficiency. The fundament for certification is the EN 14351-1 and prEN16034 standard for windows and doors.
Benefits at a Glance
Meet your customer expectations re. product durability, reliability and safety with the support of TÜV Rheinland.
Rely on our impartial advice and communication regarding the applicable test definitions well in advance before the concrete test cycle starts.
Benefit from expert advice and recommendations, which are based on our long-standing experience in closely working together with our customers in supply chain-based approaches.
As notified and authorized body we can provide conformity certificates for windows and doors in line with their requirements re escape routes - with or without fire-resistant properties.
Count on our experience as an authorized certification body that offers a truly global service in line with local market requirements – this makes TÜV Rheinland unique as notified body in the global glass industry.
Services
The services we offer for glass products in the area of Window and Door Testing & Certification for the Construction and Building Industry include tests such as:
Safety in use
Heat and sound insulating value
Durability
Fire safety
Safety against burglary
Bullet and explosion impact
As a minimal base test we conduct the thermal insulation value and wind / water / air infiltration tests. With our long-standing experience, the TÜV Rheinland experts are equally skilled in facade testing which is to comply with the EN13830 norm. Additionally, our experts can verify and check your in-house testing equipment against the highest quality standards.
Further Related Services
Additionally to checks and testing services, we also provide services in the areas of:
Evaluation of new designs and / or prototypes
Glass testing for construction and building industry
Impeccable operational models for multinational organizations with the aim of sharing and / or cascading ITT (Initial Type Testing) results to assemblers of windows and doors. TÜV Rheinland manages a network of experts and organizations in over 61 countries in this matter.
www.certipedia.com – the TÜV Rheinland web-based and online certificates database provides real-time proof of your CE mark, Certificates and implemented Quality
The CE Marking EN14351-1 Standard
The CE marking EN14351-1 standard applies to windows and doors and outlines norms that define product standards and performance characteristics.
Part 1 regulates windows and external pedestrian doorsets without resistance to fire and/or smoke leakage characteristics. This European Standard identifies material-independent performance characteristics under CE marking that are applicable to windows (including roof windows, roof windows with external fire resistance and French windows), external pedestrian doorsets (including unframed glass doorsets and escape route doorsets) and screens.
The EN14351-1 standard applies to:
Manually or power operated windows
Roof windows
French windows and screens
External pedestrian doorsets with flush or panelled leaves
The following related hardware is also covered in the standard:
Weather stripping
Glazed apertures when so intended
Windows with or without incorporated shutters and/or shutter boxes and/or blinds
Fully or partially glazed windows, including any non-transparent infill
Fixed or partly fixed windows or openable with one or more casements/sashes (e.g. hinged, projecting, pivoted, sliding etc)
Manually or power-operated windows
Integral fanlights
The products covered by this European Standard are not assessed for structural applications. It also does not apply to windows and pedestrian doorsets subject to regulations on smoke leakage and resistance to fire according to prEN 16034. However, individual characteristics and performance requirements are also relevant for these doors and windows.
Examples of Work
Examples of the types of projects TÜV Rheinland has managed include:
CE marking for components and finished products in the area of windows and doors
Testing of manufacturer equipment
Certificates for marketing purposes
www.certipedia.com – the TÜV Rheinland web-based and online certificates database provides real-time proof of your CE mark, Certificates and implemented Quality
Testing programs: from "full" to "quick" test programs
FPC (Factory Production Control) Audits: periodic quality control audits to comply with the required quality system, continuous product testing, and proof for users that the product is stable and consistent
Last Visited Service Pages