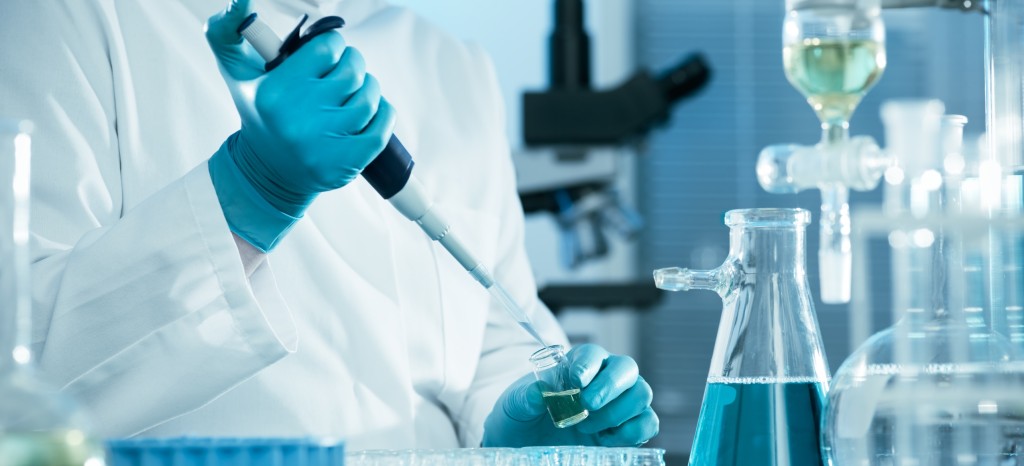 We support by reducing the complexity of NIAS Safety Validation
Take advantage of our expert NIAS (non-intentionally added substances) Testing and Risk Assessment Services
Confirming the safety of any non-intentionally added substances (NIAS) of your products is a mandatory and important task in Europe and China – and has an indirect impact in other countries. Failure to comply with regulations will have devastating effects on your brand. Even if a raw material is approved for food contact, the initial manufacturing process and subsequent modifications can lead to degradation as well as the addition of impurities or contamination in the final product. Today, analytical techniques are able to measure even the smallest level of chemical migration from your FCM goods into food. With products potentially manufactured using different raw materials coming from various suppliers, keeping track and validating all the variables – and then overseeing testing – is a major responsibility and an arduous undertaking. Which is made more difficult by suppliers who are not eager to share insights into the composition of their materials.
Get in touch with our NIAS experts today!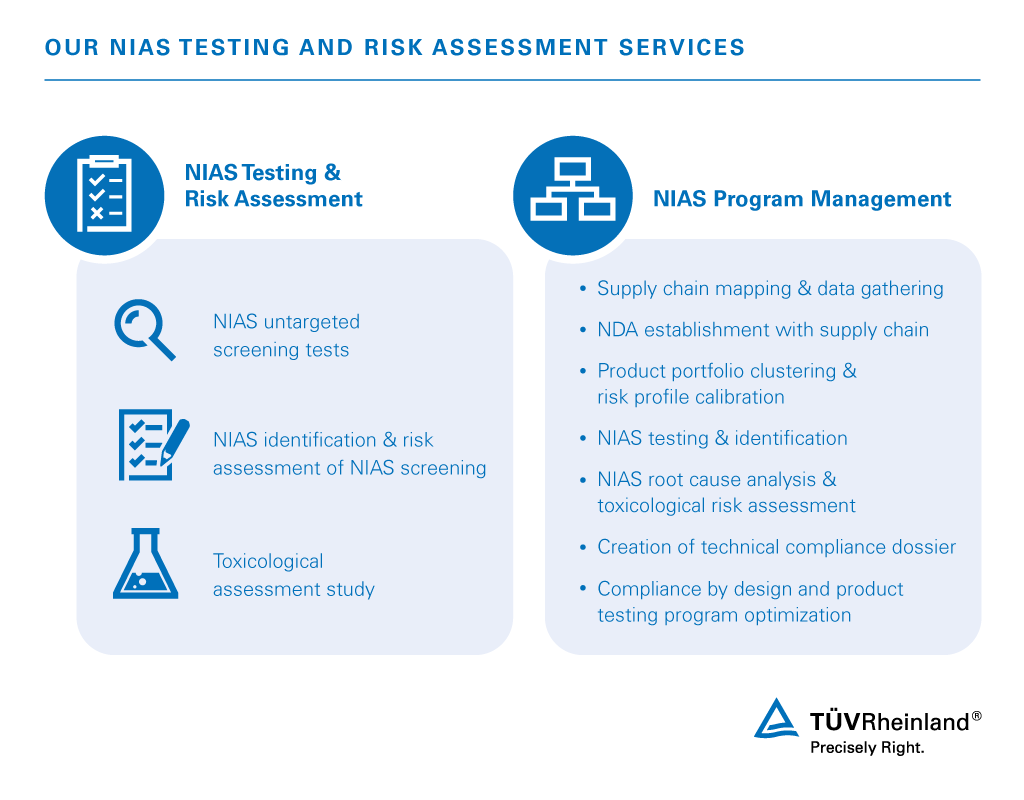 Our NIAS Specialists support you every step of the way
The complexity of proving NIAS compliance is vast. It is not enough to know how to correctly screen a product or packaging, but also to interpret the results and understand where a potential migratable substance is coming from. This is where our scientific expertise and industrial knowledge can do the difference. In addition, as a neutral 3rd party, suppliers of raw materials are more disposed to disclosing their composition. Plus, in the event of NIAS validation of your full product portfolio, we support you with clustering with the selection of a balanced risk profile. This allows for an optimized cost benefit of the NIAS testing and in the reuse of the results for new product development or SKU manufacturing definition.
Capitalize on new developments and building internal knowledge
NIAS Testing & Risk Assessment

NIAS untargeted screening tests
NIAS identification & Risk Assessment of NIAS screening
Toxicological Assessment study

NIAS Program Management:

Supply chain mapping and data gathering
NDA establishment with supply chain
Product clustering support and Risk profile definition
Testing program optimization
Product Data gathering
NIAS identification and root cause analysis of NIAS result
Creation of compliance technical dossier for product portfolio
Compliance by design
Complete Program Management Service provides valuable insights
At TÜV Rheinland we are your compliance partner right when you begin research and development. Because NIAS requirements can be managed simply with testing to answer legal obligations. Or it can be an opportunity to use screening information to validate raw materials, components and production processes. As a chance to build internal RD knowledge that can be used again and again to accelerate development of compliant finished products and validate an entire product portfolio.
We're here to answer any questions – don't hesitate to get in touch!
Download
Get all important information about Regulatory Management at a glance:
Our Sustainability Initiatives
Nothing less than the future is at stake. Companies, institutions, public authorities and each and every one of us can play a positive role in shaping the path to tomorrow. We provide you with comprehensive support to ensure that you operate safely, sustainably and efficiently for many years to come.
Discover our comprehensive FCM compliance management services

Legislation as well as consumer demands regarding food contact safety have become increasingly stringent and diverse. You can't afford to let an inadequate interpretation of legislation or a deficit of staffing threaten the market access of your products or the trust in your brand.
Last Visited Service Pages