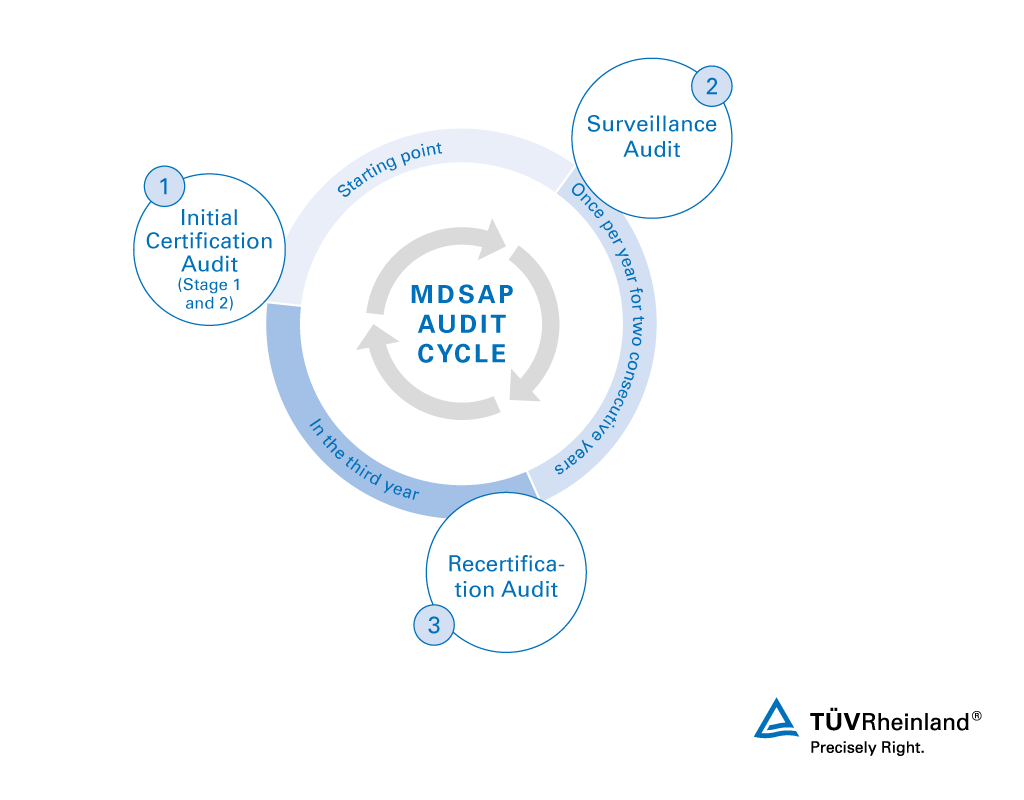 MDSAP has been put into place to develop, manage and oversee an independent audit program in which manufacturers of medical devices can present the results of a single regulatory audit to prove compliance and qualify for market entry in multiple countries and jurisdictions. MDSAP inspection of a manufacturer quality management system (QMS) must be conducted by an authorized auditing organization (AO). Our worldwide auditing resource is qualified under the MDSAP program
Our comprehensive MDSAP auditing services for medical device quality management systems follow a three-step audit cycle:
Initial certification audit - Stage 1
Review of key documentation, readiness and planning
Initial certification audit - Stage 2
Evaluate QMS compliance to ISO 13485 and all MDSAP regulation. Once the initial certification audit has been successfully completed, the MDSAP certificate will be issued, which will be valid for three years.
Surveillance audit
Annual audit to assess ongoing compliance, effectiveness of changes in products or QMS processes
Recertification audit
Every three years to determine manufacturer QMS suitability, effectiveness and compliance to MDSAP requirements
Manufacturers must be audited according to the scope declared in their applications for certification. Our experts determine which regulatory requirements apply to each manufacturer based on the countries in which medical device products are registered, sold or planned to be sold.
Applicable norms and standards:
ISO 13485:2003 or ISO 13485:2016
Australia
Therapeutic Goods Administration Regulations
Brazil
RDC ANVISA n. 16/2013 – Good Manufacturing Practice
RDC ANVISA n. 23/2012
RDC ANVISA n. 67/2009 – Vigilance
Canada*
Medical Device Regulations SOR/98-282, Part 1

* MDSAP auditing and a Canadian device license are mandatory for all manufacturers placing medical devise on the Canadian market, including companies with valid ISO 13485 under CMDCAS certification. All CMDCAS certificates must be transferred to the MDSAP program prior to December 2018.
Japan
MHLW Ministerial Ordinance No. 169 (amended 2004 by MH
Ordinance No. 128)
2014 Articles 4 – 68 H
Japan PMD Act
United States of America
21 CFR Part 820 – Quality System Regulation
21 CFR Part 803, 21 CFR Part 806, 21 CFR Part 807 – Subparts A-D
21 CFR Part 821 – Device Tracking (as applicable)