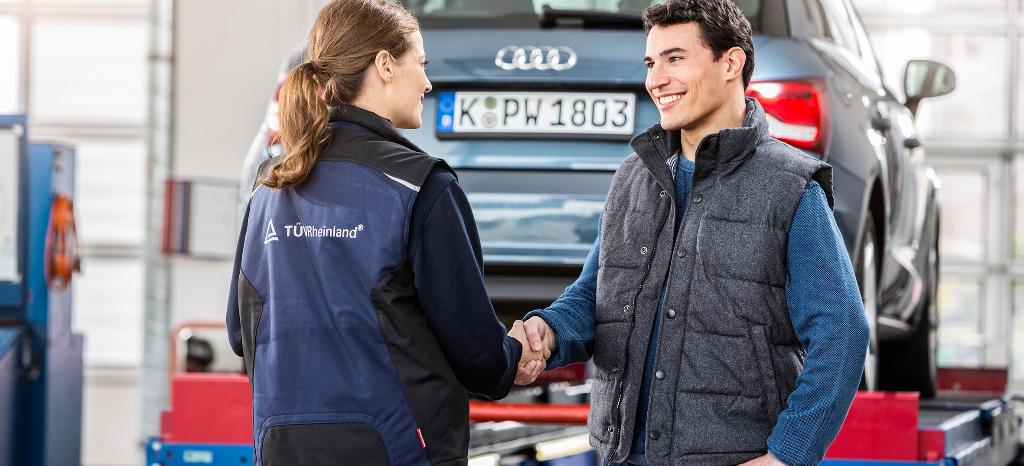 Immediate Settlement of Claims with Accurate Reports
Whether it's car body damage or a write-off – as a victim in a liability claim, you are free to choose your assessment expert. Our experts secure all the evidence relevant to settlement of claims and help you assert your claims against the opponent's insurance company. They calculate the repair costs and value of the vehicle after the accident.
Benefits at a Glance
With damage and value assessment services from TÜV Rheinland, you:
Ensure you have reliable evidence to prove the extent of damage and a credible witness for negotiators.
Increase the credibility of your statement with a neutral and objective damage report.
Gain legal security and set the course for a quick settlement of claims.
Benefit from our national network coverage and immediate availability of your report with online delivery.
Put your trust in a qualified, neutral, and independent expert.
Provide a secure basis for evaluation based on regional exchange of data.
Comply with the guidelines of the independent institute of assessment experts (Institut für Sachverständigenwesen, IfS) by providing a standardized assessment report.
TÜV Rheinland Services
Our experts take care of:
Damage liability assessment for securing evidence and enforcing damage claims
Full and partial cover damage assessment, in accordance with contractual agreements as a solid basis for settlement of claims
Value assessments to determine the current value, taking all details into consideration
Returns reports for lease and rental vehicles on the basis of criteria defined by TÜV Rheinland and agreed upon with the customer
Used car assessments for detailed presentations of results based on customer requirements
Cost calculation to determine the repair costs for vehicle damage
Vintage Car Assessments
Vintage car assessments include several individual services: Our employees draft a vehicle appraisal, which documents any potential, previous damages, the history of the car model, and any upgrades that were made. They issue grades on the condition of individual vehicle components. They also assess the vehicle's condition and determine the market value.
Vintage Car Assessment with Road Safety Approval
If the vehicle still has valid road safety approval, our employees document how roadworthy the car is in a main inspection. If all other requirements, such as age and condition, are met, the vintage car appraisal is issued.
Vintage Car Assessment without Road Safety Approval
If the vehicle no longer has valid road safety approval, our experts examine whether the vehicle generally meets the road traffic regulation requirements. In this case, the requirements apply that were valid when the vehicle was first registered. This data is determined in a vintage car database. We also check whether the vehicle has all the necessary upgrades. As part of this assessment, we also carry out a main inspection. Once all the criteria are fulfilled, our employee creates the report.
Vintage Cars – Brief Assessments
For vehicles with a market value of up to €40,000, our employees can issue brief reports for insurance rating purposes. We check the identity of the vehicle on the basis of its papers and examine it. Based on the findings, we issue a grade of the vehicle's current condition – important for the insurance company.
Lock and Key Assessments
Lock and key assessments check the following points for manipulation and damage:
Vehicle exterior and lock cylinder
Central locking and alarm system
Immobilizer
Ignition cylinder
Steering lock device
Our experts can also assist you with burglaries in houses or break-ins to safety deposit boxes.
Accident Analysis Reports
Our officially appointed and authorized experts can:
Establish the course of events that led to the accident
Analyze traffic accidents
Identify evidence for small collisions
Calculate preventative measures
Ascertain whether injuries were caused by accidents
Court and Police Reports
Court Case Reports
In criminal and administrative court actions, our experts support courts in the assessment of complex technical issues. These reports are directly requested by the prosecutor or police in investigations.
Police Reports
Upon instruction by the police, our staff can reconstruct severe accidents. On site, the experts secure evidence, measure the scene of the accident, and examine the vehicles involved in the incident.
Damage and Value Assessment – Your Assessment for All Cases
Our experts can help you with a vehicle appraisal in the following cases:
In the event of damages with liability claims, full and comprehensive insurance claims, accident reconstruction for settlement with insurance companies
To determine the value of the vehicle when selling the vehicle
Billing when returning the vehicle as a lessee to the lessor
After rejection of the rental car, in bankruptcies, broken contracts
To determine the current market value or replacement value
To secure evidence
For insurance rating purposes
Vintage Car Assessments
Vintage cars have their own individual value. How well is the car kept? Is it still in its original condition? Our experts draw up brief assessments for vintage cars for insurance rating and vintage car reports. The scope of inspection by our experts depends on whether the vehicle has a valid approval or not. For vehicles with a market value of up to €40,000, our employees can also draw up brief reports for insurance rating purposes.
Lock and Key Damage Assessments
A stolen vehicle has been found. But there is no indication that the car was tampered with or opened without permission. In these cases, an independent report from TÜV Rheinland clarifies the causes. A so-called lock and key assessment shows how the perpetrators proceeded.
Damage Assessments for Buildings and Objects
Take advantage of our experience in analyzing traces and assessing the safety of all kinds of lock systems. Our experts can also help you with their know-how of burglaries in houses and break-ins to safe deposit boxes.
Accident Analysis Reports
Take advantage of our reputation as a neutral expert. Our experts reconstruct traffic accidents - as an independent basis for legal decisions. Our quick access to multidisciplinary expertise guarantees flexible and fast processing.
Court Reports and Police Reports
Our experts provide expert assessments based on civil proceedings code (§404 of Zivilprozessordnung, or ZPO) for court reports and in compliance with criminal procedure code (§73 of Strafprozessordnung, or StPO) for police reports. As officially appointed and authorized experts, we draw up independent assessments for public prosecutors and the police.
Our specialists also issue reports for
Commercial vehicles, special constructions, buses
Caravans and mobile homes
Two-wheelers
Physical damage to the engines, gearboxes, or axles
Vehicle electronics, air conditioning, security systems
Agricultural machinery, construction equipment
Vintage cars
Fire damage assessment, fire investigation
Recovery and towing damages
Fairground vehicles
Boats
Last Visited Service Pages