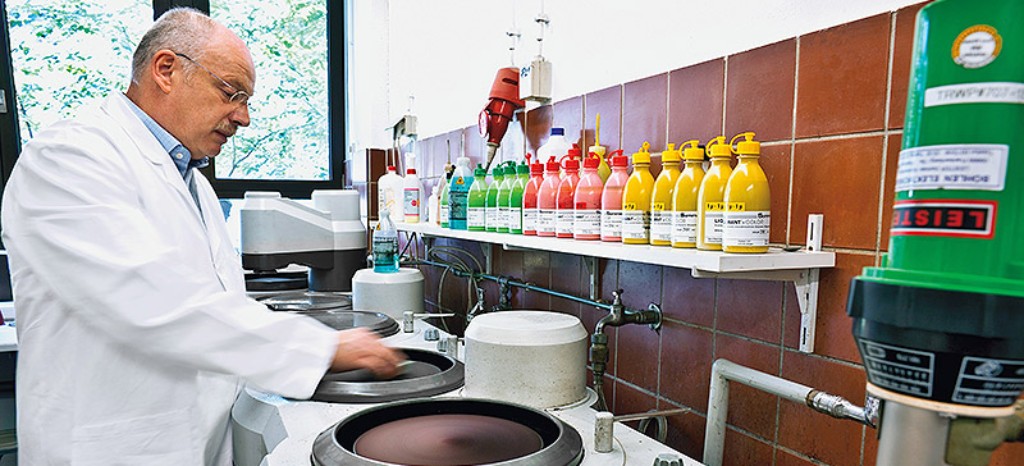 Damage Assessment and Materials Testing with Metallography and Replica Testing
For construction and operation of a plant, a technical facility or equipment, the characteristics and quality of the materials used play an important role and need to be taken into account. In any situation, materials are subjected to the influence of their environment, and of time. This is why it is crucial for manufacturers and for operators to be informed of the strength, quality and remaining lifetime of the materials they are using, as well as to be warned of potential or existing damage.
Whether to prove the quality and resistance of a product, optimize material selection, analyze damage in a structure or estimate the remaining lifetime of a component or equipment, TÜV Rheinland offers you a comprehensive range of metallographic examination and replica testing services.
Our experts can conduct an on-site, non-destructive microstructure analysis by means of the replica testing technique, and provide you with a direct evaluation of creep damage or remaining service lifetime from the mobile TÜV Rheinland lab vehicle. We also offer a wide portfolio of metallography services from accredited testing laboratories, which enable us to choose the testing method that best fits your needs and requirements.
Benefits of Our Metallography and Replica Testing Services at a Glance
With the metallographic examination and replica testing services from TÜV Rheinland, you benefit from:
Testing services on-site or in accredited laboratories.
Tailored sample preparation and fast microstructure analysis.
Reliable results on material condition and remaining lifetime.
Please contact us at TÜV Rheinland to learn more about how our services of metallography and replica testing can benefit your company.
Metallography in Accredited Test Laboratory
Metallography is defined as the study of components and physical structure of metals. In order to perform mechanical tests on materials such as hardness testing, metallography is of great support in testing the quality of your metals.
Metallography is a destructive testing method which can be conducted in accredited laboratories. For this procedure, experts first prepare the metallic sample to be tested, through sandpapering, polishing and etching. Metallographic examination is then conducted by means of an optical microscope. This technique permits an analysis of a materials' microstructure, evaluating its degree of purity, and determining specific damage.
Non-Destructive Microstructure Analysis Through Replica Testing
Metallographic examination can also be performed on site by means of the replica testing method. Results are then analyzed in the mobile TÜV lab vehicle. Also called in-situ metallography, replica testing is a procedure that consists in reproducing the microstructure of a metal's surface. It enables experts to determine creep damage and to estimate the remaining service lifetime of a piece of equipment. Also on site hardness analysis on metal´s surface e.g. on weldings can be done.
Although replica testing first requires sample preparation and the etching of the examined surface, this testing method is nearly non-destructive since the sampling is only superficial. The microstructure is imprinted by means of a foil, which is further analyzed through a microscope. Upon completion of the sample examination, results are provided in the form of a written report and picture documentation. Hardness testing can also be conducted on site.
More Information about Non-Destructive Testing
On the strength of years of experience in materials testing and inspection services for global customers, TÜV Rheinland offers a comprehensive portfolio of services including a full range of destructive and non-destructive testing methods. For any client from any industry, we can test, approve and certify your materials and products for quality and compliance with local and international requirements.
The TÜV Rheinland experts can provide you with the following materials testing services:
Mechanical integrity testing (material fatigue, hardness, compression testing)
Conventional non-destructive testing (ultrasonic, radiographic, eddy-current testing or visual inspections)
Advanced non-destructive testing (acoustic emission, computed radiography, corrosion mapping)
This might also interest you
Last Visited Service Pages