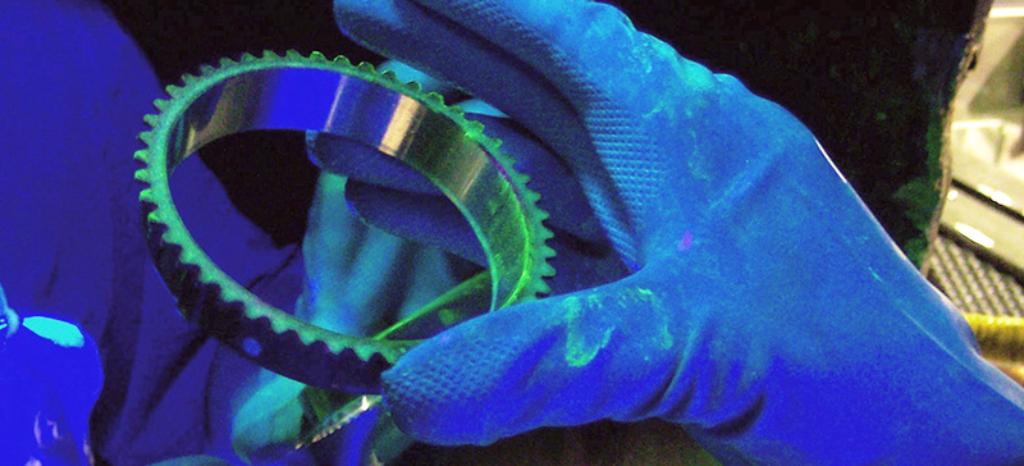 Liquid Penetrant Testing
Surface-breaking defects in machinery can mean a shutdown in production and a loss of revenue. To help you stay up and running, as part our non-destructive testing services, TÜV Rheinland provides liquid penetrant testing, an inspection method used to locate surface-breaking defects in all nonporous materials – including metals, plastics, and ceramics. It can be applied to all non-ferrous and ferrous materials.
Benefits of Our Liquid Penetrant Testing Services at a Glance
Using TÜV Rheinland´s liquid penetrant testing services, you get:
Lower cost compared to other methods.
Fast turnaround time.
Reduced risk of company liability thanks to documented safety standards.
TÜV Rheinland's exclusive one-stop shop service.
Liquid Penetrant Testing Approach
Our liquid penetrant testing follows this simple procedure:
A liquid with high surface-wetting characteristics is applied to the part's surface and is given enough time to seep into surface-breaking defects.
The excess liquid is removed from the part's surface.
A developer (powder) is applied to pull the trapped penetrant out of the defects and spread it on the surface where it can be seen.
A visual inspection is performed.
The penetrant used is often loaded with a fluorescent dye, and the inspection is done under UV light to increase test sensitivity.
More Information on Liquid Penetrant Testing
With liquid penetrant testing method, we are able to detect casting, forging, and welding surface defects, such as surface porosities and fatigue cracks on in-service components - letting you know about any potential problems before they happen.
Products Covered by Our Liquid Penetrant Testing Services
Liquid penetrant testing services are used for machinery in the automotive, casting, and forging industries. In addition, the services can be applied for pressure equipment, turbine blades, aircrafts and power stations.
If you're interested in TÜV Rheinland's liquid penetrant testing services, you may also be interested in our services covering these areas:
This might also interest you
Last Visited Service Pages