You can't put a price on people and the environment. Trust in health & safety excellence by TÜV Rheinland
You have planned your large construction project conscientiously in terms of the technical aspects and the schedule. But have you considered everything in terms of occupational safety and environmental protection too? Our HSE* specialists for large projects will support you with health & safety excellence and help to fulfil your responsibilities in the best possible way right from the start. As a building contractor, project manager or investor, you can benefit from the greatest possible construction site safety, minimal contingency risk and on-schedule acceptance. You can limit the risk of accidents, unforeseen costs and liability issues right from the start with TÜV Rheinland at your side.
*HSE Management (Health, Safety & Environment)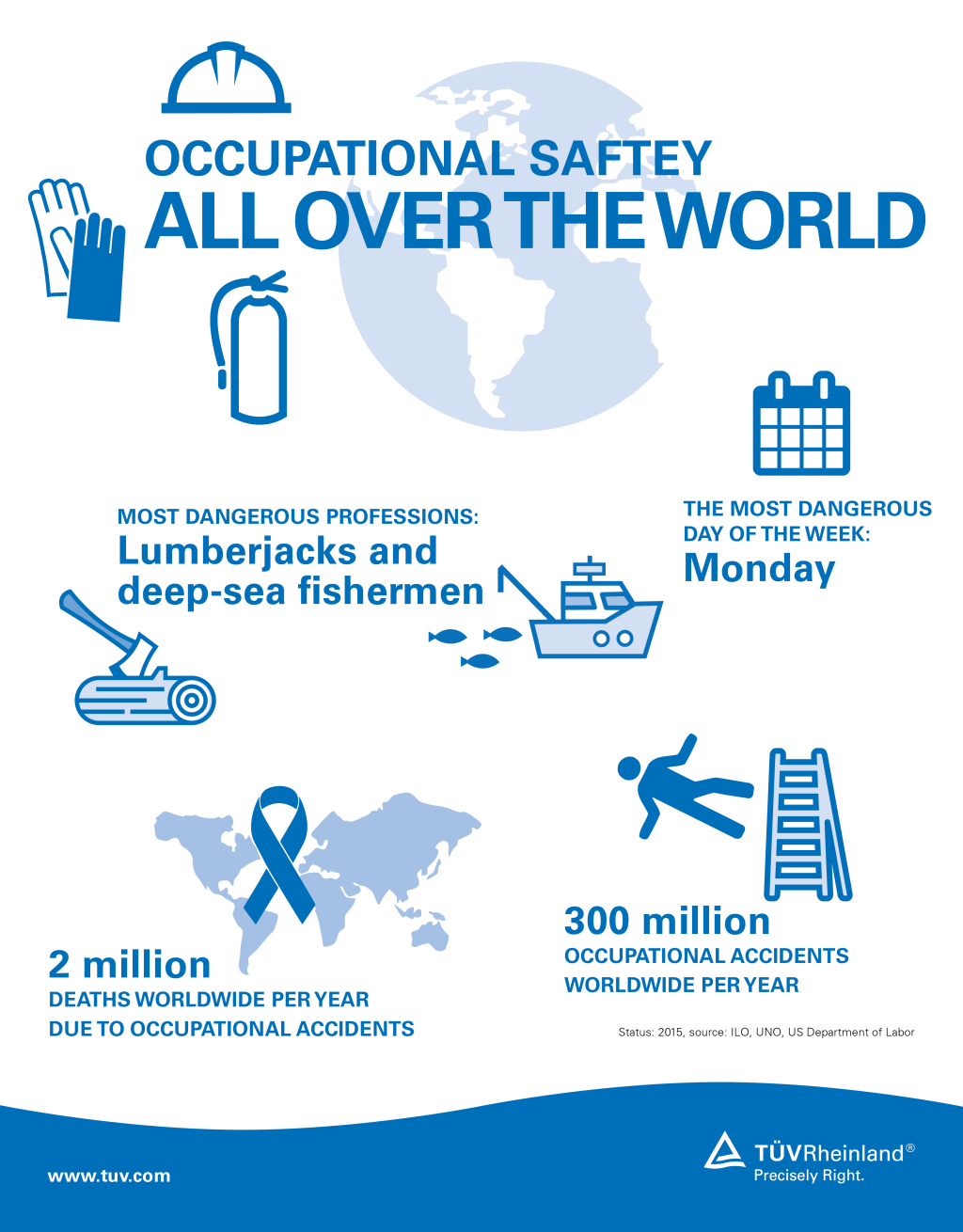 Mistakes cannot be avoided. But the consequences of mistakes can. The best preventative measure is professional HSE Management.

Occupational health and safety and environmental protection must be integrated into business activity. This is made possible by comprehensive HSE Management. It includes the planning, implementation, monitoring and optimization of internal and legal requirements.
Norbert Wieneke, Head of HSE TÜV Rheinland
It is human nature that mistakes can happen at work regardless of how well qualified employees are. However, it is totally unacceptable that employees should have to pay the price for mistakes with serious injuries or occupational illnesses and the environment should not be negatively affected either. So take the best-possible preventative measures by implementing professional HSE Management and top safety standards for people and the environment. TÜV Rheinland is there for you every step of the way: thanks to our many years of expertise in construction projects all over the world. Having the necessary skills for safe and cost-effective construction, we are the perfect partner for major projects: our zero downtime strategy saves you hassle with the authorities, gives you peace of mind and promotes your company's reputation. Show your clients, partners and employees that your top priority is the health and safety of people and the environment.
HSE "Made in Germany" - that you can trust.
TÜV Rheinland implements and aims for successful HSE Management based on legal requirements and customer standards. We exclusively use trained personnel with many years of project experience. In this way, we aim to achieve the highest-possible level of safety for people and the environment and therefore for your company. We use the highest standards of technology, which are integrated into an international organization, meaning that you can always count on us wherever you are in the world. Maximum effectiveness and comprehensive knowledge make TÜV Rheinland the right partner for anyone involved in construction: building contractors, project managers, investors and employees.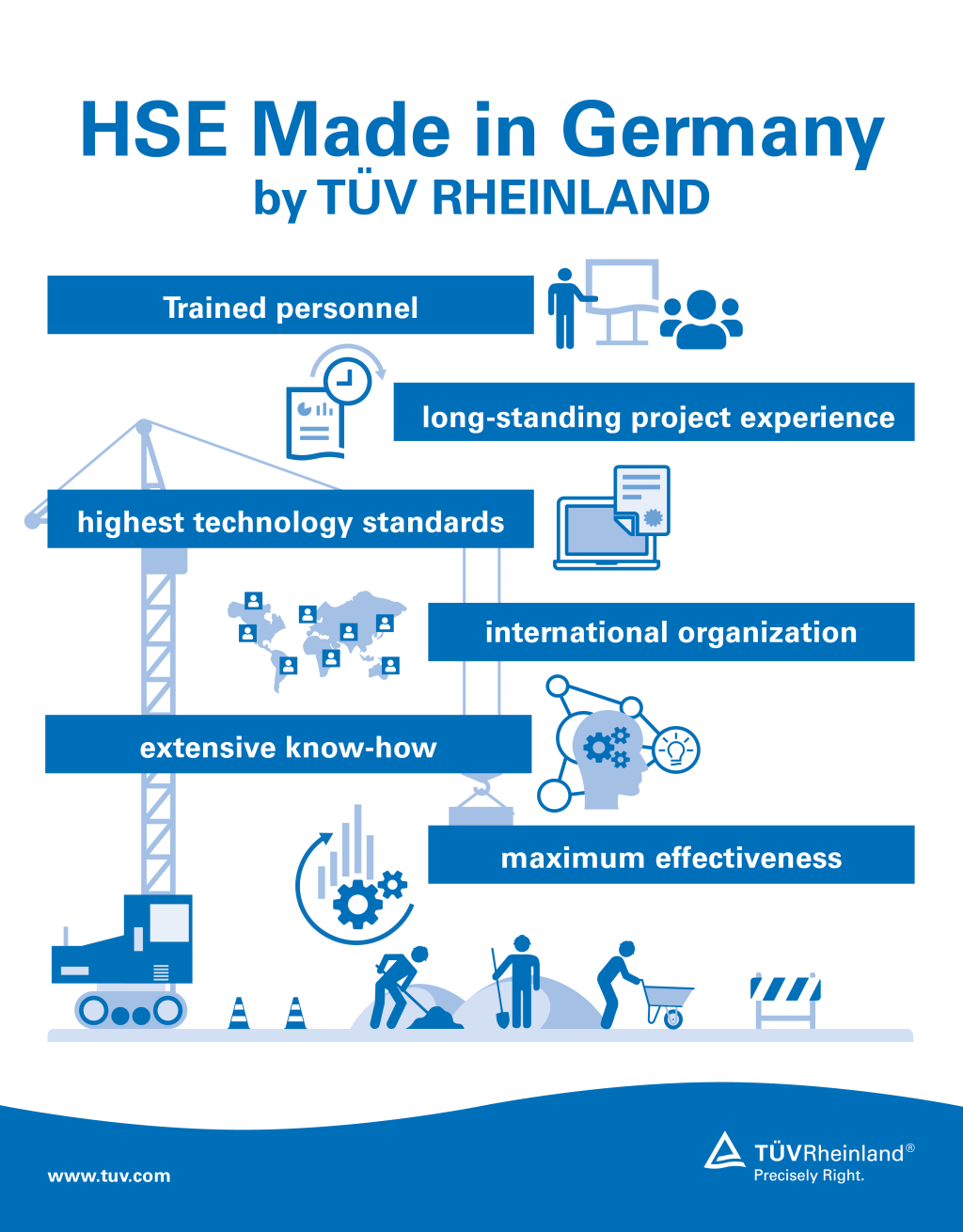 Always by your side: our HSE Managers
During the planning and construction phases, we support you in
minimizing health and safety risks,
establishing a suitable occupational health and safety organization,
avoiding hazards arising from collaboration between people working in different trades,
dealing with the authorities,
planning first aid and emergency measures,
planning safety-related maintenance work on the planned construction project,
carrying out safety inspections and participating in construction meetings,
examining risk assessments conducted by tradespeople and contractors,
coordinating and monitoring proper adherence to operating procedures by contractors,
implementing an approval procedure for dangerous activities and introducing practical safety instructions,
assisting with first aid and emergency measures on the construction site,
complying with the statutory occupational health and safety provisions
and much more.