TÜV Rheinland has been operating in Latin America since 1993, with regional subsidiaries in Mexico, Brazil, Argentina, Chile, Colombia and Peru. 2350 Experts in 30 locations delivered a turnover of 125 million euros in 2015.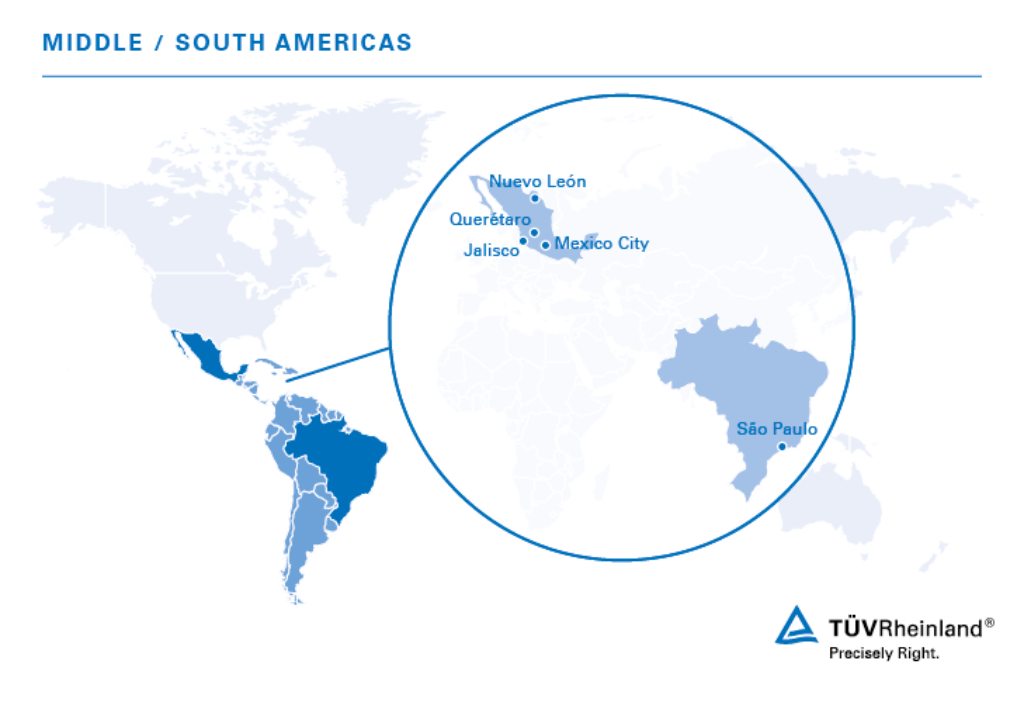 Latin America is one of the world's largest rail markets, and TÜV Rheinland plays a very active role in this dynamic industry: with teams of local rail experts in São Paulo and Mexico City and all TÜV Rheinland regional entities in this region we serve regional customers as well as - in close cooperation with our international organization TÜV Rheinland Global Rail - international rail assignments, such as:
Certification and auditing for rail transport.
Expert opinion and conformity assessment of Rail Traffic.
Optimization of Railway Maintenance.
Monitoring of conditions for rail transport.
Build asset monitoring and valuation for the rail industry.
Railway procurement and tendering strategies.
Functional safety for railway and transport applications
Training for Rail Experts
| Name | Position | Region | Tel. | Mail |
| --- | --- | --- | --- | --- |
| Sandra Álamo | Business Development Latin America | TÜV Rheinland Mexico Ciudad de Mexico | +52 5585039940 | salamo@mex.tuv.com |
| Marcos Camelo | Regional Field Manager South America | TÜV Rheinland Brasil São Paulo | +55 1135145885 | marcos.camelo@br.tuv.com |
| Guido Wallraff | Local Field Manager Mexico | TÜV Rheinland Mexico Ciudad de Mexico | +52 5585039940 | guido.Wallraff@mex.tuv.com |