TÜV Rheinland Global Rail – Greater China and Asia Pacific
TÜV Rheinland is active in the region Greater China & Asia Pacific since 1980s, with the first office in Taiwan in 1986. It grows very fast during the past decades. Up to 2016, the employees are expanded to 3700 in Greater China only.
TÜV Rheinland starts its Rail related services in this region since 2000s, with first feet in Shanghai, in compliance with the rapid rail development in China. The following subsidiary offices had established competence for rail services:
Greater China: Shanghai / HongKong / Taipei/Beijing / Dalian / Nanjing / Chongqing
Asia Pacific: Korea / Japan / Singapore / Malaysia / Indonesia / Philippine
TÜV Shanghai is the first body in China who had obtained the accreditation from CNAS (China National Accreditation Service for Conformity Assessment) on ISO/IEC 17020 Type A qualification, covers Independent Safety Assessment for rail related systems.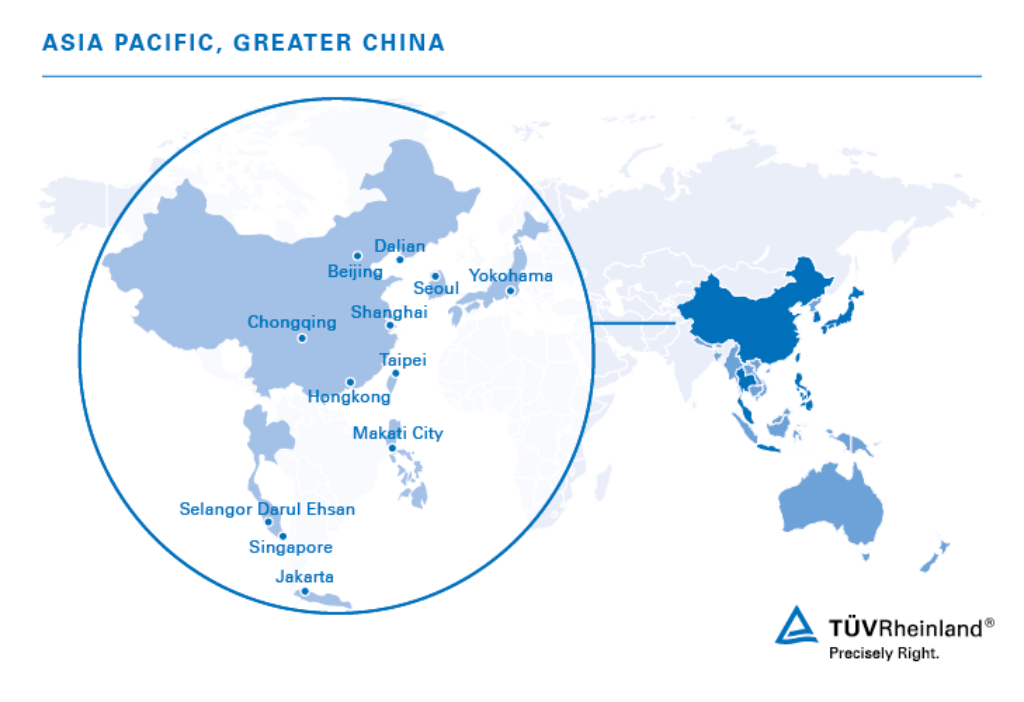 Services
Independent services for clients in the government and private sectors ensure that rail Products and systems meet international safety and quality standards

Independent Safety Assessment (ISA)
Independent Verification & Validation (IV&V)
Independent Checking Engineer (ICE)

ISO/TS 22163( IRIS) certification ensures that your system meets international railway industry standards
TSI (EC) certification in accordance with European Directive 2008/57/EC opens the door to European markets for your railway products
Welding certification helps your welding process and welders to meet internationally recognised quality standards such as EN15085-2
Functional safety engineer training and certification ensures that your functional safety staff meet internationally recognised quality standards such as ISO 61508
Engineering consulting for overall systems

Feasibility studies
Lifecycle Cost (LCC)
E&M systems (rolling stock, signalling, communication, power supply)
Civil structures (stations, tunnels, guideways)
Others

System assurance to achieve safe and reliable railway systems

Reliability, Availability, Maintainability, Safety (RAMS)
Verification and Validation (V&V)
Software assurance
Safety assurance

Project management for all phases of the project lifecycle, including system integration and commissioning management.
Electromagnetic Compatibility (EMC) testing
Metallurgical testing (failure investigation, material evaluation)
Electrical safety testing
Others