Global Experts – Your Partner Regarding International Opportunities
Career success across borders with Global Experts – creating a sustainable network
We at TÜV Rheinland Global Experts are an international team with TÜV-owned affiliated companies worldwide, operating the recruitment and training facilities in accordance with German standards. We offer new perspectives to skilled workers around the world, good jobs, a reliable and transparent application process, social and financial security and a high quality of life for them and their families. At the same time, our partner companies benefit from the influx of well-trained professionals.
Current opportunities for engineers, drivers and IT specialists
From experts in mechatronics to IT: Qualified professionals are needed to fill gaps in the German workforce. Those with backgrounds in the following fields, as well as those interested in transitioning to a career as a driver are invited to join us in planning their entry into the recruitment process:
Automotive mechatronics engineers skilled in cars, two-wheelers and particularly the commercial vehicle sector are in demand. Bodywork and service specialists are also needed. A degree or education in automotive mechatronics is required, as well as 2 years' experience and the willingness to live and work in Germany.
Mechatronics engineers with various specializations, such as robotics and electronics would be welcomed by the German industry. A degree/education in mechatronics and 2 years' experience are the prerequisites. The suitable candidates are ready to pursue their career in Germany.
Professional drivers are in short supply in Germany. As a result, we are recruiting international applicants, who hold qualifications in this field or who would like to transition to a career as a driver.
IT specialists eager to live and work abroad can find excellent and abundant opportunities in Germany. Qualified candidates hold a degree in IT and 2 years' experience within the field.
Comprehensive support throughout the process
We offer the full range of support services all in one: From international job offers to the recognition of professional qualifications and from navigating immigration and visa requirements to settling in the new country, whether as an individual or a family. Our services are cross-professional, serving specialists of all types, from craftspeople to academics.
Our cost covering model
Our program is unique in that we do not charge any fees in your home country for the recruitment service. With contributions from our partner companies, we provide candidates with:
A tablet
Fees for a B1 level language course (individuals are responsible for levels A1 and A2)
Translation services for certificates and other professional recognition documents
Visa fees
Air travel to Germany
Only when you receive your salary in Germany, TÜV Rheinland will retain a manageable contribution to cover the expenses.
Learn more about our program!
A step by step guide about the Global Experts service
Step 1 – Program announcement
TUV Rheinland India (TR India), acting on behalf of its German affiliate TÜV Rheinland Academy (TRA), which in return represents the German employer, announces the program and advises potential candidates.
Step 2 — Application process
Candidates submit their application documents to us. We then review the applications and conduct candidate interviews to determine who can participate in the program and who is suitable.
Step 3 – Participation agreement
Candidates accepted into the program sign a participation agreement with TÜV Rheinland India. The application documents are then sent to TÜV Rheinland Academy in Germany, which passes them on to the employer for review and selection of specialists.
Step 4 – Language proficiency
Participants enroll in intensive German courses (levels A1, A2 and B1, preferably). They then pass a language test recognized by the German embassy's visa office in the country of origin; the tests included are those offered by the Goethe Institut, Telc, TestDaF and ÖSD.
Step 5 – Initial preparations for move
TÜV Rheinland India provides the candidate with in-depth information on moving one's life and work to Germany and inquires about preferences (i.e. urban or rural environment) and needs (such as family requirements) etc.
The contracting company also contacts the participants. There may be further assessments for participant selection to be carried out in India or training modules designed to prepare them for their life and work in Germany. Participant and future employer also have the opportunity to "meet" virtually, e.g. by video call.
Step 6 – Employment contract
When prospective employees and employers have finalized their selections, participants sign a conditional employment contract with the employer in both their national language (English) and in German (bilingual document). It takes effect as soon as all official approvals have been granted and the participant has achieved at least an A2 (B1 preferred) language proficiency in German.
Step 7 – Immigration documents
The participant provides TR India with the documents necessary for immigration, which are then translated and certified by official certified translators. Alternatively, the documents are forwarded by TR India to the chamber of commerce/board of trade in either India or Germany for preliminary examination. This review can take up to three months.
Step 8 – Ongoing preparations for move
While waiting for approvals, work permit and visa, the employer, TÜV Rheinland Academy Germany, TÜV Rheinland India and participants remain in touch to arrange everything for the arrival and integration in Germany. Integration management is ongoing and includes planning your arrival, finding a place to live, purchasing a mobile phone, internet service and many other details up to the first day on the job.
Step 9 – Work permit
While candidate documents are under review for validation, TÜV Rheinland Academy Germany obtains permission for the international employee to enter the German labor market through the Federal Employment Agency. This takes about two weeks and is a prerequisite for the visa.
Step 10 – Recognition of professional qualifications
The chamber of commerce/trade board provides the results of its qualification approval process. The following decisions may be handed down:
No professional recognition is granted. The qualifications are evaluated as incompatible with German standards or the documents are incomplete or falsified. The candidate has to leave the program.
A partial recognition is granted. The participant can travel with a §17a visa to Germany and start working. They will train the required practical experience with the employer or complete the necessary qualifications in Germany. Afterwards, they receive full professional recognition and a temporary residence permit under §18.
A full professional recognition is granted. The participant can depart for Germany once they have a work permit and a §18 visa.
Step 11 – Visa application
If a partial or full recognition of their qualifications is granted, participants arrange an appointment at the German embassy in India to apply for a visa. It is typical to wait about 2 months for an appointment. All required visa applications are collected and checked in advance by TR India. Participants apply for the visa in person at the embassy, presenting all the required documents, including the language certificate. It may take up to three months for the visa to be granted.
Step 12 – Receipt of visa and travel to Germany
Participants receive their visa and now have a timeframe of 3 months to enter Germany before the visa expires. Of course, everything has been prepared and arranged already and the specialist can travel immediately to Germany. Congratulations!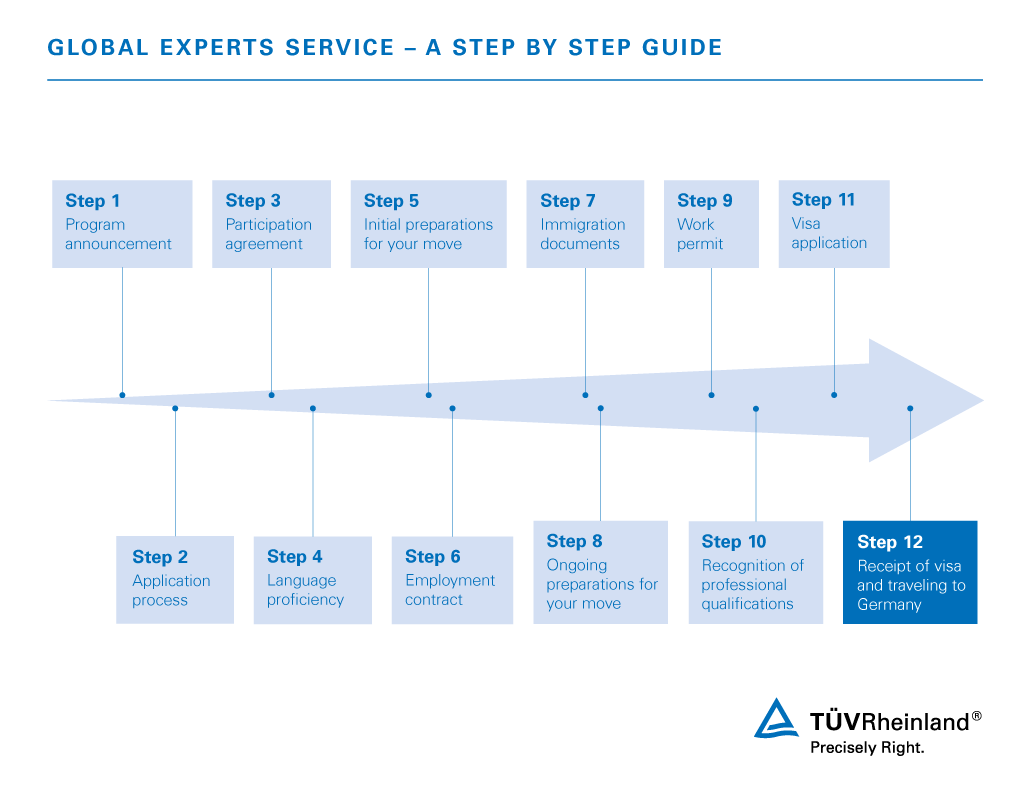 Additional support in Germany
Initial support
Once a program participant arrives in Germany, the new employer and TRA Germany are available to make the integration as easy as possible. New arrivals receive an advance on their salary to help with setting up their household. In addition, support is available whether regarding the opening of a bank account or registering with the proper authorities. Most participants see their language skills improve with daily use and are able to reach B2 level of proficiency within six months after arrival.
German citizenship
When participants register at the local immigration office, their visa is converted into a temporary residence permit. Later, the permit can become permanent, and after four years there is the option to apply for German citizenship. German passports are among the most coveted in the world.
Family unification
Participants who plan to have their families join them usually take time to get used to life in Germany and make the necessary preparations in advance. Our experience has shown that after about 6 months families are able to make the transition most smoothly. Spouses are required to present at least an A2 level language certificate. It is important that children also learn German so that they can attend school – which is compulsory – and benefit from a good education.
TRA Germany continues to support participants as they meet these milestones and, together with your employer, will be your touch regarding everyday challenges, no matter how big or small.
Program admission
Admission requirements for the program
Here you can find out more about the general program sequence. For starting a new job and a new life in Germany.