Global Experts – A Promising Opportunity
Why Global Experts?
We offer:
Secure, permanent and well-paid jobs in one of the most economically and socially developed of the world
Good employment contracts with renowned companies
Full participation in the German social benefits system, including health, unemployment and pension insurance, company benefits and much more
No recruitment expenses in your home country
You will profit from:
Services that take care of all official processes regarding your stay in Germany
Integration management that starts in India and prepares you for your life in Germany
Integration management in Germany that assists you in finding a home and establishing the necessities of life and work so that you can settle in quickly. Our goal is to help you adapt to your new life and become a productive member of the German society
You have:
The option to apply for German citizenship after four years
The option to send money home to your family
You will experience:
A welcoming culture for professionals, their spouses and children
The ability to travel freely in Europe and discover new countries, cities and cultures
Make it in Germany – 24 hours in Germany
Located in the heart of Europe
The Federal Republic of Germany is located in the heart of Europe, bordered by nine countries. Germany is a founding member of the European Union and its most populous country. It shares a common currency, the Euro, with 18 other EU member states. It is a member of the UN, OECD, OSCE, NATO, G7, G20 and the Council of Europe. The Federal Republic of Germany is considered as one of the most politically influential states in Europe and is a partner country with international cities and countries.
A diverse geography and climate
Germany has a temperate climate with four distinct seasons. There are sixteen national parks and over one hundred nature parks. Its coastlines to the north border the North and Baltic Seas, and to the south the Alps rise along its border with Austria.
Germany has 16 federal states, and over 82,5 million inhabitants living in its vibrant cities and throughout its picturesque countryside. Its capital is Berlin, which is also the most populous city. Other major cities with more than one million inhabitants are Hamburg, Munich and Cologne; the largest industrial region is the Ruhr Area, located in the western part of the country.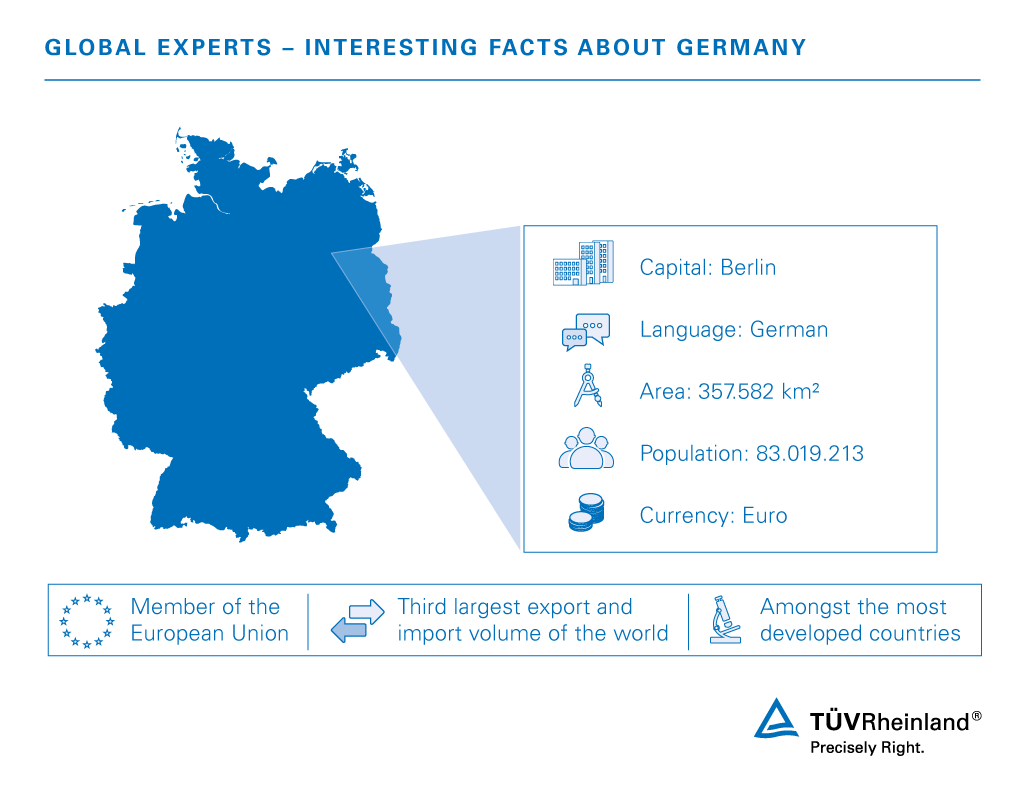 An economic powerhouse
Measured by its gross domestic product, Germany is the largest economy in Europe and the fourth largest in the world. In 2016 it had the third largest export and import volume. As its raw materials decrease and industry becomes increasingly automated and digitalized, the country, which has long been known for the quality of its education system, is transforming into an economy dominated by research, development and services. According to the Human Development Index, Germany is one of the most highly developed countries in the world.
Language, culture and diversity
The majority of the population speaks German. There are also regional and minority dialects and accents and many migrants who speak other languages. The most important second language is English.
Germany is home to immigrants from almost every country in the world. According to government statistics, 12,9 % (10,6 million) of the people living in Germany did not have German citizenship at the end of 2017, while around 23 % (18,9 million) of the population were migrants or descended from recent migrants.
Germany's culture is diverse and home to many traditions, holidays and events. Its cultural monuments and cultural heritage sites have, in part, been declared World Heritage Sites by UNESCO.
Germany is colorful, diverse, safe and varied. It is a society that values freedom, democracy, the welfare of all in society and the rule of law.
Would you like to learn more about opportunities to continue your career in Germany? Do the Quick Check now!