Global Experts Brings the World of Work Into Balance
Employment opportunities in Germany in the fields of IT, mechatronics and logistics with Global Experts
Indian nationals interested in advancing their career now have a unique opportunity working with our Global Experts team. IT professionals, engineers specializing in automotive mechatronics and professional drivers are in demand. Especially in Germany - where qualified workers are being welcomed to offset current demographic trends.
TÜV Rheinland's Global Experts partners with companies of all sizes to offer well-qualified specialists the chance to work abroad and gain valuable job experience. Together with participating companies, Global Experts has developed solutions for ambitious professionals to qualify, integrate and become a permanent part of a successful organization. In addition to international expertise and greater earning power, working in Germany offers employees and their families an excellent quality of life as well as social security and pension entitlements. Global Experts is the problem solver for bringing together skilled workers and the companies who need them on a global scale. For Indian citizens with the appropriate qualifications, we can open the door to a promising future, professionally and personally.
Opportunities for engineers, drivers and IT professionals in Germany
The Global Experts team is actively searching for qualified personnel who meet specific job descriptions and who are interested in living and working in Germany:
Automotive mechatronics engineers: Skilled workers in the car, two-wheeler and especially commercial vehicle sectors, as well as in the bodywork and service sectors. Education/degree as a car mechatronic engineer (diploma or ITI) and at least 2 years of professional experience.
Mechatronics engineers: (Industrial) mechatronics technicians for both the craft trade and industry sectors with various specializations, such as robotics or electronics. Education/degree as a mechatronic engineer and at least 2 years of professional experience.
Professional drivers: Both those with experience and qualifications as well as those making a career change can help meet the demand in this sector.
IT specialists: qualified individuals can help remedy the shortage of IT specialists in Germany. Education/degree in IT and at least 2 years of professional experience.
Learn more about Global Experts
Balancing global labor markets
We are witnessing a global imbalance between the supply and demand for skilled labor. There are some countries with a large surplus of well-trained specialists, whilst other countries are experiencing a large deficit of skilled experts. Our goal is to help creating a stable balance by reaching across borders to connect professionals with the organizations that need them. To that end, we have developed sustainable solutions that allow qualified people to take advantage of international opportunities and companies to recruit employees on a global scale. The result is a win-win situation for everyone involved.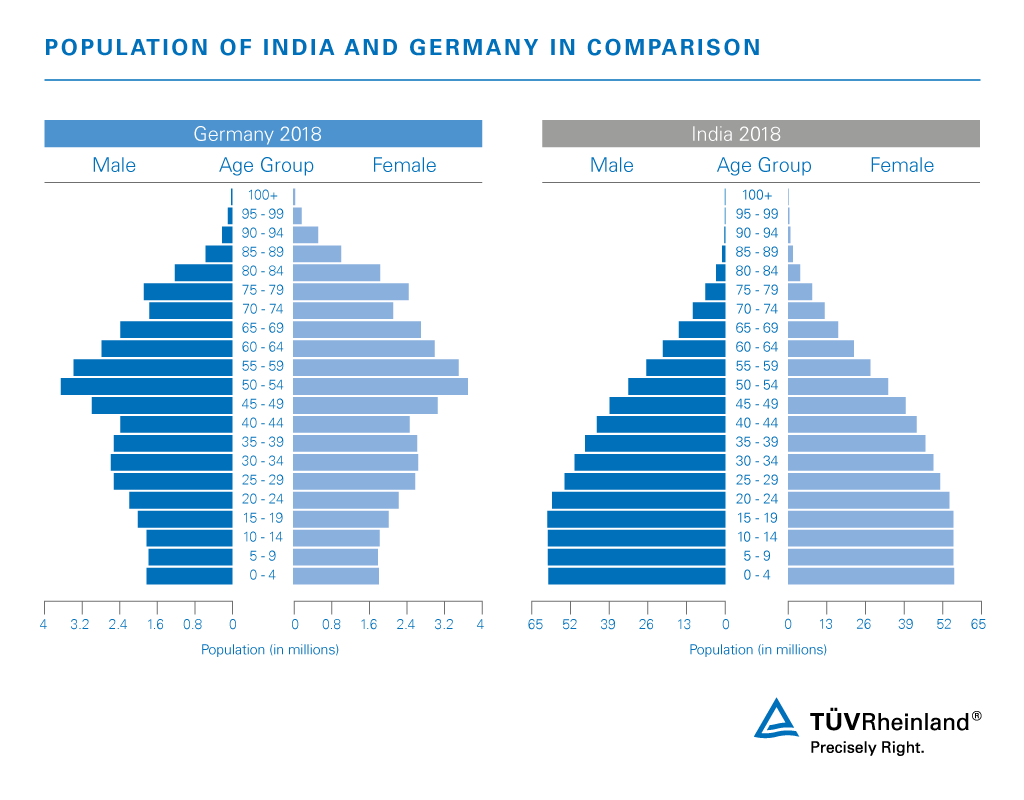 Why this transnational cooperation
Germany is economically and politically stable, as well as prosperous country. However, as the population ages, fewer children are being born to replace those, who are retiring. To ensure future growth, both socially and economically, Germany urgently needs qualified skilled workers willing to relocate from abroad.
India's growing population is young and well educated. Employment in Germany offers new and enriching opportunities to those seeking international experience in one of the world's strongest economies.
About TÜV Rheinland
TÜV Rheinland, founded 145 years ago, is a global leader in independent inspection services. The group maintains a worldwide presence with more than 20,000 employees and an annual turnover of nearly 2 billion EUR. As independent experts, we stand for quality and safety for people, technology and the environment in nearly every aspect of life. TÜV Rheinland inspects technical equipment, products and services, oversees projects, and helps to shape processes and information security for companies. Its experts train people in a wide range of careers and industries. Furthermore TÜV Rheinland employs a global network of approved labs, testing and education centers. Since 2006, TÜV Rheinland has been a member of the United Nations Global Compact to promote sustainability and combat corruption.