Mandatory Testing and Certification of Telecom Equipment's (MTCTE)
Largest comprehensive test facilities covering Safety, EMC, Wireless, Environmental & SAR
Every telecom equipment manufacturer (OEM)/ importer/ dealer must undergo prior mandatory testing and certification who wishes to sell, import, or use any telecom equipment in India. They shall have to obtain a Certificate from Telecommunication Engineering Centre (TEC) and mark or affix the equipment with an appropriate certification label. TUV Rheinland is one of the few independent technical service providers to fulfil the majority of technical requirements for testing and certification as per TEC.
Introduction to TEC:
Telecommunication Engineering center(TEC) is a regulatory and technical body for telecom products in India representing the interest of the Department of Telecom (DoT) of the Government of India. TEC acts as the standard development body for telecom products' testing, which develops specifications of common standards for telecom network equipment, services, and interoperability. TEC also functions as a certification body for telecom products that need to be placed in the Indian market, by issuing interface approvals, certificate of approvals, service approvals & type approvals.
Introduction to MTCTE:
The Indian Telegraph (Amendment) Rules, 2017, directs every telecom equipment to undergo mandatory testing and certification prior to sale or import for use in India. MTCTE is designed to cover 46 types of telecom products along with other variants under each of these product types, addressed by 9 divisions under TEC.
Testing is carried out to check conformance with essential requirements of the equipment, by labs designated by TEC. Certificates are issued by TEC based on the test reports. The application for certification under MTCTE is to be submitted online on the MTCTE portal through which further procedures are carried out.
MTCTE is applicable for:
Any original equipment manufacturer (OEM)/ importer/Dealer who sells or imports any telecom equipment in India.
He/she shall have to obtain a certificate from the Telecommunication Engineering Centre (TEC) and mark or affix the equipment with an appropriate certification label.
MTCTE Compliance requirement:
The applicant shall be required to submit test wise compliance along with test reports, with respect to Parameters included in essential requirements (ERs), from any designated CAB or recognized CAB of MRA partner country.
The test results shall be evaluated for compliance against Respective ERs
The technical regulations prescribed under this framework are in the form of Essential requirements (ERs) that include:
EMI/ EMC: As prescribed by TEC
Safety: As prescribed by TEC
Technical requirements: Wireless / IoT : As prescribed by TEC
Other requirements: As notified by DoT
Security requirements: As per the notification issued by DoT ( Department Of Telecommunication)
TEC Objective of the test:
Any telecom equipment does not degrade the performance of an existing network to which it is connected.
Safety of the end-users
Protection of users and the general public by ensuring that radiofrequency emissions from equipment do not exceed prescribed standards.
Compliance of telecom equipment with the relevant National, international regulatory standards and requirements.
Division
Products


Future Network
2-Wire Telephone Equipment*
Conferencing Equipment
G3 FAX Machine*
Modem*
POS Terminal
Cordless Phone

Fixed Access

GPON Equipment's*
DSL Equipment's



IoT / M2M

IoT Gateway*
Tracking Device
Smart Electricity Meter*
Smartwatch*
Smart Security Camera*
Feedback Device*
End Point Device for Environmental Monitoring*


Information Technology
Switch
Router
Server
Synchronization Equipment
Network Security Systems


Mobile Technology
BSC/ RNC
Compact Cellular Network*
Mobile Devices*
Repeater & BTS*


Radio
Microwave Links in Fixed Radio Systems
VHF/ UHF Radio Systems
Mobile Radio Trunking System Equipment's
Equipment operating in 2.4 GHz and 5 GHz frequency bands*
Satellite System




Switching

IP Terminal
Media Gateway
Signaling Gateway
SBC
Soft Switch
ISDN CPE*
PABX*
Application Server
Media Server


Transmission
Multiplexing Equipment*
SDH equipment's*
DWDM equipment's
DXC
Note:- (*) astrick marked ERs represent Telecom Products which are covered under Phase-I, Phase-II, Phase III and Phase IV roll out.
TÜV Rheinland India Laboratories
Address
TEC Certificate
Test Charges

Wireless / IoT
EMI EMC
Electrical Safety
Reliability


27/B, 2nd Cross Road,
Electronic City Phase I,
Bangalore 560100, India

TEC Certificate

Test Charges

EMI EMC
Wireless / IoT


108, Electronics City Phase 1, Bengaluru, Karnataka 560100

TEC Certificate


Test Charges

Electrical Safety & Reliability



Plot no. 417, Udyog Vihar,
Phase IV Gurgaon, Haryana 122015


TEC Certificate

Test Charges

EMI/EMC

J-462, MCCIA, Telco Road,
Near Quality Circle, MIDC
Bhosari, Pune 411026,
Maharashtra, India

TEC Certificate

Test Charges
Wireless / IoT Testing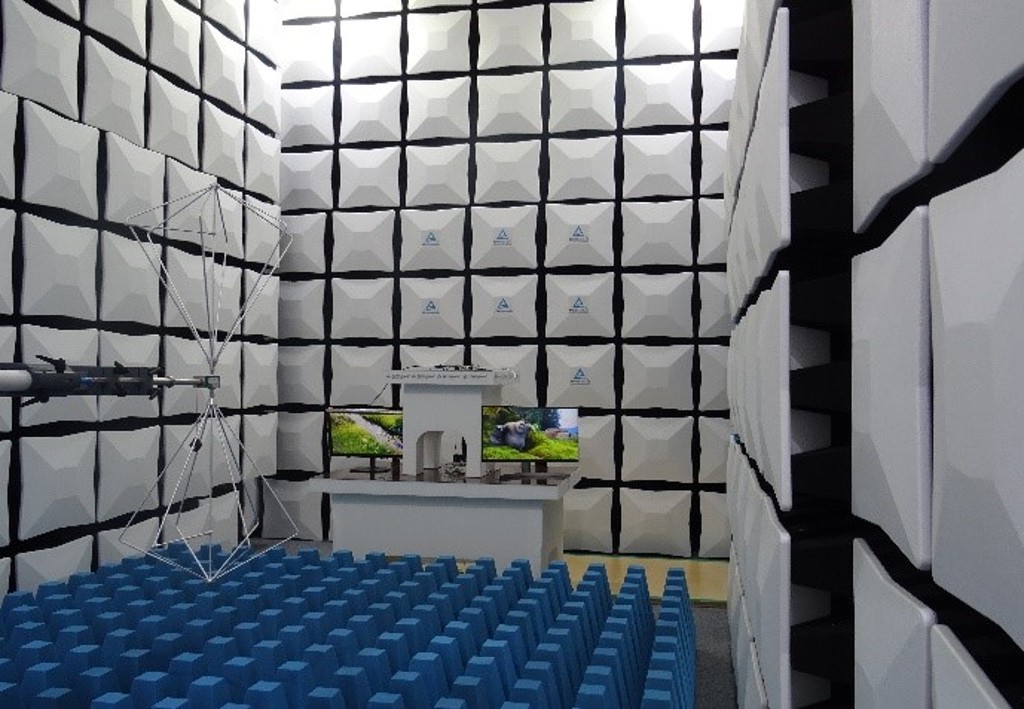 TR India Services to cater TEC -Wireless/IoT (Technical Requirements):
First Indian TEC listed CAB for Radio/Wireless/IoT products. Wireless products must undergo extensive global testing and certification procedures to meet national and international standards for marketability across the world. So far such testing certification procedures were only possible outside of India. Now, TÜV Rheinland has brought them to India. We can help you test and manage various international approvals and interact directly with certification authorities.
State of the art 3 meter fully anechoic chamber in India to do complete testing and certification activities to meet local & global requirements from 9 kHz to 40 GHz, including Antenna 3D pattern measurements.
In house Comprehensive Testing Environment (CTE) for complete cellular testing.
Only nationwide automated test facility to perform the latest version of ETSI EN 300 328 & ETSI EN 301 893 Standard to meet the TEC & European requirements
Exclusive testing facility in India to perform Specific Absorption rate(SAR) for all body-worn and handheld devices.
Laboratories are accredited for NABL, TEC, FCC / ISED and ISO 17025.
Abbreviations
FCC Federal Communications Commission
ISED Innovation, Science and Economic Development
NABL National Accreditation Board for Testing and Calibration Laboratories
EMI/ EMC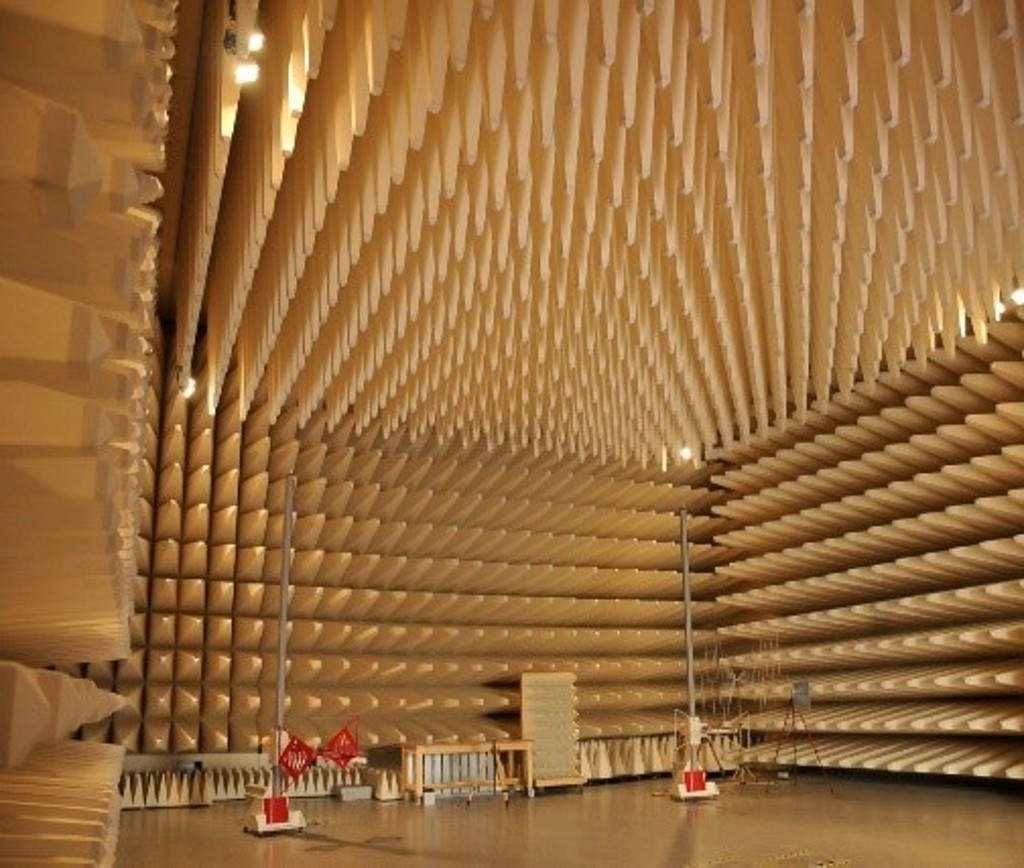 Overview:
Since 1872, TÜV Rheinland has been a world leader in compliance testing, guaranteeing customer satisfaction with its technical expertise and efficient delivery process. Since its presence in the Indian market from 1996, TÜV Rheinland offers solutions encompassing EMC, Safety and Wireless testing services facilitating its valued customers to gain access to global markets.
The exploding market for telecommunication products since 1934 has created technological advances that no one could have imagined. By upgrading its testing labs in India, TÜV Rheinland has met and continues to meet the demand by industry leaders worldwide for electromagnetic compatibility (EMC) tests for global industry requirements.
EMC Testing:
Electric and electronic products usually generate electromagnetic radiation and can be influenced by it. With such products becoming increasingly used in very close proximity to each other, they should function normally without 'interfering with' or being 'interfered with' by other products. This important characteristic of electric and electronic products is called Electromagnetic Compatibility (EMC). It is usually discussed in two aspects: emissions (EMI) and immunity (EMS). The electromagnetic emissions of equipment should be limited in order to ensure that such equipment does not disturb radio or telecommunications nor interfere with other equipment. Such equipment should also have immunity to interference and should not be disturbed by radio emissions when used as intended.
Manufacturers of electric and electronic devices in a wide range of telecom equipment want to ensure that their products function safely and effectively. All Telecom products placed in the Indian market have to adhere to electromagnetic compatibility (EMC) guidelines as specified by TEC standards.
Our EMC testing facility is designated by TEC for testing and issuing of test reports in compliance with TEC regulations. All tests are carried out by our experts in our state-of-the-art laboratories and this has helped us earned the respect and trust of industry leaders and international authorities.
We provide thorough and impartial testing for the key stages of your product development such as:
Testing at the early product development stage to spot potential problems and reduce cost and time to market launch
Testing at the final prototype stage prior to production, complete with a test report for market regulators and stakeholders
Our experts will evaluate the electromagnetic compatibility of your product in only three steps:
Testing of the product according to the TEC standard
Issuance of the EMC test report
Uploading of test report on the portal
Our unique propositions are:
TÜV Rheinland is an international certification body and hence, test reports can be used to cater to local as well as international markets
Fully equipped Semi Anechoic Chamber supporting a frequency range of 9kHz to 40GHz
Dual antenna mast measurements for reducing measurement TAT
Capabilities: Radiated & Conducted Emission, Radiated & Conducted Susceptibility, Electrical Fast Transient, Surge, Electrostatic Discharge, Dips & Interruptions, Power Frequency & Pulsed Magnetic Fields Clicks, Disturbance Power
Two 10m Chambers & two 3m Chambers
Multiple test instruments for each test setup to handle multiple samples simultaneously, thereby reducing project TAT
Well trained engineers both locally and internationally
24/7 operations of the testing facility
Debugging tools to arrest EMC issues
Electrical Safety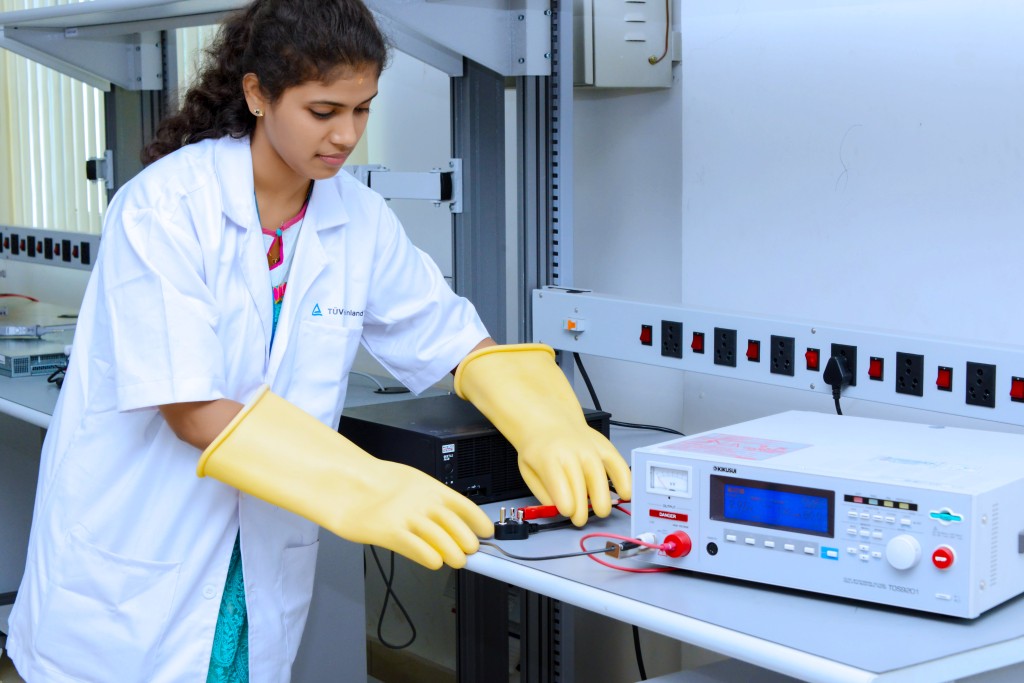 Electrical safety is an essential requirement for all electronic and electrical devices, considering safety to the user, device and connected equipment. Safety is evaluated based on various hazards that can occur in day-to-day activities involved while using, operating and servicing.
We at TÜV Rheinland can help you with electrical safety evaluation and testing of your products. Collaborating with us means shorter lead times and benefit from our experience in the field of electrical safety for about 20 years in India and 146 years of global experience. With the capacity of handling more than 250 projects per month, we can support your quick turnaround time.
In pursuit of Mandatory Testing and Certification of Telecom Equipment (MTCTE) scheme, TÜV Rheinland has, well-equipped testing facility and we are Conformity Assessment Bodies (CABs) designated by TEC.
Ask how we can help you efficiently gain electrical devices' safety compliance for your products! With all the facilities, we can carry out the testing for the following standards:
IS 13252 Part 1:2010 + Amd1:20113 + Amd2:2015 or
EN/IEC 60950-1:2005 + Amd1:2009 + Amd2:2013
EN/IEC 62368:2014
IS 16046(Part1):2018 and IS 16046(Part2):2018
IEC 62133-1:2017 and IEC 62133-2:2017
Worldwide Market Access
We provide market access to international markets worldwide
Utilizing our global presence, relationship and experience, we can obtain the national safety, telecom and other necessary approvals for your countries of destination, saving you time and money
Our network covers the most preferred countries while continuously expanding to meet the market's newest requirements and demands
Contact us, even if you are looking for a remote area on the map – our professional staff will be glad to carry out market access research for you and discover the possibilities
Benefits at a Glance
Take advantage of our listed, independent testing laboratory.
All from a single source – combine various safety and quality checks and save time and costs (e.g. component testing, security testing, etc.)
Reliability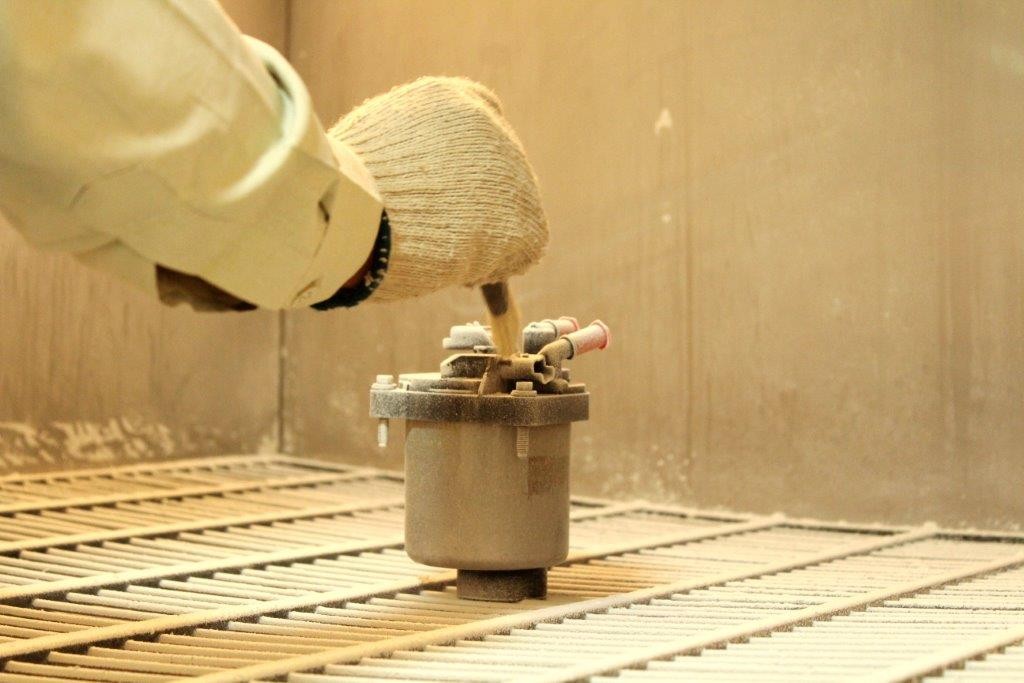 Build it, Test it, Prove it.
Most of the time product fails during the transportation and/or operation and/or during the storage, hence the failure mode has to be analyzed and should be taken care of during the design and development phase. Reliability tests are the series of tests that are used to analyze the functionality and breakdown phase of any electrical products in various environmental conditions during transportation, storage and handling and operation, extremely high and low temperatures, large, swift variations in temperature, salt spray and salt fog, very high or low humidity, wet environments, fungus, vibrations (airborne and structural) and accelerations. Reliability tests will help us to accelerate the aging process of the product to predict its lifecycle and analyze the modes of failure. The reliability test gives the opportunity to improve upon the product's design and implement the same into the product so as to minimize the lead time and hence reduce the cost of the product. Reliability tests may be performed at various stages to rectify potential defects from the prototype to the final production of the products as per the manufacturer's requirement. TUV Rheinland India as an independent testing and certification agency has excellent reliability testing services for the product range of commercial, industrial, electronic sub-assemblies for consumer electronics, household, medical, lighting, wireless, etc.
TÜV Rheinland India can locally offer one-stop-shop services for entire testing and certification services for any country requirement.
Benefits at a Glance:
State of the art inhouse reliability test laboratories equipped with environmental walk-in chambers and more than 20 environmental chambers with different capacities
Accreditations under NABL ISO / IEC 17025
One-stop solution for all reliability, safety testing, wireless and EMC certifications
The manufacturer can save time and cost by considering compliance and testing requirements during the design and development stage
Services:
Temperature & Humidity Test (Environmental tests)
Testing will be done for all house IT-telecom, hold appliances, office equipment's, lab equipment's, industrial monitoring control equipment's and PCBs under packed/unpacked/ operating / non-operating conditions with cold dry temperature tests, humidity steady/cyclic test, temperature cyclic test and UV- exposure. TUV Rheinland India has excellent In-house environmental walk-in chambers and environmental chambers with different capacities and expertise to evaluate the big size products. The compliance test report will be issued after testing is done as per national reference standards / international reference standards/ industrial standards/customer requirements. Tests can be performed from -70 °C to 180 °C with humidity combinations ranging from 10% to 98% RH.
Mechanical Tests
Mechanical tests will be done on all IT-telecom, household electric appliances, office equipment's, lab equipment's, industrial monitoring control equipment's, PCBs under packed/unpacked/operating / non-operating conditions to verify the acceptable level of robustness, durability, stiffness and the adequacy of specimens to resist dynamic loads without unacceptable degradation of its functional and/or structural integrity of the products.
The tests are vibration test, shock test, bump test, ball impact test, impact hammer test, drop test/free-fall test/ rough handling test/toppling test, etc. The compliance test report will be issued after testing is done as per national reference standards / international reference standards / industrial standards/customer requirements.
Ingress Protection Test
Ingress protection test will be done to check the protection of persons against access to hazardous parts inside the enclosure, protection of the equipment inside the enclosure against ingress of solid foreign objects and protection of the equipment inside the enclosure against harmful effects due to the ingress of water. Measures to protect both the enclosures and the equipment's inside the enclosure against external influences or conditions such as corrosion, corrosive solvent, fungus, vermin, moisture, and explosive atmosphere and the protection against contact with hazardous moving parts external to the enclosure (such as fan), are matters for the relevant product standard to be protected.
TUV Rheinland India has an excellent in-house test facility to undertake the ingress protection test. Compliance test reports and certificates will be issued followed by a test as per IEC / EN 60529 with the rated IPXX codes.
Accreditation
NABL (National Accreditation Board for Testing and Calibration Laboratories)
ISO/IEC 17025 Listed Laboratories
BIS (Bureau of Indian Standards)
TEC ( Telecommunication Engineering Centre)
A2LA (American Association for Laboratory Accreditation) for FCC/ISED Canada
CBTL (Certification Body Test Laboratory)
MeitY (Listed by Ministry of Electronics and Information Technology)