Setting the standards with our Quality Controlled certification for PV modules
In support of making basic PV module certification according to IEC 61215 and IEC 61730 more comprehensive, investors, manufacturers and buyers need a standardized approach to ensure the quality, safety and performance of various module materials and brands. Quality Controlled PV fills the gaps with basic IEC safety certification and extended stress testing protocols followed by a holistic strategy of sustained performance, materials and supplier monitoring.
We provide voluntary Quality Controlled PV certification services to label recognized products in demanding global markets. Our Quality Controlled PV test mark helps to distinguish PV modules that have been tested from manufacturers which are continuously monitored to demonstrate the integrity of their materials and supply chain partners.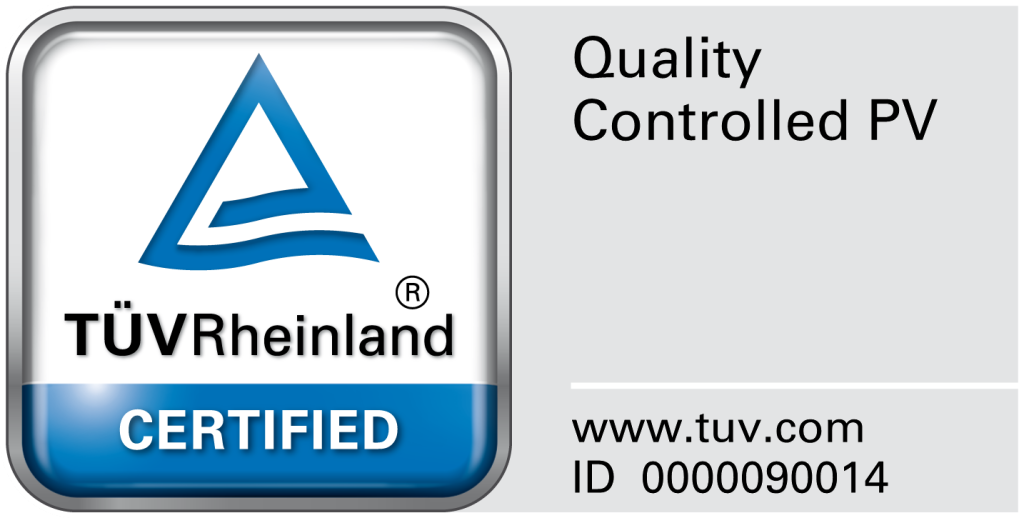 TÜV Rheinland has developed a catalogue of tests establishing additional criteria beyond standard type approval and safety qualification of PV modules. The catalogue is based on and exceeds the requirements of applicable regulatory and industry standards.
According to catalogue procedures, our experts perform an extended stress test program based on IEC TS 63209 for high confidence in the reliability and long lifetime of the PV module. We control how manufacturers conduct regular quality and surveillance measures with monthly testing of random samples taken from running production. Our trained specialists verify manufacturer material and supplier-monitoring programs for all critical components with special focus on reliability and material properties as well as supplier change control. PV modules quality and performance specifications are checked against these criteria to achieve "Quality Controlled PV" certification confirming regular quality surveillance monitoring successful extended stress testing.
Our testing and certification gives you a clear competitive advantage in the markets of your choice. The trusted TÜV Rheinland certified test mark is recognized around the world as a badge for proven quality and safety.
Boost confidence in your solar business with Quality Controlled PV certification!
Proven commitment to excellence with our respected test mark
Our Quality Controlled PV certification is based on a simplified, easy-to-communicate approach according to international standards with clear acceptance criteria aimed at lowering costs for testing and inspection throughout the lifecycle of your PV module. A reduced six-month lead time can help relieve the pressures of tight deadlines. Our globally recognized test mark provides a strong proof of quality to increase confidence in both a product and a manufacturer. We work with you to ensure the best process for your particular needs and business goals to make you more competitive in challenging markets.
Our Quality Controlled PV certification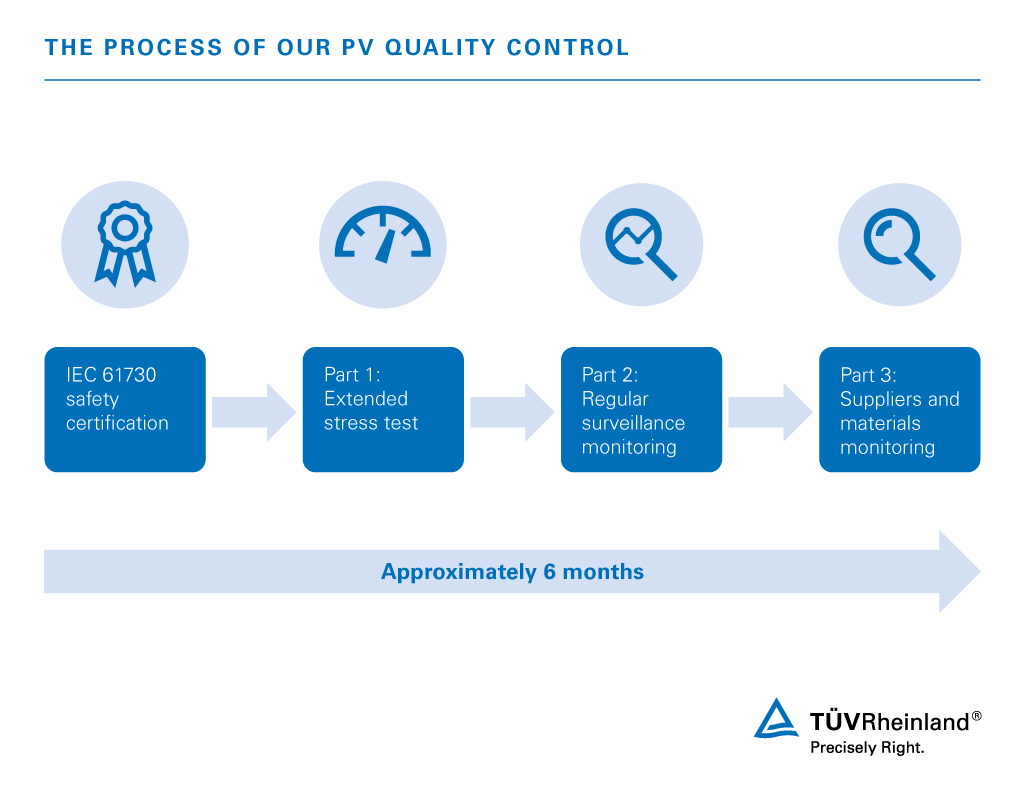 We provide comprehensive support throughout your voluntary Quality Controlled PV certification. Following the basic safety certification according to IEC 61730 prerequisite, our services are conducted in three parts:
Part 1: Extended stress testing
Part 2: Regular surveillance monitoring
Part 3: Supplier and materials monitoring
Basic IEC 61730 safety certification and extended stress testing are required to move on to Parts 3 and 4 which provide continuous monitoring services conducted at regular intervals. Lead time for certification is approximately six months.
Products successfully achieving Quality Controlled PV certification are awarded our test mark, recognized and trusted around the world. Our international team of experts is happy to serve you at any time, anywhere from a single source.
Your respected PV certification partner
We are a global leader in industrial services, qualified and accredited to inspect, test and verify materials, processes and products for recognized certification according to international standards and practices. Our global network of interdisciplinary experts is available to you around the clock, providing comprehensive support anywhere in the world. Years of experience and extensive knowledge in photovoltaic technology make us your perfect partner for the certification of your PV modules.
Put our expertise to work for you today!
Learn more about our solar and pv services
Solar and Photovoltaic (PV) Services
Our Sustainability Initiatives
Nothing less than the future is at stake. Companies, institutions, public authorities and each and every one of us can play a positive role in shaping the path to tomorrow. We provide you with comprehensive support to ensure that you operate safely, sustainably and efficiently for many years to come.
This might also interest you
Last Visited Service Pages