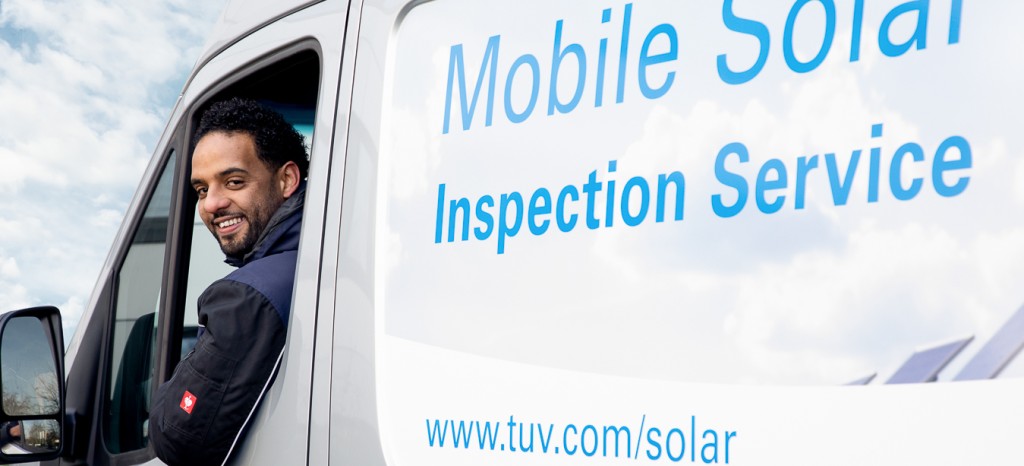 Accurate testing in the field with our mobile photovoltaic laboratory
Manufacturers, operators and business partners working together in the solar industry rely on cutting-edge technology and qualified technicians to ensure the performance of solar panels in the field.
Our Mobile Solar Lab uses a state-of-the-art LED sun simulator and high-resolution electroluminescence tester to provide you highly accurate measurement and immediate results at laboratory levels. Whether at port arrival, before installation or during analysis of operational capacity, our international network of experienced inspectors is available to conduct comprehensive on-site testing of your PV modules anywhere in the world.
We help investors, plant owners, EPC contractors and insurance providers make sure solar panels are tested according to relevant IEC standards for optimal performance, damage assessment and warranty control.
Test your solar panels in the field with our Mobile Solar Lab!
Fast results at lower cost with on-site solar panel testing
We bring the laboratory to you at low cost and your convenience to save you time and money. Mobile on-site testing eliminates the need to send solar panels to a distant laboratory to minimize power plant downtime and maximize profitability. We provide you comprehensive on-site services designed to assure diverse stakeholders invested in your business. Fast and accurate power verification, electroluminescence and bypass diode test results directly in the field increase confidence in the optimal performance of your PV modules.
Our Mobile Solar Lab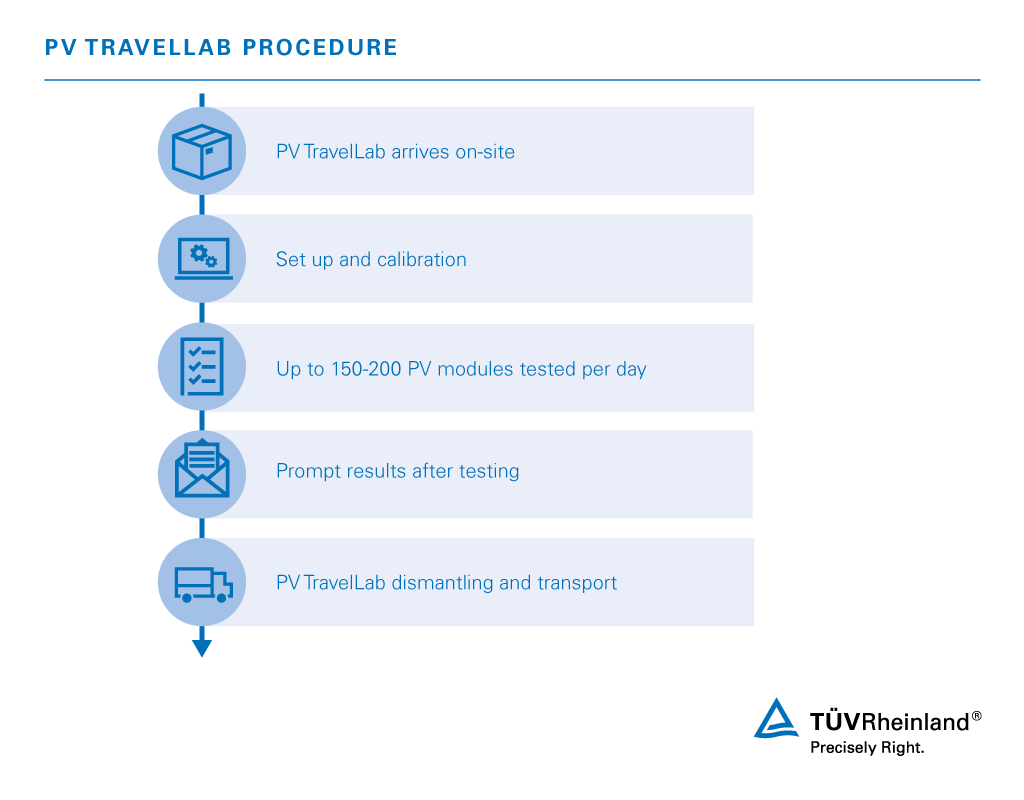 Our innovative Mobile Solar Lab, which meets the requirements of IEC 61215 and IEC 60904 series of standards, provides a mobile testing laboratory compact enough to be easily transported by plane as oversized baggage.
After set-up and calibration, it is possible to test 150-200 PV modules per day. The measurement uncertainty for highly efficient crystalline modules, thin-film modules, PERC or HJT solar cells lies within 2,5%. Also, the Mobile Solar Lab is equipped to perform Electroluminescence (EL) and bypass diode tests.
Results are promptly provided after testing has been completed.
Our comprehensive on-site solar panel testing services are designed to help:
Investors and power plant owners
Get reliable power measurements without having to send modules to a distant laboratory
Confirm acceptance of goods
Identify potential warranty claims
EPC contractors
Validate PV module quality before installation during on-site post-shipment inspections
Insurance providers
Assess potential module damage
Verify warranty claims
Your experienced partner for mobile solar panel testing
Recognized by industry lenders, investors and insurance providers for our 40 years of experience in the solar sector, we provide comprehensive services from a single source for streamlined support. Our holistic approach combines the practicality of the Mobile Solar Lab and a well-rounded methodology to provide you the reliable testing and solid solutions you need to succeed.
Put our expertise to work for you!
Learn more about our solar services
Our Sustainability Initiatives
Nothing less than the future is at stake. Companies, institutions, public authorities and each and every one of us can play a positive role in shaping the path to tomorrow. We provide you with comprehensive support to ensure that you operate safely, sustainably and efficiently for many years to come.
This might also interest you
Last Visited Service Pages