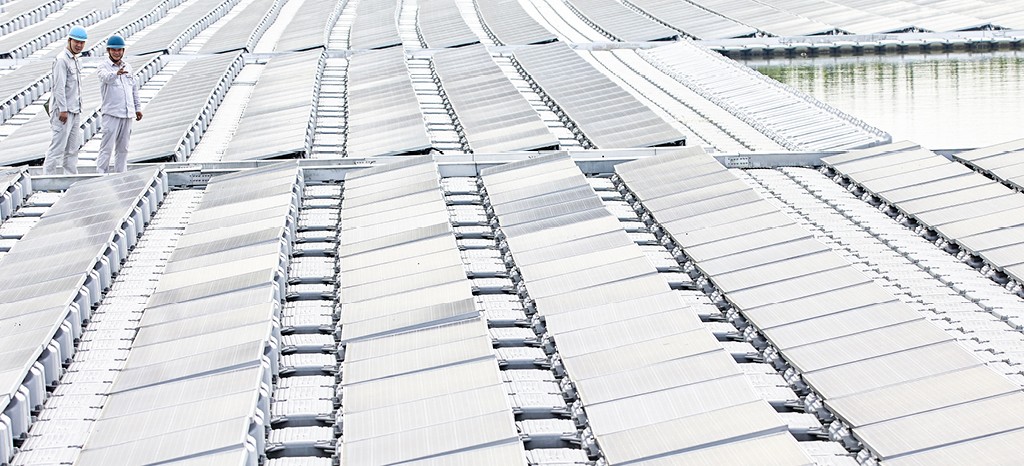 Proven standards with extended stress testing for floating PV products
Solar power plants have evolved to include PV systems floating in offshore areas such as lakes, ponds and reservoirs. Currently made of polymer material (e.g. high-density polyethylene), a floating body provides support for PV modules and the relevant mounting structure. We conduct comprehensive testing and certification services for PV components and systems for use in floating environments.
Our qualified and experienced experts help you address the sustainability and reliability concerns facing owners of floating PV power plants. In addition to environmental aspects such as relative humidity, ambient temperature, UV dose and wind velocity, floating systems are further impacted by water flow, height, and temperature as well as having to ensure water tightness for required reliability and buoyancy. We provide you extended stress testing and certification services according to recognized standards to prove the quality, performance and safety of your floating PV components and systems.
Made up of an interdisciplinary team of specialists, our global network is happy to provide expert services at any time, anywhere in the world.
Prove the resilience of your floating PV products with our testing and certification!
Demonstrate quality and compliance with our respected test mark
Extended stress testing and certification appropriate for components, modules and systems used in floating PV environments provide you hard evidence of quality and conformity according to international standards and best practices. Making your manufacturing processes transparent and your PV products compliant ensures your access to competitive markets worldwide. Our trusted test mark demonstrates your commitment to excellence and your dedication to providing sustainable, reliable and quality products for added marketable value, increased confidence and maximum profits.
Testing and certification of floating PV components and systems
We conduct comprehensive testing and certification services for floating photovoltaic products and systems. In view of currently absent international standards, our experts have developed in-house protocols to ensure your products are properly and adequately tested to meet globally established IEC certification standards.
Our internal protocols:
TÜV Rheinland 2 PfG 2731/02.20
Requirements for materials used in and construction of floating bodies
TÜV Rheinland 2PfG 2750/09.20
Requirements for cables with improved water resistance for installation in floating photovoltaic systems
The TÜV Rheinland certified test mark is trusted around the world as a badge for proven quality and safety. PV components, modules or systems proven to have met recognized sustainability, performance and reliability standards gives you a clear competitive advantage in lucrative global markets. We look forward to helping you achieve your goals in the growing floating PV power plant industry.
Your respected partner for PV testing and certification
A global leader in industrial services, we are qualified and accredited to inspect, test and verify materials, processes and products for recognized certification according to international standards. Our global network of interdisciplinary experts is available to you around the clock, providing comprehensive support anywhere in the world. Years of experience and extensive knowledge in photovoltaic technology make us the perfect partner for certification of your PV modules and systems.
Put our expertise to work for you today!
Learn more about our solar and PV services
Our Sustainability Initiatives
Nothing less than the future is at stake. Companies, institutions, public authorities and each and every one of us can play a positive role in shaping the path to tomorrow. We provide you with comprehensive support to ensure that you operate safely, sustainably and efficiently for many years to come.
This might also interest you
Last Visited Service Pages