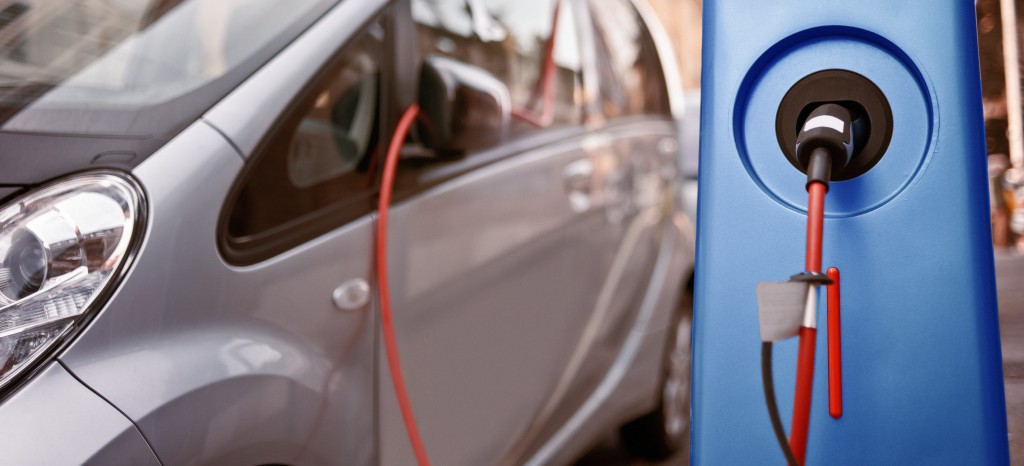 Certified safety with expert electric vehicle testing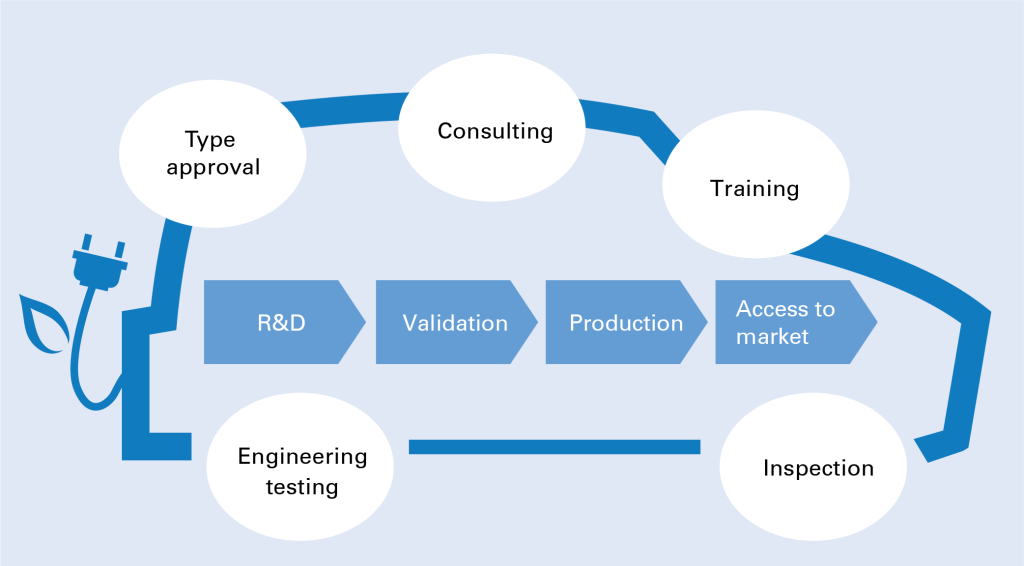 Manufacturers and operators of electrical vehicle (EV) charging systems and components must maintain high standards in a competitive market. Indeed, a reliable charging system backed up by an internationally recognized certificate of safety and performance is both a key selling point and an essential step in proving compliance.
We are the ideal partner for you, with services and solutions covering the entire EV value chain, including design reviews, , engineering testing, type approval, installation, inspection, market access services as well as training and consulting. What's more, our entire portfolio is available as a one-stop service with a single point of contact.
Our team of experts has been at the vanguard of electric vehicle testing and inspection from the industry's infancy, and we are still the only company capable of providing services for the entire EV supply chain. Industry leaders trust us with the testing and certification of their products, confident in our ability to demonstrate compliance with the full range of international regulations.
Request a quote from a service engineer today!
Market success with EV charging tests and more
Testing and certification by our experts opens doors wherever you produce and sell EV components, enabling faster time to market and guaranteeing access to markets in Europe, North America, South America, Greater China, Asia, and the Middle East. Keeping clients' needs at the forefront, our experts offer tailored research into requirements on request.
All-around services for electric vehicle equipment testing

Our state-of-the-art laboratories carry out a wide range of full system or component testing:
Electrical Safety testing
EMC / EMF, FCC / ISED testing
Wireless and IoT testing: e.g. Wi-Fi, Zigbee, Bluetooth, GDPR, IoT product certification
Functional safety testing
Durability testing (life cycle test)
Data communication / Protocol testing (CHAdeMO, CharIN)
Climate testing: IP test, UV radiation, corrosion test, etc.
Mechanical and material testing: flammability test, glow wire test, etc.
Field Evaluation Services
Our testing and certification services enable compliance with all major
international regulations and directives, including:
Low Voltage Directive (LVD) 2014/35/EU
Electromagnetic Compatibility Directive (EMC) 2014/30/EU
Radio Equipment Directive (RED) 2014/53/EU
Charging systems: IEC 61851 / IEC 62752/ UL 2202
Wireless charging system: IEC 61980
Protective Devices / Personnel Protection Systems: IEC 60755 / UL 2231
Plugs, Socket-outlets, Connectors, Inlets: IEC 62196 / UL 2251
Cables and Liquid cooled cables: IEC 62893 and 2PfGQ 2473
Low-voltage Switchgear and Controlgear Assemblies for Charging Stations: IEC 61439-7
National Standards for the above listed products e.g. JIS D1304
Once your product has been proven to fulfill a standard or guideline, you can showcase the safety and quality of your products with TÜV Rheinland Certification Mark on the product and in your promotional materials.
Pioneers in electric vehicle charging equipment testing
Among other "firsts" in the field of electric vehicles, we are the first Certified Body Testing Laboratory (CBTL) in the Asia-Pacific region and stand out globally as a forerunner and acknowledged leader in EV testing worldwide. We draw on a wealth of experience and knowledge, testing EV charging systems to European, American, Australian, Japanese and Chinese standards. We can issue a wide range of certificates, including the EU CE certificate, the TÜV type approved certificate, the Japanese PSE certificate, the EMC certificate and much more.
Find out how you can start testing and certification with us today!
A Global network of laboratories supports EV testing services
With sophisticated laboratory facilities, our global E-Mobility team plays an indispensable role in the sustainable development of the EV industry.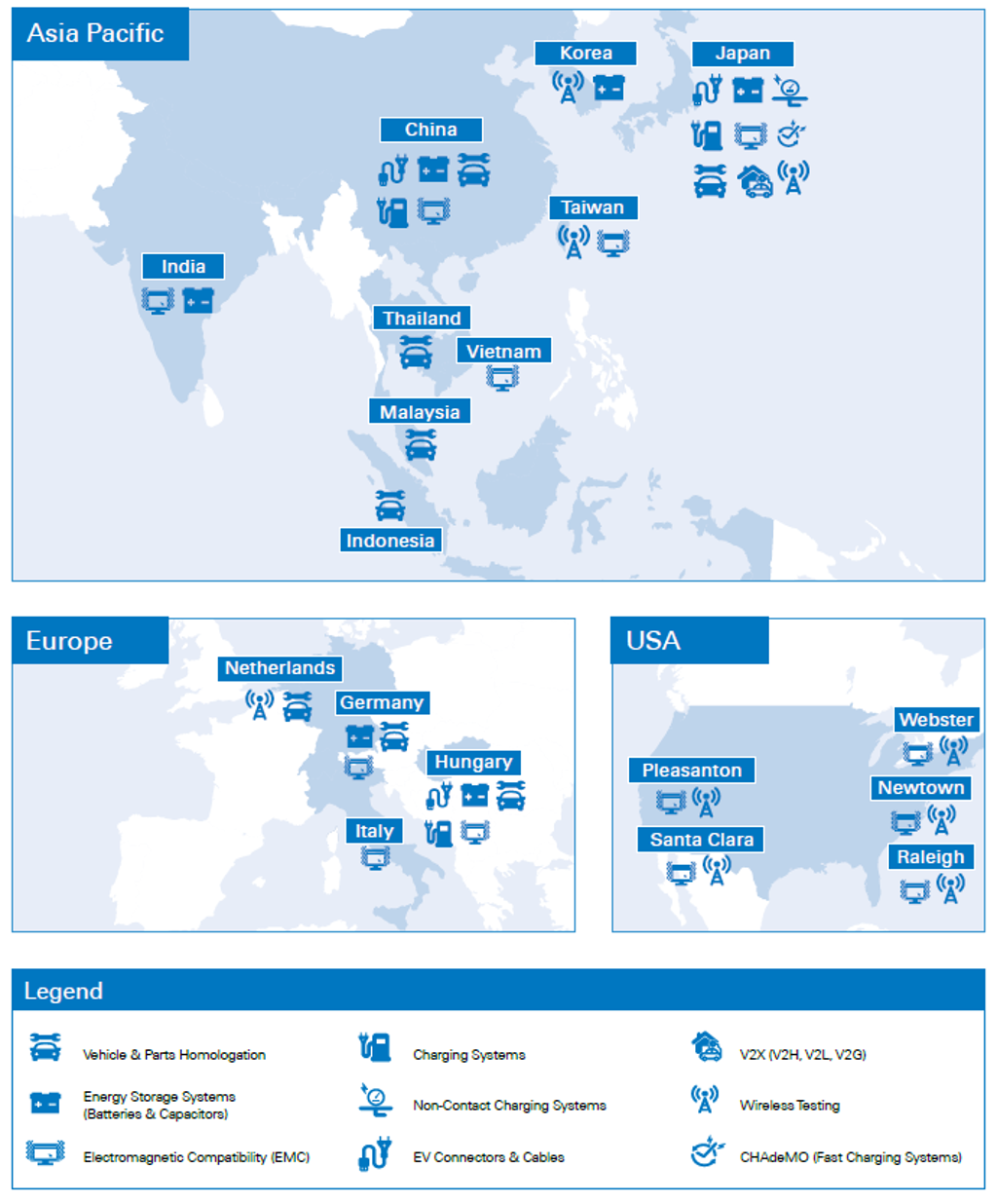 Our Sustainability Initiatives
Nothing less than the future is at stake. Companies, institutions, public authorities and each and every one of us can play a positive role in shaping the path to tomorrow. We provide you with comprehensive support to ensure that you operate safely, sustainably and efficiently for many years to come.
This might also interest you
Last Visited Service Pages