Safe, reliable and marketable with the "TÜV Rheinland type-tested" test mark
An efficient charging infrastructure with technically high-quality charging stations will be the backbone of future smart grids. Electric vehicle supply equipment (EVSE) is key to ensuring high grid stability and making electromobility successful everywhere. The operational safety of charging stations for electric vehicles plays a central role here – only equipment that is proven to be safe will be accepted on the market or be marketable at all. As a manufacturer of charging stations/electric vehicle supply equipment, you therefore shoulder a lot of responsibility.
We support you in a wide range of safety-related product tests. If the type test is successful, your EV charging stations are given the "TÜV Rheinland type-tested" mark or, with a conformity assessment, the requirements necessary for bringing them to market. Benefit from our worldwide reputation and place your trust in the highest level of competence. We are one of the pioneers for testing and certification services for EV charging systems.
Contact our experts now.
Demonstrate the safety of your charging stations for electric vehicles with a seal and a certificate
EVSE are complex systems. They generally include energy management systems, smart grid communications and billing systems. You can increase confidence in your product by having its operational reliability independently tested. Continuous and reliable performance are key criteria for charging infrastructure operators. Compliance with all relevant safety and quality requirements ensures your product is safe for public use, Increasing opportunities to export products and expand your market. We also assist with calibration conformity.
Certified operational reliability increases global market opportunities
Test marks from TÜV Rheinland, a globally recognized testing and certification organization, provides proof of the operational safety and quality of your charging stations for electric vehicles. TÜV Rheinland's renowned brand name also helps you successfully market your products around the world.
Time and costs for entering new markets are also significantly reduced by using harmonized standards and common testing protocols. We know the regulatory and approval requirements in Europe, North America, South America, China, Asia and the Middle East, so with us as your partner, you can speed up product launches in attractive export markets.
Expert testing services for every aspect of electric vehicle charging stations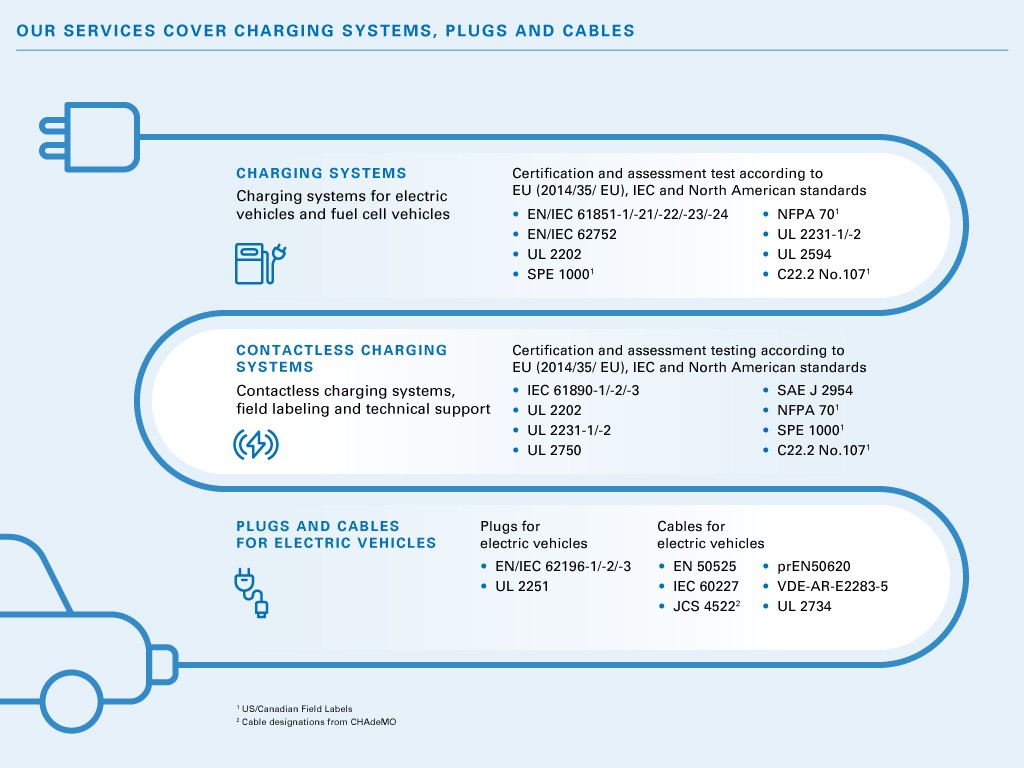 The "TÜV Rheinland type-tested" test mark requires us to carry out safety tests on your products, focusing on operational safety. We have a global network of state-of-the-art testing facilities, enabling us to offer you a wide range of testing procedures. Before you launch your product on the market, we work with you to test, for example:
Electrical safety
Functional safety
Data transfer/protocols (CHAdeMO, CharIN)
Climatic tests (water ingress, dust and foreign bodies/UV radiation/corrosion etc.)
Mechanical stability (flammability, glow wire test, etc.)
Standards conformity
Development support
Product launch
Calibration conformity
We offer certification and assessment testing according to EU (2014/35/EU), RED Directive 2014/53/EU, IEC and North American standards. Depending on the type of product and your intended market regions, we check compliance with relevant standards for electric vehicle (PHEV, BEV) charging equipment such as:
Low Voltage Directive 2014/35/EU, RED Directive 2014/53/EU
Conductive charging systems for electric vehicles: EN/IEC 61851-1/-21/-22/-23/-24
Inductive charging systems: IEC 61980-1/2/3
In Cord – Control and Protection Devices (IC-CPD) for mode 2 charging of electric road vehicles: EN/IEC 62752
On-board/off-board chargers: UL 2202
Personal protection systems: UL 2231-1/-2
National Electrical Code (NEC): NFPA 70*
Conductive charging systems for electric vehicles with primary voltages up to 600 V (AC): UL 2594
Plugs, sockets, couplings, etc.: IEC 62196
EV charging cables: IEC 62893
Liquid-cooled cables: 2PfGQ 2473
Low-voltage circuits and controllers for EV charging stations: IEC 61439-7
*US/Canadian Field Labels
For you, the entire testing and certification process is very straightforward. You first inform us of your intended markets as well as what you consider to be the required standards and necessary tests for your products. You can be assured that we will understand your needs and requirements because our experts know your industry and the language it uses.
We can then provide you with a quotation for a service package or an individualized audit/certification. We also provide a detailed plan for your project. If the test is successful, you receive the "TÜV Rheinland type-tested" test mark or a certificate of standard conformity.
A professional partner with expertise and experience
TÜV Rheinland is a perfect partner, providing a full range of services and a central point of contact from the outset. Our range of services and solutions covers the entire value chain for charging stations and EVSE, including inspection, technical testing, type approval, training and consultancy.
Our all-round expertise and years of experience help in getting your products onto domestic and global markets. Our experts know a wide range of approval requirements and can provide complete solutions to ensure that your EV charging systems comply with national regulations in practically any country.
Your benefits as a TÜV Rheinland partner
With decades of experience in the mobility sector, we have also been involved from the outset in the technical development of EV charging infrastructure.
Our quality brand and our test marks are recognized in international markets and act as guarantees for the safety and quality of products and systems.
Our global team of experts supports you and your product development with in-depth know-how, years of experience and up-to-date knowledge of regulatory conditions.
We efficiently and reliably accompany your product throughout the entire development and approval processes.
Find out more about getting the "TÜV Rheinland type-tested" mark for your EV charging stations. Contact our experts now.
Contact your expert for charging-station testing.
This might also interest you
Last Visited Service Pages