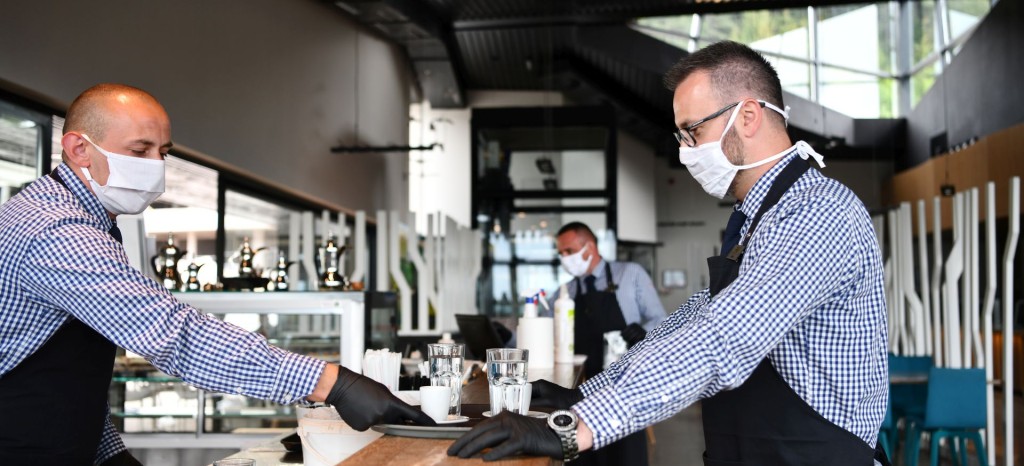 Reassure guests and employees in the hospitality industry with our hygiene and Infection-protection management certification
The COVID 19 pandemic poses special challenges for the hospitality industry. As they reopen, hotels and restaurants are subject to demanding and complex regulations. In order to credibly document and communicate their compliance to the public, we have developed a certification program to the industry.
As a neutral third party, we review compliance with the technical, organizational and personnel requirements companies must implement to comply with current hygiene and infection prevention regulations. Following a successful review, you receive the certificate "Hygiene and Infection-protection management in the hospitality industry", which proves that you are taking all the precautions necessary to protect the health of your guests and employees.
Our experts are at your side with extensive know-how and a pragmatic approach. We understand the challenges you face as your company reopens and support you with our official TÜV certificate.
Set an important example and document your fulfillment of hygiene standards! Talk to our experts today!
Strengthen guest confidence by certifying your business's Infection-protection measures

"Hygiene and protection against possible infection are currently very important when visiting a restaurant or a pub, a hotel or a guesthouse. Our initiative with voluntary inspections is intended to help companies document how seriously they take the safety of guests and employees.
Olaf Seiche from TÜV Rheinland
With our certificate, specially developed for the hospitality industry, you demonstrate fulfillment of regulatory hygiene requirements in your restaurant or hotel. Our broad-based program provides you with reliable steps to effectively implement infection prevention measures so that guests and employees know that their health is your top priority. Our objective, third party certification process increases trust in your company considerably during uncertain times.
Our hygiene certification at a glance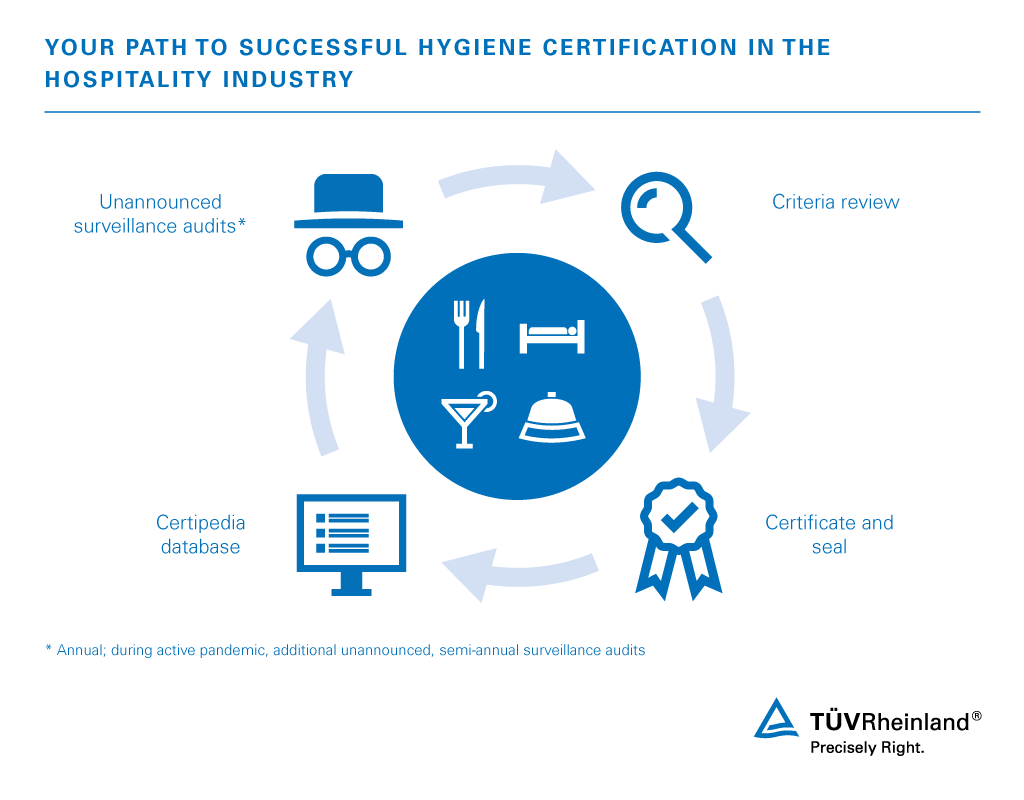 Our specially developed certificate for the hotel and restaurant industry is awarded based on results of voluntary inspections during which our experts verify compliance with standards for hygiene and infection prevention.
The audit includes a list of 80 criteria defined on the basis of specific guidelines published by the EU Commission and the World Health Organization (WHO) as well as regulations of individual European countries.
Audit implementation
The hygiene inspection is carried out by our trained auditors who verify compliance with the criteria during operations.
After a successful audit, you receive the certificate and our globally recognized test mark.
The valid certificate for "Hygiene and Anti-Protection Management in the Hospitality Industry" will then be listed in our open online database Certipedia.
Subsequently, compliance with the specifications is checked in annual monitoring audits.
In times of an active pandemic, compliance is monitored in additional, unannounced, semi-annual surveillance audits.
What is a hospitality certificate?
Our experts have compiled answers to the most important questions concerning hygiene certification in the hospitality industry.
Expertise in restaurant and hotel hygiene management
Our experienced team of auditors has many years of experience in the field of gastronomy and tourism. For more than 20 years we have been involved in various sectors of the industry, offering hotels and restaurants objective confirmation of compliance with a range of regulatory measures. With us at your side, you reassure customers that hygiene and infection prevention are comprehensively implemented and monitored in your establishment.
Our experts will be happy to speak with you personally about certification in the hospitality industry. Please contact us!
This might also interest you
Last Visited Service Pages