Reliable and compliant with our BIPV qualification services
Building integrated photovoltaics (BIPV) are increasingly popular with architects and designers looking to save space and protect aesthetic value. BIPV modules and solar-thermal collectors must be safety approved and prequalified for durability and performance according to international construction material codes or those of a particular country. In Europe, for example, both the European CPR 305/2011 Construction Product Regulation requirements as well as the relevant national building codes must be met.
We provide comprehensive testing according to regulatory statutes applicable to qualify your PV component for a particular building location. Our services include test mark certifications relevant to BIPV product qualification and individual governmental mandates. We conduct safety assessments, measure performance and evaluate the reliability of your BIPV products.
We help you to ensure the durability and regulatory compliance of your BIPV and provide you up-to-date support on various national requirements.
Make sure your BIPV products qualify for use in your targeted market!
Clear, compliant and cost-efficient with BIPV qualification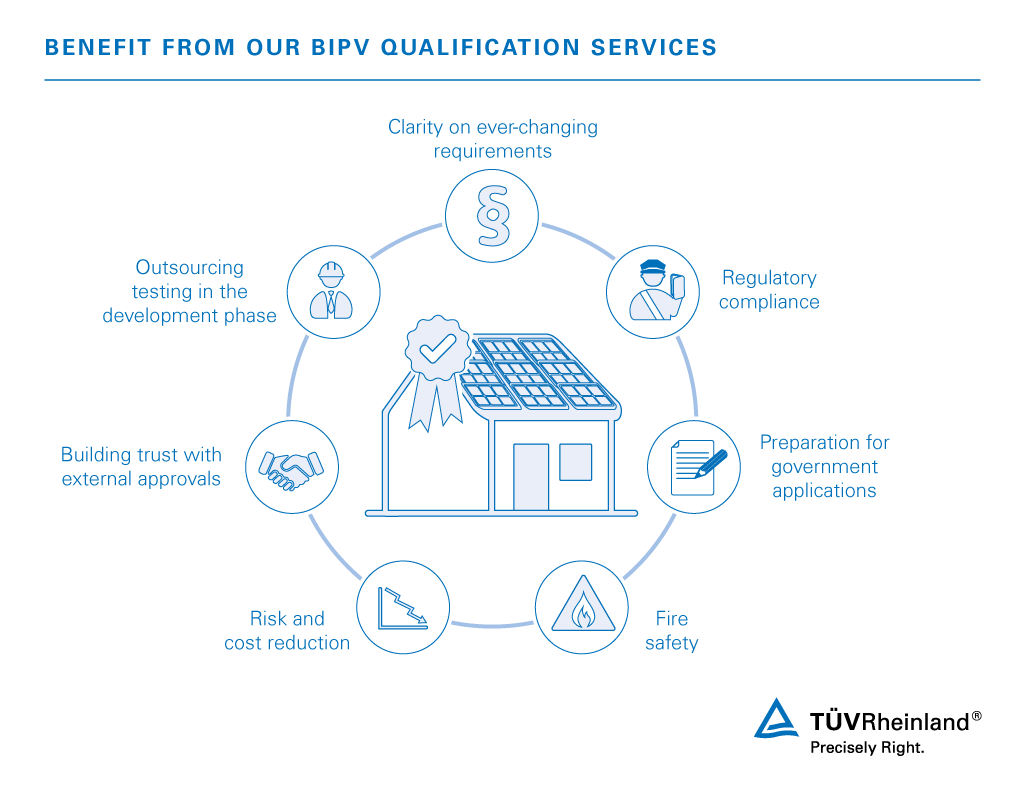 Our experts are well versed in diverse regulations affecting global markets. We are always up to date on current changes or additions to any and every applicable BIPV standard. We help you reduce risk, ensure fire safety, build trust among your customers and business partners, and lower approval costs with combinations of national requirements. We make sure you are prepared with everything you need to submit appropriate government applications while you take advantage of improving your products with pre-testing in the development phase. We provide you comprehensive services from a single source to save you money and shorten your time to market.
| | |
| --- | --- |
| EN 50583 | Photovoltaics in buildings |
| EN 50583-1 | Photovoltaics in buildings part 1: BIPV Modules |
| EN 50583-2 | Photovoltaics in buildings part 2: BIPV Systems |
| EN 15601 | Hygrothermal performance of buildings |
| EN 14449 | Glass in building laminated glass/safety glass |
| IEC 61730 | Photovoltaic module safety qualification |
| IEC 61215-series | Terrestrial PV modules - design qualification and type approval |
| MCS 017 | Product Certification Scheme Requirements: Bespoke Building Integrated Photovoltaic Products |
Your experienced partner
We have actively conducted R&D to develop adapted test methods and standards as well as fire safety guidelines for building integrated photovoltaics (BIPV) and building added photovoltaics (BAPV) products. Our recognized and respected global footprint allows us access to lucrative markets around the world. We provide both materials and PV testing from a single source, providing you a one-stop-shop for all your BIPV qualification needs.
Learn more about our solar services
We answer your questions
As with any evolving technology, you may have questions regarding how BIPV modules are being used in new construction and which regulatory standards and requirements apply. Our experts have provided you some answers here.
Our Sustainability Initiatives
Nothing less than the future is at stake. Companies, institutions, public authorities and each and every one of us can play a positive role in shaping the path to tomorrow. We provide you with comprehensive support to ensure that you operate safely, sustainably and efficiently for many years to come.
This might also interest you
Last Visited Service Pages