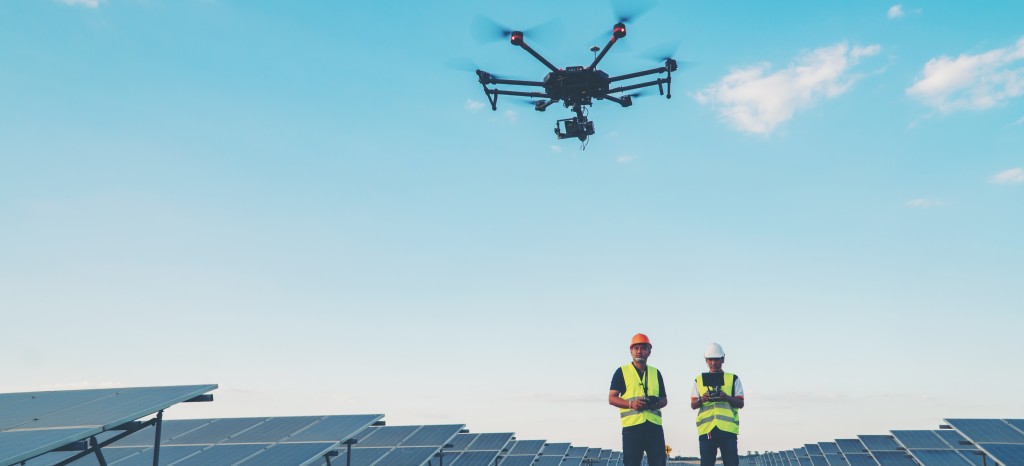 Artificial intelligence powered aerial inspection of photovoltaic systems
Unmanned aerial vehicles (UAVs) or drones provide a practical and safe supplement to ground inspections of PV systems in large or hard to access areas. Drones are used to monitor solar site construction or to conduct regular assessments. The integration of infrared imaging and artificial intelligence (AI) algorithms, allow to identify deterioration, damage and other abnormalities in an early stage.
We provide comprehensive services for the inspection of PV power plant systems and panels to ensure maximum performance and efficiency as well as minimal maintenance costs and exploit warranty coverage. Our experts conduct accurate and detailed inspections using state-of-the-art drones and the latest AI technology throughout all phases of the PV project lifecycle. We tailor services according to your needs during development, construction, commissioning and operation to ensure efficient power generation, long project life and profitable investment. Project health history as well as current update documentation is digitally stored on an online platform for easy and reliable data access to support your maintenance strategy.
Our aerial solar inspection is a quick and cost-effective option that provides power plant owners, EPCs and operators the detailed and reliable information they need.
Take our drones and experts to work for you to ensure optimal performance of your PV system!
Cost-effective lifecycle quality assurance with aerial solar panel inspection

Solar panel inspection using AI-powered surveillance drones provides you quick and cost-efficient early detection of potential power degradation and safety hazards to minimize operational risk and protect the value of your assets. Our experts prepare independent third-party documentation to support you with any claims you may have. We also provide an online platform on which to store digital data files for easy and instant access. Our inspection services help you reduce operational and maintenance costs by allowing targeted and more efficient ground inspections e.g. for Technical Due Diligence focusing on the findings. We provide you digital data and automated anomaly reporting with statistical clustering to allow for easy comparison and sensible optimization. We help you focus on the major issues to save you time and money. Regular inspections allow for progress monitoring and effectiveness of corrective actions assessment.
Our aerial inspection of solar panels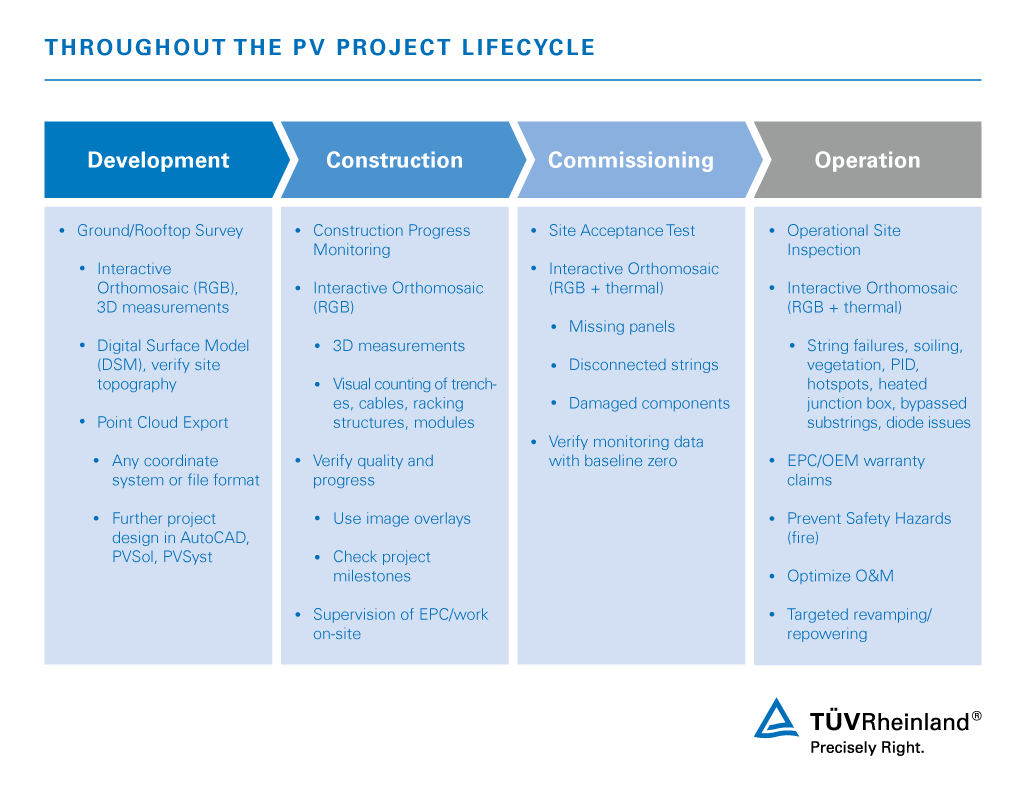 Our comprehensive services for the solar industry are tailored to individual needs and circumstances to ensure optimal performance as well as effective solutions and strategies. Our drone inspections are enhanced with state-of-the-art equipment and cutting-edge artificial intelligence technology. We provide expert support according to your unique perspective.
We help PV power plant owners and operators:
Get and maintain an overview of asset health using both thermal and visual imagery
Identify and optimize operation and maintenance (O&M) issues
Generate health status reports and run statistics / benchmarks
EPC (Engineering Procurement Construction) representatives rely on our services to help them:
Create digital terrain and CAD models to expedite construction and provide reliable digital system documentation
Monitor construction progress
Support commissioning
Generate up-to-date and accurate aerial imagery
Expert solar inspection
Our international network of PV experts has the deep knowledge and practical insight needed to conduct in-depth aerial and ground inspection and accurately analyse results throughout the entire project lifecycle. We combine our years of experience in projects around the world with advanced artificial intelligence technology to help you develop effective solutions and efficient strategies for your particular situation. We provide comprehensive inspection services for the solar industry from a single source and are ready to serve you at any time, anywhere.
Learn more about our solar services
Our Sustainability Initiatives
Nothing less than the future is at stake. Companies, institutions, public authorities and each and every one of us can play a positive role in shaping the path to tomorrow. We provide you with comprehensive support to ensure that you operate safely, sustainably and efficiently for many years to come.
This might also interest you
Last Visited Service Pages