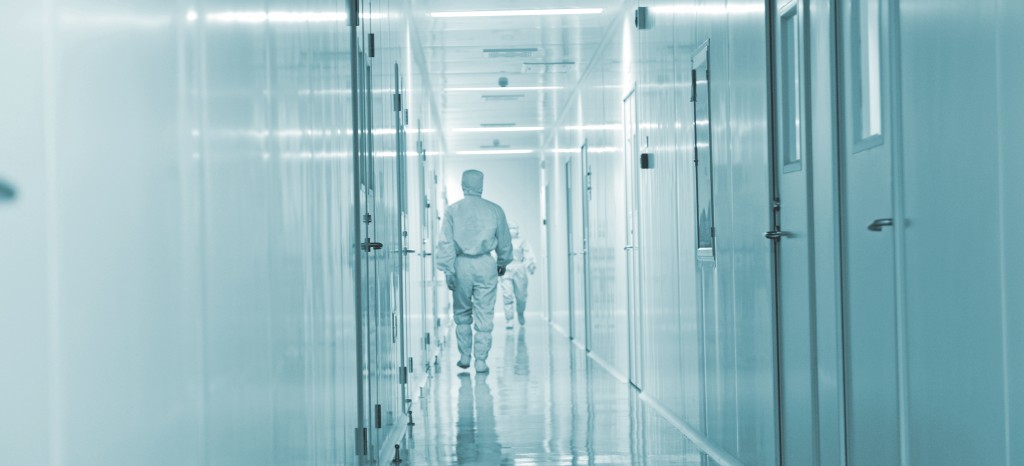 Reliable safety for your clean room technology according to DIN EN ISO 14644
Clean rooms, whether for industry or the medical field, always confront their operators with a special challenge. They have to keep the particle concentration in the air very low and guarantee consistent conditions, from individual rooms to complete production plants. In addition to the rooms themselves, cleanroom clothing, tools and equipment as well as furnishings play an important role. Employees must also adhere to a strict set of rules. Successful clean room technology involves all technical and operational measures that exclude or reduce contamination of products and people.
Our experts support you throughout the entire life cycle of your clean rooms, from planning to ongoing operation to decommissioning. With our tests and documentation, you can be sure that your clean rooms comply with legal regulations, such as the EU Good Manufacturing Practice (GMP) guidelines, DIN EN ISO 14644 and VDI 2083.
With our team of experts with extensive technical experience, we are the right partner at your side for the neutral, third-party testing of your clean rooms. We deliver services according to your needs, all from a single source.
Would you like to learn more about our services for cleanroom technology? Contact our experts now!
Product quality and legal compliance
Thanks to our cleanroom technology services, you can be confident that your equipment will function properly and reliably. With controlled environmental conditions and minimal external disturbances, you meet the requirements for contamination control. This ensures consistently high product quality and protects users and patients.
By complying with the legal requirements, you meet your responsibilities as an operator and at the same time ensure uninterrupted use of your clean rooms. In this way you minimize your economic risks and increase your returns. In addition, our international certification mark offers you a valuable competitive advantage.
Tested clean room technology meets the requirements of DIN EN ISO 14644 and GMP guidelines
Our experts will accompany you throughout the entire plant or process life cycle: from preliminary planning or ordering through concept development to implementation and commissioning. We also support you in the monitoring and maintenance of your plants or processes and also accompany you during decommissioning. We offer the following services, among others:
Analysis / Testing

Qualification for plant planning
Detailed risk analysis
Microbiological monitoring (at rest and in operating)
Legal construction examination of the safety-related building equipment

Measurements of all relevant parameters in clean rooms, e.g.

Particles
Colony-forming units (CFU)
Filter leak rates
Recovery times
Differential pressures
Temperature
Relative humidity

Documentation

User requirements (URS)
Risk analysis
DQ/IQ/OQ/PQ plans
Measurement logs
Evaluation of determined data (according to EU GMP guidelines and/or DIN EN ISO 14644)

Support

Technical acceptance (suppliers, Site Acceptance Test (SAT), Factory Acceptance Test (FAT) etc.)
Elaboration of standard operating procedures for plants and processes (SOP)
Measurement and evaluation (additional measuring points and values on request)
Training and education of your employees
Support of GMP projects (Validation Master Plan (VMP), Qualification Master Plan (QMP) etc.)
Benefit from a partner with decades of experience in cleanroom technology
We have recognized expertise in the field of cleanroom technology and support you with all necessary services from a single source. For interdisciplinary questions, our network of experts is ready to offer suitable solutions for your specific requirements. Our measuring procedures comply with the latest version of ISO 14644.
After successful testing, your cleanrooms receive the internationally recognised TÜV Rheinland test mark. This indicates high quality standards to your customers and business partners.
Learn more about our services for your cleanroom systems. Contact our experts now!
This might also interest you
Last Visited Service Pages