Your global business - just one click away.
The world has gotten smaller. So small it almost fits in your pocket. Digital communication, better transport and infrastructure have multiplied the opportunities for activating business worldwide. However, there are still many national regulations and rules. This often makes access to other markets difficult.
Activate your global business now. Whether for industry, commerce, ICT or modern mobility and knowledge transfer - our Market Access Services experts have comprehensive technical know-how in all areas of technology and business helping to ensure secure, international access to target markets. As part of our activities, we offer you efficient full-market-access-service for almost all regions of the world – from industrialized countries to emerging markets and developing regions. From plant, product or system development, through support to market maturity, to the actual market launch. Without language barriers. Without excessive bureaucracy. Fast. Simple. Safe.
Take advantage of our international reputation and our almost 150 years of experience as a global, independent testing, inspection and certification organization. Activate your access to new markets now - with TÜV Rheinland Market Access Services.
Impact of UK Legislation on global Markets
Our Market Access Services in 1 minute and 30 seconds.
Activate your MAS - learn how it works.
You want to bring your product safely, effectively and quickly to foreign markets. Choosing the right options at decisive points is critical. In other countries, additional conformity certificates or test marks may be required. Our experts for Market Access Services know what is important to obtain any required approval. We also provide information about regulatory requirements and corresponding certification services. And it's so simple:
Below you will find a list of our business areas and product categories. Select the area relevant to your product. This will provide you with useful information and our contact form.
Would you like to export refrigerators to Saudi Arabia? Under the menu "Activate Global Business" you will find the region relevant for your market access. Follow the "More" buttons, which will direct you to important information.
Do you have special wishes and requirements regarding placing your product on the international market? Simply contact our experts directly through the contact form and let us know your needs. We will get back to you as soon as possible and will be happy to advise you.
A clear international advantage.
Our Market Access Services offer you many advantages in a planned international market launch. TÜV Rheinland is present at over 500 locations in 69 countries with more than 19,000 highly qualified employees around the globe. We do everything worldwide to make it easier for your product to gain secure and successful market access.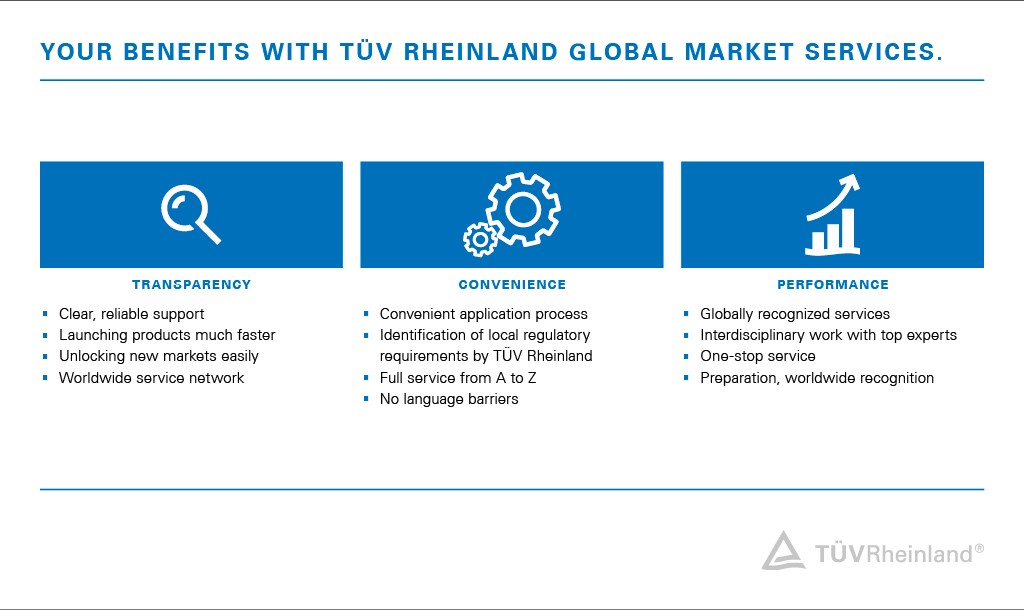 Switch to international success.
Switching your business from national to global? It's so simple now. Select the area covering your product from the comprehensive TÜV Rheinland product categories. Our system automatically guides you to additional relevant information and instructions.