Quality third party certification for vehicle spare parts
When it comes to vehicle repairs, many owners and workshops choose cheaper spare parts instead of expensive and original spare parts. The design of cheaper alternatives is often identical to that of genuine parts, but at considerably lower cost. A reliable and third party spare parts certification is essential to check their quality.
With our certificate, you are on the right side while also benefiting from numerous advantages. That applies to all aftermarket stakeholders including vehicle spare parts manufacturers, workshops, insurers, fleet operators and vehicle owners. Use the recognized seal of quality to increase your business.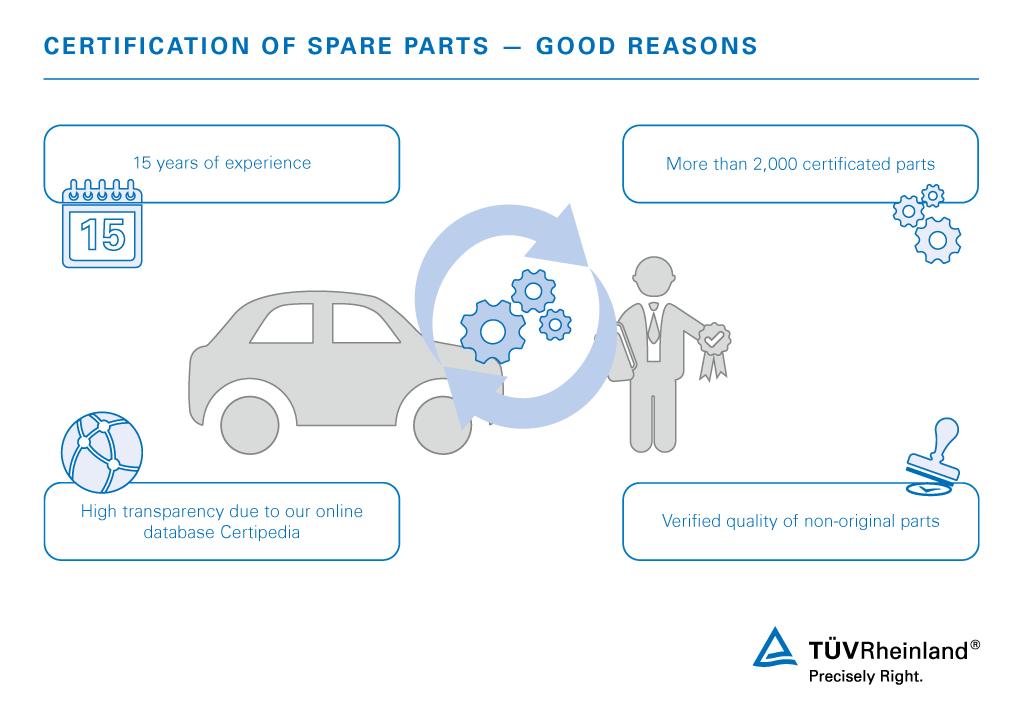 TÜV Rheinland certifies vehicle spare parts verifying the quality of the not original spare parts, such as hoods, fenders, bumper grilles, and lamps. The certification process evaluates the material and fitting of the spare part and the quality and robustness of manufacturer processes for reverse engineering and production. The program does not evaluate any active or passive safety aspects.
Our experts compare the fitting of the equivalent parts to the OE (original equipment) while considering installation time (Vehicle Fit Test). They also inspect the quality of the materials used (Material Test). The certification process produces detailed documentation of all test steps and exhaustive photographic documentation.
The certificate remains valid unless the standard(s) expires or is withdrawn by either the customer or TÜV Rheinland. The certificate becomes invalid if the product is modified. Certified products may be labeled with a test mark.
Obtain a third party Vehicle Spare Parts Certification: make an appointment now.
Vehicle spare parts accurately tested for fitting
Are you a high quality spare parts manufacturer who wants an independent testing organization to confirm that the quality of your products is equivalent to original components? Why don't you benefit from the many advantages of our certification for vehicle spare parts? TÜV Rheinland certification procedures are compliant with stringent requirements allowing you to increase the quality level of your processes according to a verified quality scheme.
One of the major benefits is the fact that, with our internationally recognized vehicle spare parts certificate, you gain an important competitive advantage in the market. Furthermore, our well-known third party certification gives customers the certainty that components are equivalent to OE in terms of material quality and fitting as well as time needed for installation. Your final customer can instantly recognize the high quality standard of your vehicle spare parts, generating trust and providing real added value in an international, competitive environment. As a certified maker of vehicle spare parts, you can take advantage of our relationship with the main insurers. Last, but not least, you receive high visibility in the markets thanks to our online Certipedia certificate database.
Body repair shops also benefit from Vehicle Spare Parts Certification. Offering OE-equivalent certified vehicle spare parts is an important advantage when acquiring and retaining customers and providing considerably lowered repair costs.
Furthermore, it must be pointed out that the verified quality of components greatly reduces the risk of warranty claims. Another advantage is that the components are as quick to install as original parts thanks to accurate fitting tests; this means that no additional work is required and costs can be reliably calculated. A relevant detail is the fact that our test mark is visible to the final customer. Each certified vehicle spare part is traceable on our internet platform Certipedia .
As an insurer you will of course benefit from much lower costs for repair. On the one hand, you could increase cost savings through greater usage of independent sources and from the lower prices achieved compared to OE supplies. On the other hand, you may assist in controlling the cost of components through increasing market competition.
Our scheme helps to increase the confidence in the repair market that certified components are thoroughly equivalent to OE standards. Finally, our online Certipedia certificate database provides a convenient overview of all certified vehicle spare parts.
Extensive portfolio: from hood to headlamp
We have more than 15 years of experience in certifying vehicle spare parts. More than 2,000 components for vehicles of all classes have already completed our internationally recognized certification program worldwide. These include:
Bonnets / Hoods
Wings / Fenders
Bumpers
Grilles
Moldings
Spoilers
Lamps
Exemplary quality assurance
As a manufacturer of vehicle spare parts, certification from TÜV Rheinland allows you to prove that your production processes meet high quality standards. Our officially recognized experts perform an audit of your production systems, strictly according to TÜV Rheinland certification procedures. Thanks to their extensive expertise, our trained employees are able to identify any non-conformity throughout the production process.
Allow your business to benefit from the many advantages of our well-known Vehicle Spare Parts Certification. TÜV Rheinland is a strong partner by your side.