TVET Services: Putting Theory into Practice – First-Hand Knowledge Transfer
We provide support not only for your planning process, but also in the practical operation of training programs or facilities on your end.
What you can expect in the area of implementation and operations:
The full-service package: We assume the entire operation of the training center up to the delivery of all technical and non-technical programs – including providing trainers and programs as well as academic management and maintenance
The module solution: We concentrate on executing the TVET academic programs, while the training center itself remains in the hands of the public or private client.
The full-service package: Operating the training facility
A professional academic administration and management system is needed to operate a training facility. This system is based on the management structures of our global teaching institutions and is adapted to the local situation.
Learning only from the best – The recruitment process for trainers
To be able to be sure that the technical programs are implemented according to proven dual quality criteria, we mobilize a team of technical experts who are in the position to both train the trainers as well as participate in training with participants.
All of our trainers were selected based on their professional training experience and their technical expertise. New employees undergo a competence assessment with a focus on their technical and pedagogical expertise, as well as their industry experience.
Design of TVET programs
Digital transformation and technological dynamics place growing demands on the proper operation of equipment, machines, and means of transportation, proper maintenance and inspection as well as the control and analysis of processes and infrastructures. At the same time, it must be ensured that new technologies and growing networking do not endanger the safety of people or the environment. This demands a very specific technological know-how and the capacity to practically apply knowledge.
TÜV Rheinland is one of the leading competency companions for technical vocations. For 140 years, we have been engaged in the highly charged topic of human and environmental safety in the field of technology, industry and progress. From this exceptional combination, we develop training programs that approximate modern industrial requirements and certification programs and are recognized across sectors. The close integration with industry incorporates a deep understanding of the practical relevance into our curricula, which ensures timely topical content and corresponds to the current state of technological progress.
Implementing TVET Programs
The implementation of training programs that we have either developed for you or are based on an available curriculum, is part of our proving ground:
The duration of qualification varies: In addition to three-year-long vocational training programs, we also offer short-term qualification courses of all types, that meet the needs of companies, sectors or even institutions seeking lifelong continuous learning for their people.
Practical competency development programs are what we conduct in a variety of technical disciplines, including Electrical and Mechanical Engineering, Mechatronics, Automation, Industry 4.0, Automotive Maintenance and New Energy Vehicles, Welding, CNC and many more.
This positions TÜV Rheinland as an effective link between analog and digital learning methods. The approach called "Blended Learning" opens up opportunities for the transfer of learning content to target groups that are suitable for their situations and connects the academic and practical training of the workshops with exciting solutions from the field of Digital Learning, including the use of computer game technologies for Serious Games, Augmented and Mixed Reality (HoloLens), Web Based Trainings, Using this combination can transmit technical content visually. The function and servicing of machines and entire systems can then be practiced virtually without the real process having to be interrupted.
Keep pace with progress of technology
Knowledge of what competence is required and the degree of specialization required for a specific job, activity, or role allows us to tailor qualification programs to customized requirements. This allows companies to respond to changes in processes, customer requirements or product lines and implement goal-oriented development of new technical skills. As operators of training facilities, you become a soughtafter partner for companies because graduates of your programs will be ready to apply the required competence in practice.
Our products vary around the world from modular, precise qualification programs of diverse types to multi-year vocational training programs.
Based on the German example of a dual, activity-oriented vocational training, we focus on the practical side of vocational training and competence development in all training programs, in addition to imparting technical knowledge. Depending on the program scope, the training concludes either with a certificate or a fully-accredited professional qualification.
We already have consulted for many organizations on how to modernize and successfully implement their vocational training and continuing education programs, such as in the automobile industry and other typical production plants, and further in the oil and gas industry, energy industry or even the construction sector. When can we work for you?
New curricula development and revision
Modern curricula in accordance with industry requirements are the heart of a vocational training and continuing education program that offers prospects. Whether in the field of Electrotechnology, Mechatronics and Automation, Machining, Welding, Pipeline Construction or the Motor Vehicle sector: TÜV Rheinland is at home in all of these technical disciplines and experienced in the enhancement of curricula.
For public training facilities, local schools, and technical colleges that do not want to rely on TÜV Rheinland curricula, we can develop new curricula or modernize existing curricula. A task that is one of our core competencies.
In the process, we follow proven framework curricula, principles and methods that correspond to the requirements of the German dual vocational training system. For development and adaptation, we always take into account the following points:
What are the goals of the training?
What materials are current, necessary and conform to the industry requirements?
What methods must be imparted?
Under what conditions can the material be communicated?
What does the organization require? Are the facilities appropriate for the new training materials?
How are the learning outcomes determined and how can they be objectively assessed?
For the revision of a curriculum, applying knowledge is always at the forefront. To this end, we use methods and didactics for activity-focused training, so that later the learning performance corresponds optimally to the actual requirements of industry.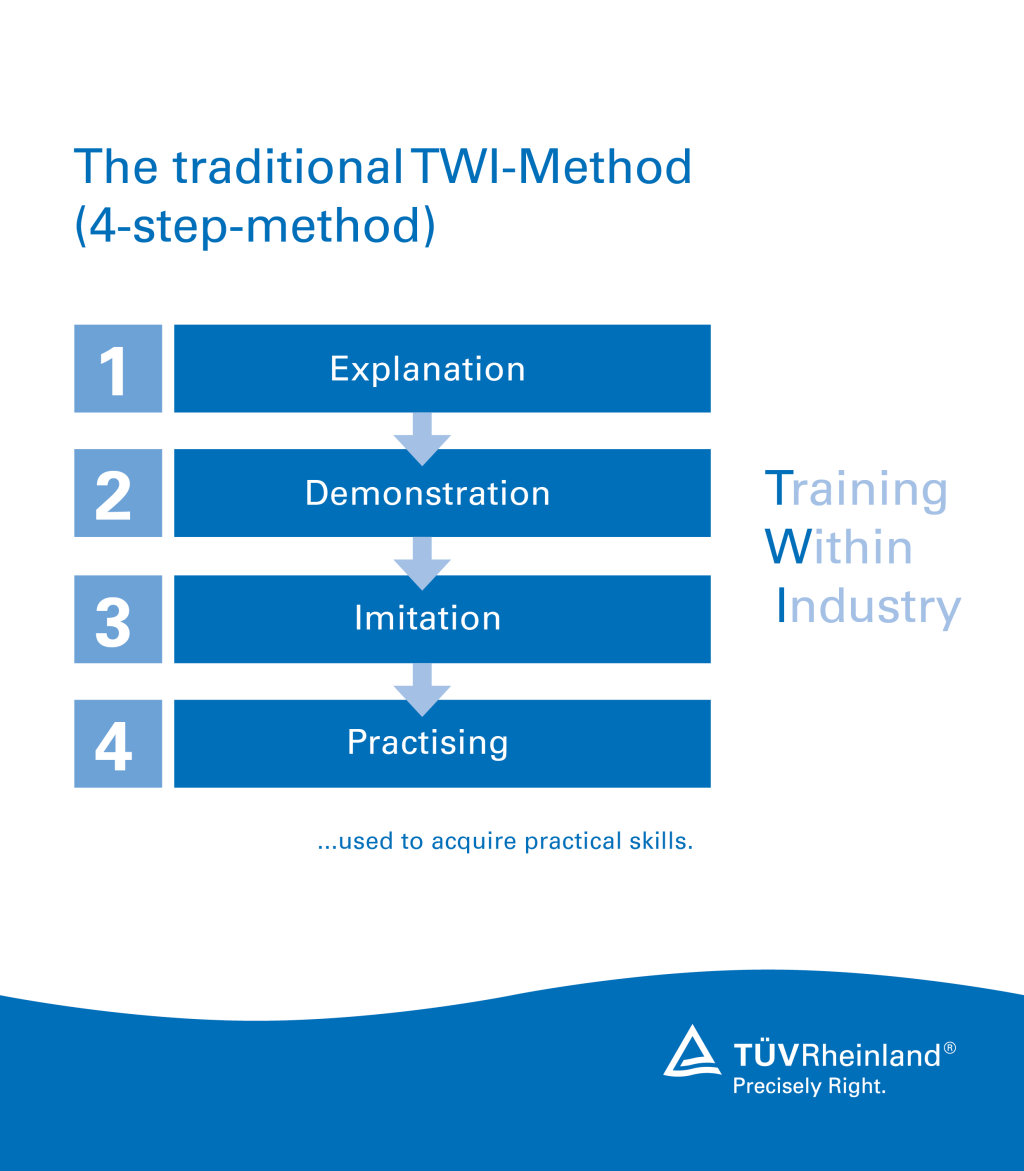 In this process, we place great value on orienting curricula to German standards, and yet remaining flexible enough to be able to properly address the local needs and requirements of the specific training facility.