The vocational training of the German model enjoys high esteem in other countries. At intergovernmental level, there are an increasing number of cooperation agreements to consult with partner countries to further develop their structures, to allow them to become more familiar with this form of initial training and continuing education, and sometimes to implement these in other countries in adapted form.
But how can vocational schools in foreign countries objectively verify that they are attempting to implement a German dual vocational training system?
With our competence certification services as well as a TVET certification for schools and educational providers, you will find the right products.
The other area of quality assurance in the form of audits, safety audits, in schools, and technical facilities.
Documenting success, incentivizing improvements
As national and globally-acting training provider with extensive experience in the operational implementation of dual vocational qualifications, TÜV Rheinland Academy bundles the content and organizational aspects of a quality system and provides assessment and certification criteria. In this way, foreign vocational schools and educational providers can support an assessment system that can align with their efforts. This puts into place external documentation of associated success outcomes, and internal incentives for continued improvement. The focus is on all of the required conditions, structures and documentation that are required for the operational implementation of training according to the dual system. Either a complete picture of the vocation can be shown or only core modules of the training profile be implemented. Central aspects of a dual system – such as the relationship between school and business – carry special weight.
What you can expect in the area of quality assurance and competence assessment as part of TVET: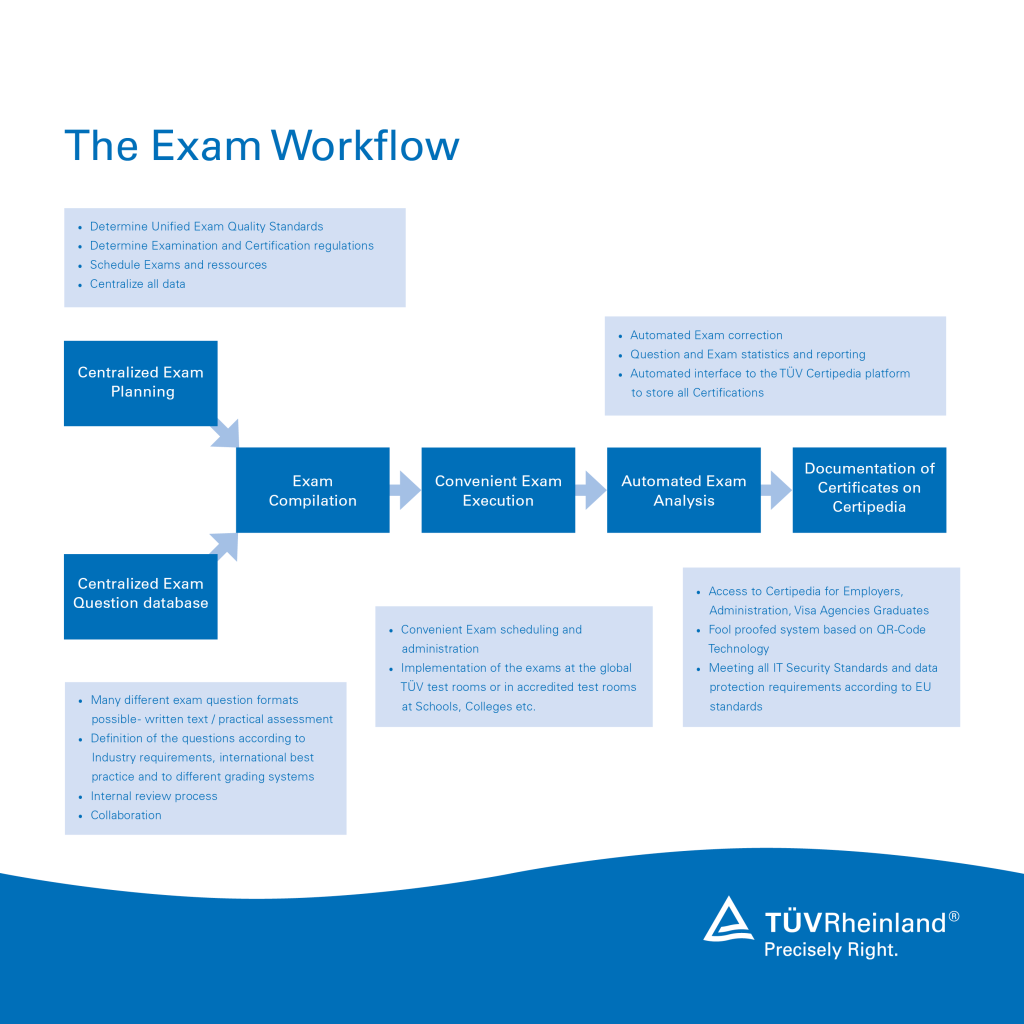 We evaluate the individual competence of trainers or trainees.
We evaluate the available technical facilities and their suitability for practical training
We verify whether the technical systems are safely installed and being safely operated.
We define test systems for the evaluation and verification of competences in collaboration with PersCert TÜV in accordance with DIN EN ISO/IEC 17024.
We advise schools on the development of quality standards according to the dual education criteria
We design personnel certifications from the definition of competence standards to practical testing.
The establishment of an assessment and certification system has a whole array of benefits for training facilities such as companies because there is an active examination of objectives and requirements of a dual training program according to German criteria:
Definition of target competence, qualifications and the associated assessment criteria
Definition of quality criteria for the planned competence
Verification of relevant legal requirements
Definition of approval prerequisites and qualification contents
Development of assessment processes and testing criteria
Definition of testing protocol
Theoretical and practical examination of candidates
Issuing of certificates to successful candidates
Evidence of maintaining competence by re-certification