Growing population and increasing urbanization continue to drive demand for infrastructure, construction and real estate projects – from public buildings or large office campuses, to commercial and residential real estate. The success of these projects depends on proper planning.
With our expertise in the real estate and construction industry, we support you from planning or technical due diligence to operational maintenance. We ensure the safety, quality and durability of your structural or civil engineering projects around the world.
Our experts consult on energy-saving designs and fire protection arrangements, test and inspect your construction materials as well as the proper installation, and support you with achieving compliance with applicable technical regulations for electrical and building safety. We support you in implementing modern tools such as BIM (Building Information Modeling). Furthermore, we assist you with the operation and maintenance of essential infrastructure, e.g. recurring bridge inspections, permanent monitoring and assessment of road and railways conditions or the renovation of pipes and sewers.
We provide you with reliable statements about conditions, profitability and environmental regulations. From sub-surface investigations and foundation consulting to recommendations on construction engineering, you will benefit from our support right from the planning phase – whether you are an owner, EPC contractor, EPCM contractor or insurance company.
EPC Services for Infrastructure and Construction projects
For a successful project we support you with a range of services: construction supervision, scheduling, control of changes, cost, quality control for service delivery, HSE, communications, risk management and procurement service support that is offered as a holistic package or as single services.
Expertise in detail to master the entirety. Discover our EPC project portfolio* regarding to the phase your project is in!
Concept Phase
Engineering & Design Phase
Procurement Phase
Construction & Installation Phase
Commissioning Phase
Relief for your industrial project – with a Project Management Consultant (PMC) partner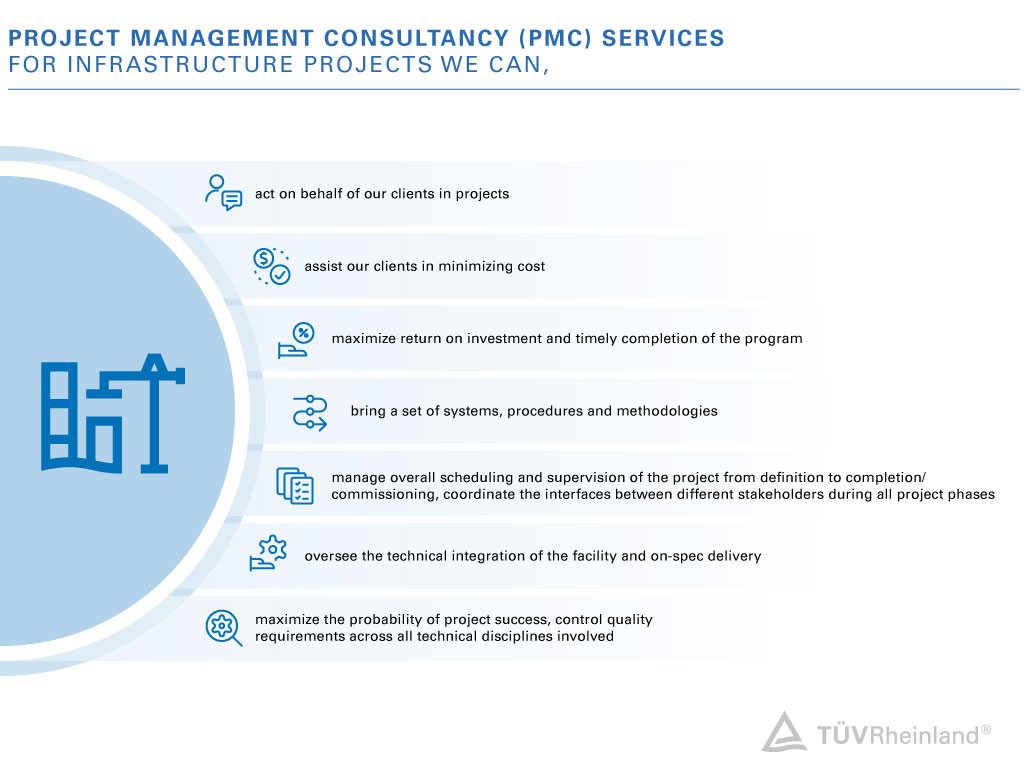 There are various options for owners and investors for defining a contracting and execution model for the project. Often EPC Companies are involved and overtake financial and contractual risks from the owner. To minimize the risks for both contractual parties, we jump in as an experienced PMC (Project Management Consultant) with our local ressources in your project location.
Over the last 150 years we have built up a large network of experts. This enables us to support our customers technically as well as geographically in every stage of their project.
* In TÜV Rheinland, the neutrality, objectivity, independency and impartiality of our activities are of utmost importance. Our conformity assessment activities follow these values in compliance with the applicable accreditation requirements. All the necessary structural, organizational and processual measures are in place in all levels of the organization in order to avoid conflicts of interest (e.g. rigorous separation of consultancy and certification) and to ensure impartiality.