Accelerate the market entry of your products
The market for construction materials offers vast potentials, but it also presents significant challenges. One of the major driving forces is the growing demand for sustainable construction materials. Consumers are increasingly seeking out environmentally friendly options and are demanding credible evidence of sustainable production processes and materials. Furthermore, governmental authorities are placing a stronger emphasis on the construction industry, resulting in tighter legislation, often influenced by sustainability considerations.
For manufacturers and retailers aiming to access international markets, they must navigate a complex landscape of legal requirements. The "Construction Products Regulation" (CPR) plays a crucial role in this regard. Harmonized standards covered by the CPR state precise requirements for the product and provide guidance for evaluating construction products. This regulation is particularly noteworthy as it forms the foundation for successfully entering the lucrative EU and UK markets. Conforming to the CPR is an essential prerequisite for obtaining the CE and UKCA marks, demonstrating compliance with the regulatory standards.
Manufacturers and retailers seeking a suitable partner to test and certify their construction products are faced with numerous options. However, the challenge arises when they have multiple construction products from different product groups that require testing and certification, as this often necessitates contacting multiple institutions. This fragmented approach makes the entire process complex, inefficient, and time-consuming.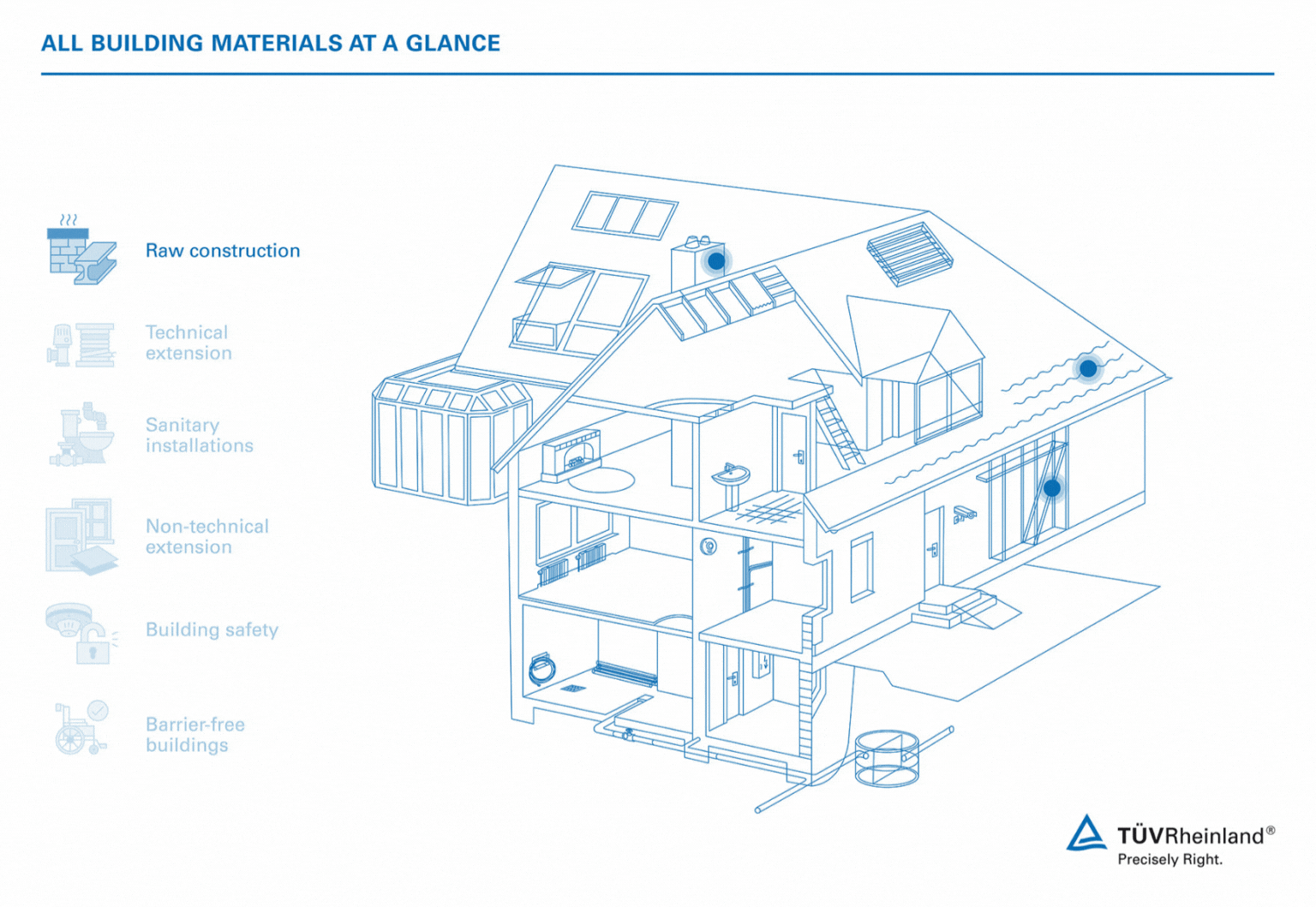 TÜV Rheinland – one partner for all cases
Fortunately, TÜV Rheinland provides a convenient one-stop-shop solution to address these challenges. As a globally renowned authority in product testing and certification, we offer an extensive portfolio that caters to your entire product scope. Whether you require testing and certification for various construction materials or a diverse range of construction products, TÜV Rheinland can streamline the process for you.
By choosing TÜV Rheinland as your trusted partner, you can benefit from our expertise, experience, and comprehensive services. Our dedicated team of professionals understands the intricate requirements and regulations of the construction industry, ensuring that your products comply with the necessary standards. We reliably take care of the entire process so you can focus on your core business.
We offer well-thought-out test concepts and a wide variety of certifications. Surely, we have the right one for your building product, too. With our test marks, you prove the sustainability of the material, processes, and suppliers of your construction material. Through the international awareness of TÜV Rheinland, you convince customers of your products. In addition, you distinguish your company from the competition. With our Market Access Service, we make it easier for you to comply with global and local standards and access foreign markets.
Information on construction products
Would you like to learn more about our testing, inspection, and certification for building products? We have compiled important information for you to download.
| | | | |
| --- | --- | --- | --- |
| pdf | Legal basis for private test labels | 1 MB | Download |
| pdf | Guideline Information for Formaldehyde Release from Wood-Based Panels | 1 MB | Download |
| pdf | Sanitary and separation technology | 737 KB | Download |
| pdf | Glass, Windows and Doors testing | 1 MB | Download |
| pdf | Floor Covering testing | 6 MB | Download |
| pdf | Brochure: "Transparency creates trust" | 9 MB | Download |
Further information in German:
Contact us about the testing and certification of construction products.