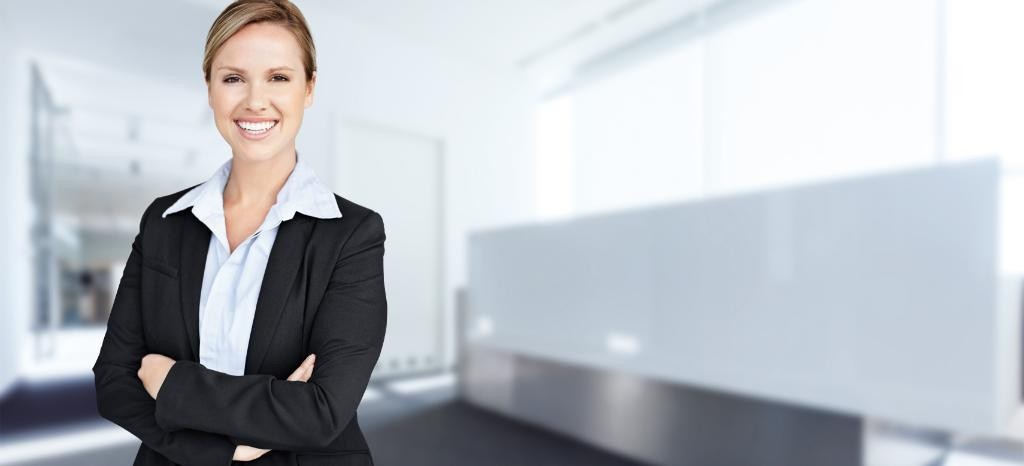 Optimal quality management with ISO 9001 certification
Over a million companies benefit from a quality management system certified according to ISO 9001, enjoying peak process performance and an international competitive advantage. ISO 9001 certification ensures that quality orientation is lived by each of your employees every day.
Our ISO 9001 certification experts know that well designed workflows contribute decisively to the quality of your products and services. ISO 9001 demands that a quality management system define who is responsible for which quality-relevant activities and which procedures must be followed. To establish effective quality management in your company, we take into account your specific requirements and perspectives. The standard also requires a control loop, which involves constant internal re-evaluation of the system, promoting a continuous improvement process (CIP).
With its process-oriented approach, a quality management system according to ISO 9001 is suitable for all industries and companies – from start-ups to global corporations. We have experience partnering with organizations of all sizes and from all sectors and are able to provide the resources you need for successful ISO 9001 certification.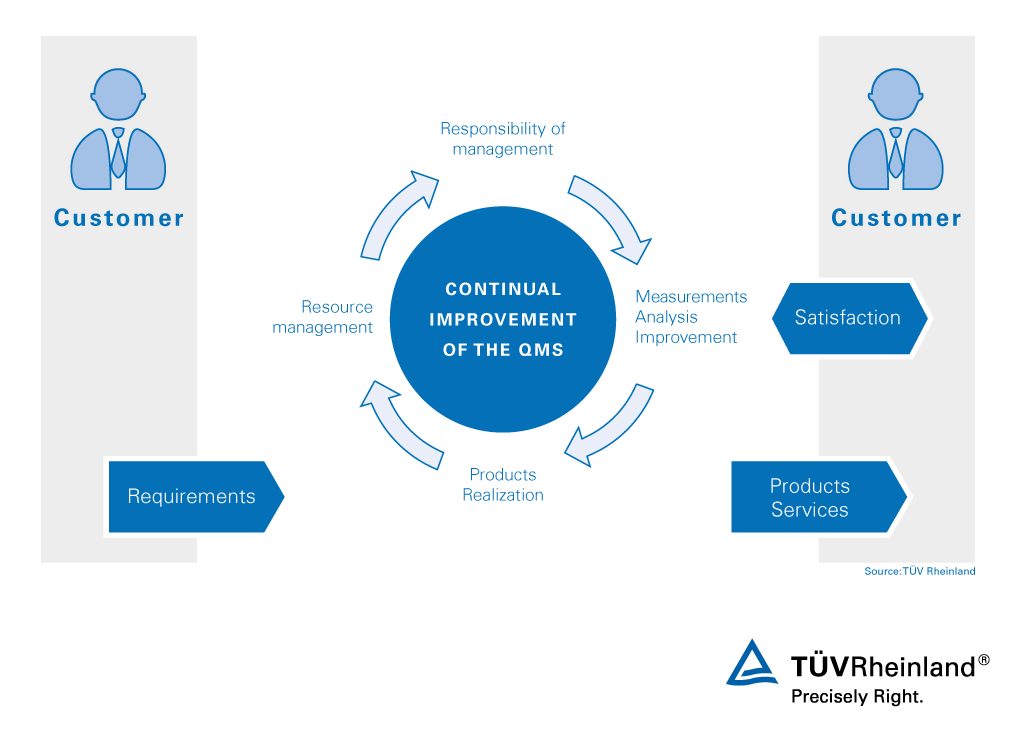 We evaluate and certify your quality management system according to the individual requirements of your company. Our quality management system experts have many years of experience.
If you, too, want to optimize your quality management system with certification according to ISO 9001, please schedule an appointment with our experts!
ISO 9001:2015 – Get the most important information in our short info clip
How does our ISO 9001 certification help you cut costs and optimize your processes? What issues do companies have to address in the course of certification in order to meet the standard requirements? What challenges and opportunities does ISO 9001 bring with it and what does "High Level Structure" offer? Our video explains:
International market opportunities with ISO 9001 certification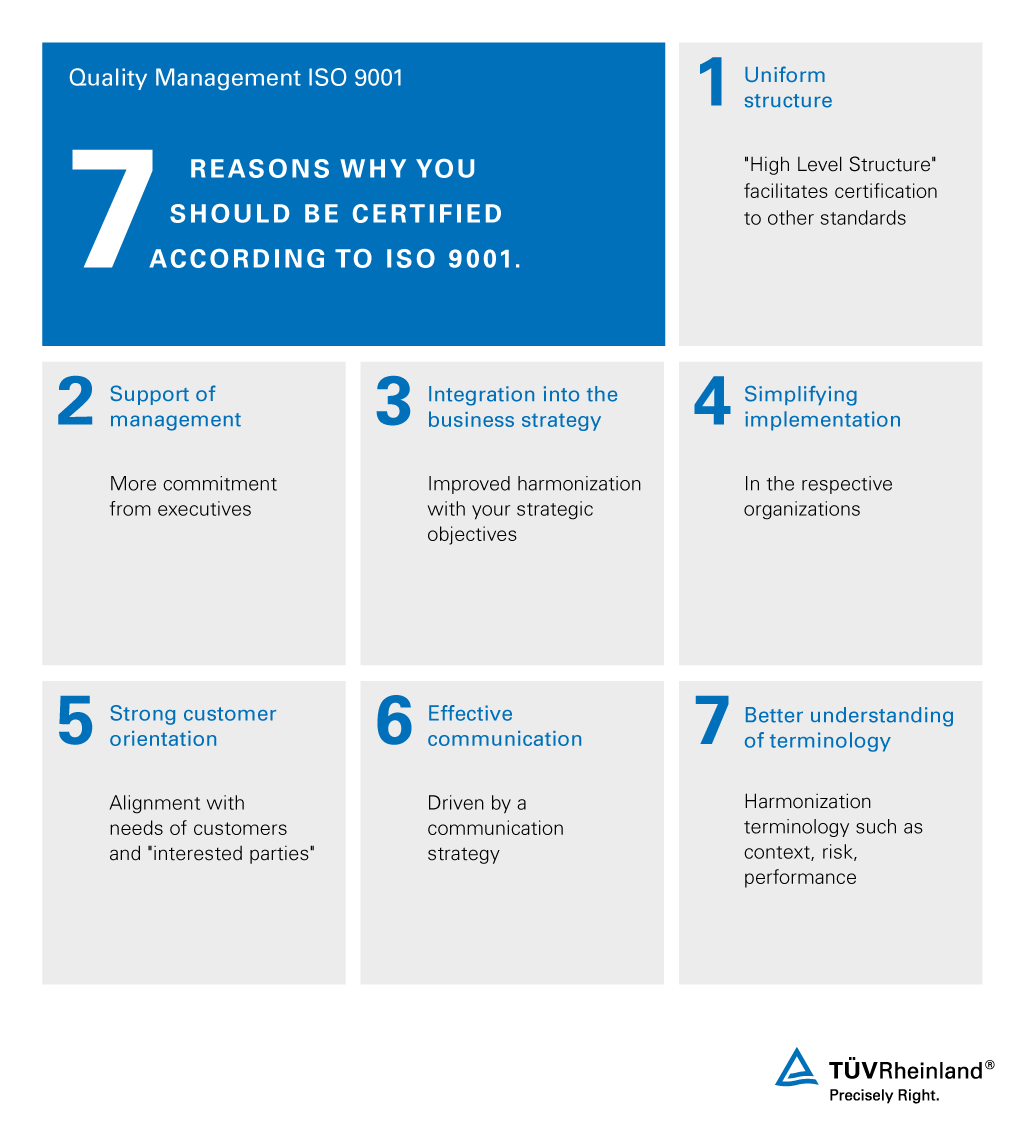 With an internationally recognized certification of your quality management system according to ISO 9001 you can gain competitive advantage and improve your market entry chances. In addition to fostering a strong customer orientation, certification offers your customers and business partners a valuable decision-making aid. You can also increase efficiency within your company and improve your processes and structures. This allows you to achieve considerable cost savings while minimizing your liability risk. You also benefit from increased employee motivation through better communication and more readily available information.
Another benefit: The "High Level Structure" of ISO 9001 facilitates combined certifications with other standards. If you want to learn more, download our FAQs.
Stages of ISO 9001 certification
Our experts can guide you through the process for certification of your quality management system, following these steps:
Preliminary audit (optional)
Certification audit: documentation review and practical application assessment
Issue of certification and entry into the online certification database Certipedia
Annual surveillance audit
Re-certification within three years
Stages of Certification ISO 9001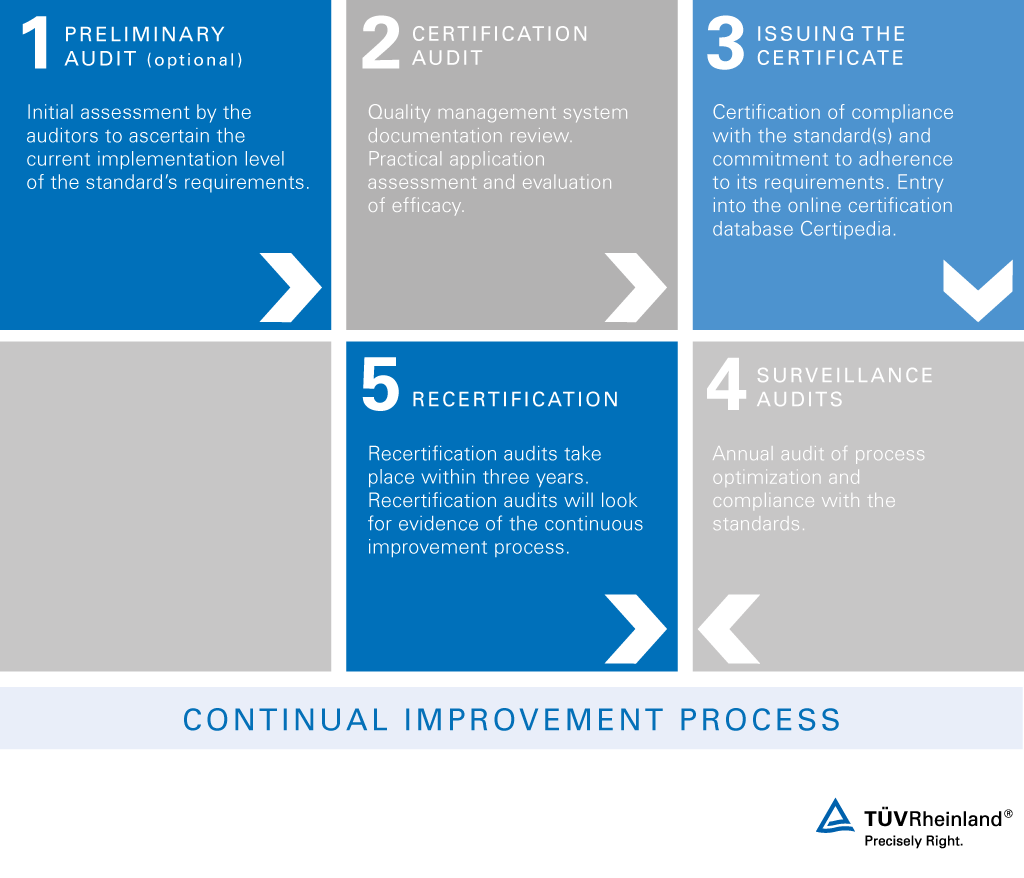 Our experts answered frequently asked questions
| | | | |
| --- | --- | --- | --- |
| pdf | General Questions and Answers about Quality Management according to ISO 9001 | 141 KB | Download |
Benefits of ISO 9001 explained in two minutes
Downloads
Further Information on the ISO9001 Certification
In order to get an impression of the work of TÜV Rheinland regarding the ISO 9001 certification, we provide other information in the form of references, brochures, press releases and leaflets.
| | | | |
| --- | --- | --- | --- |
| pdf | Revision of the DIN EN ISO 9001:2015 – Changes and Their Impact | 147 KB | Download |
This might also interest you
Last Visited Service Pages