WETEX and Dubai Solar Show 2019
Exhibition and Conference on Water, Energy Environment and Technology
Conference
10/21/2019 - 10/23/2019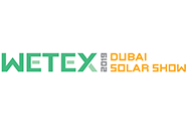 Exhibition and Conference on Water, Energy Environment and Technology
The 21st WETEX is the leading global water, energy, technology and environment exhibition, organized by DEWA
WETEX is the leading global Water, Energy, Technology and Environment Exhibition, organized by DEWA (Dubai Electricity and Water Authority). It's perfect platform to display and discuss all issues related to water conservation, saving natural resources and building a sustainable environment. As a world-class exhibition, WETEX attracts industry professionals from across the energy sector; including scientific management solutions and engineering technology segments, to share views with government agencies and keep pace with the most up-to-date developments in energy, water and the environment. The exhibition aims to achieve integration between all sectors of the energy industry and bring together trade and technical sectors whilst facilitating the creation of new trade opportunities, enhancing an exchange of ideas and experiences and showcasing the latest innovations.
About Dubai Solar Show:
As the world's renewable energy industry continues to rapidly grow, we are proud to present the ideal gateway of solar business in the region, on 21-23 October 2019 at the Dubai International Convention and Exhibition Centre. The exhibition will cover over 14,000 sqm welcoming key industry leaders, governments, manufacturers, suppliers, traders, contractors and partners from across the globe.
The show will run concurrently with the 21st Water, Energy, Technology and Environment Exhibition (WETEX 2019). Dubai Electricity and Water Authority (DEWA) is organizing the fourth Dubai Solar Show, the region's largest renewable and sustainable technology event. It will highlight the latest innovations in solar and sustainable energy by offering unique platform to forge partnerships between public and private sectors to develop innovative solutions.
Dubai Solar Show will be a key platform for the public and private sectors to make deals, build partnerships, review the latest solar-energy technologies, learn about current and future projects in the region and market needs, and explore opportunities to take part in solar-energy projects and programmes. Dubai Solar Show is dedicated to bringing the latest solar innovations and showcasing the largest solar projects in region.
TÜV Rheinland as an exhibitor at Dubai Solar Show
TÜV Rheinland is pleased to announce its participation at the Dubai Solar Show, which is the region's largest solar energy exhibition you will find our stand in hall 1 in the sustainability section.
TÜV Rheinland workshop on 22nd October
TÜV Rheinland cordially invites you to its workshop "Energy, Sustainability and Technology" during Dubai Solar Show (Part of WETEX 2019) in Dubai, United Arab Emirates.
As the world's demand for energy safety and quality continues to grow rapidly, we are proud to present serval solutions for:
Solar Energy Trends, Technology and Technical Safety Solution consultancy
Cybersecurity and Digital Transformation
Conventional Energy Power Plants Safety Solutions
Technical Competency in the Energy Industry
Click HERE to download our workshop agenda.
Date & Time: Tuesday 22nd October 2019, 11:30am - 4:30pm
Location: Dubai International Convention and Exhibition Centre, Workshop Area (Hall 3 – Near China Pavilion)
About TÜV Rheinland Services
As a global operating partner, TÜV Rheinland provides extensive supports for solar projects, e.g.
Professional and independent engineering services
Comprehensive quality assurance
Risk Mitigation
Technical Advisory
Supply Chain Management
Venue:
Dubai International Convention & Exhibition Centre
Sheikh Zayed Rd
Dubai
UAE
Event Dates:
10/21/2019 - 10/23/2019
Homepage:
www.wetex.ae
Location:
Next Steps: